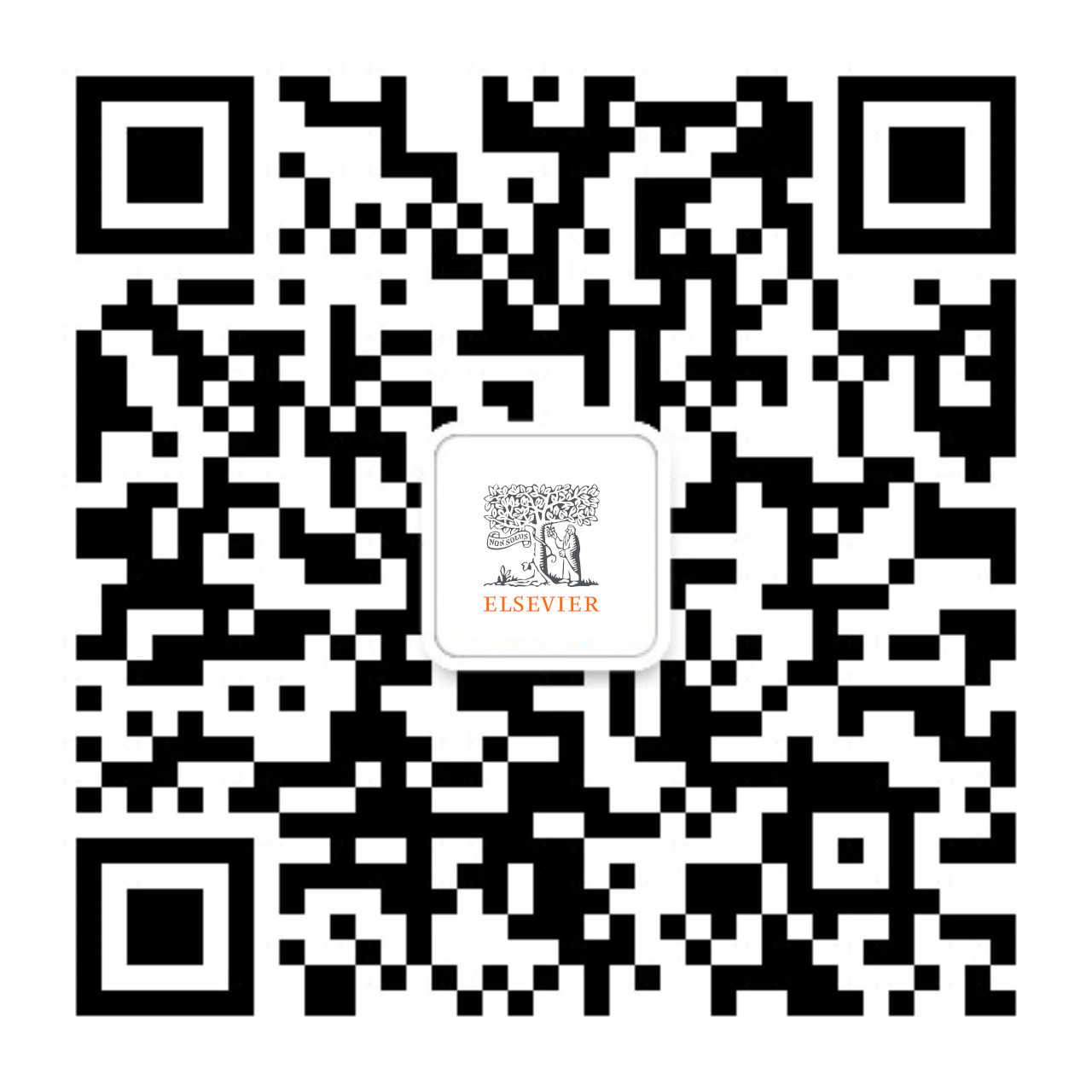 Writing a Scientific Research Project Proposal
Table of Contents
The importance of a well-written research proposal cannot be underestimated. Your research really is only as good as your proposal. A poorly written, or poorly conceived research proposal will doom even an otherwise worthy project. On the other hand, a well-written, high-quality proposal will increase your chances for success.
In this article, we'll outline the basics of writing an effective scientific research proposal, including the differences between research proposals, grants and cover letters. We'll also touch on common mistakes made when submitting research proposals, as well as a simple example or template that you can follow.
What is a scientific research proposal?
The main purpose of a scientific research proposal is to convince your audience that your project is worthwhile, and that you have the expertise and wherewithal to complete it. The elements of an effective research proposal mirror those of the research process itself, which we'll outline below. Essentially, the research proposal should include enough information for the reader to determine if your proposed study is worth pursuing.
It is not an uncommon misunderstanding to think that a research proposal and a cover letter are the same things. However, they are different. The main difference between a research proposal vs cover letter content is distinct. Whereas the research proposal summarizes the proposal for future research, the cover letter connects you to the research, and how you are the right person to complete the proposed research.
There is also sometimes confusion around a research proposal vs grant application. Whereas a research proposal is a statement of intent, related to answering a research question, a grant application is a specific request for funding to complete the research proposed. Of course, there are elements of overlap between the two documents; it's the purpose of the document that defines one or the other.
Scientific Research Proposal Format
Although there is no one way to write a scientific research proposal, there are specific guidelines. A lot depends on which journal you're submitting your research proposal to, so you may need to follow their scientific research proposal template.
In general, however, there are fairly universal sections to every scientific research proposal. These include:
Title: Make sure the title of your proposal is descriptive and concise. Make it catch and informative at the same time, avoiding dry phrases like, "An investigation…" Your title should pique the interest of the reader.
Abstract: This is a brief (300-500 words) summary that includes the research question, your rationale for the study, and any applicable hypothesis. You should also include a brief description of your methodology, including procedures, samples, instruments, etc.
Introduction: The opening paragraph of your research proposal is, perhaps, the most important. Here you want to introduce the research problem in a creative way, and demonstrate your understanding of the need for the research. You want the reader to think that your proposed research is current, important and relevant.
Background: Include a brief history of the topic and link it to a contemporary context to show its relevance for today. Identify key researchers and institutions also looking at the problem
Literature Review: This is the section that may take the longest amount of time to assemble. Here you want to synthesize prior research, and place your proposed research into the larger picture of what's been studied in the past. You want to show your reader that your work is original, and adds to the current knowledge.
Research Design and Methodology: This section should be very clearly and logically written and organized. You are letting your reader know that you know what you are going to do, and how. The reader should feel confident that you have the skills and knowledge needed to get the project done.
Preliminary Implications: Here you'll be outlining how you anticipate your research will extend current knowledge in your field. You might also want to discuss how your findings will impact future research needs.
Conclusion: This section reinforces the significance and importance of your proposed research, and summarizes the entire proposal.
References/Citations: Of course, you need to include a full and accurate list of any and all sources you used to write your research proposal.
Common Mistakes in Writing a Scientific Research Project Proposal
Remember, the best research proposal can be rejected if it's not well written or is ill-conceived. The most common mistakes made include:
Not providing the proper context for your research question or the problem
Failing to reference landmark/key studies
Losing focus of the research question or problem
Not accurately presenting contributions by other researchers and institutions
Incompletely developing a persuasive argument for the research that is being proposed
Misplaced attention on minor points and/or not enough detail on major issues
Sloppy, low-quality writing without effective logic and flow
Incorrect or lapses in references and citations, and/or references not in proper format
The proposal is too long – or too short
Scientific Research Proposal Example
There are countless examples that you can find for successful research proposals. In addition, you can also find examples of unsuccessful research proposals. Search for successful research proposals in your field, and even for your target journal, to get a good idea on what specifically your audience may be looking for.
While there's no one example that will show you everything you need to know, looking at a few will give you a good idea of what you need to include in your own research proposal. Talk, also, to colleagues in your field, especially if you are a student or a new researcher. We can often learn from the mistakes of others. The more prepared and knowledgeable you are prior to writing your research proposal, the more likely you are to succeed.
Language Editing Services
One of the top reasons scientific research proposals are rejected is due to poor logic and flow. Check out our Language Editing Services to ensure a great proposal , that's clear and concise, and properly referenced. Check our video for more information, and get started today.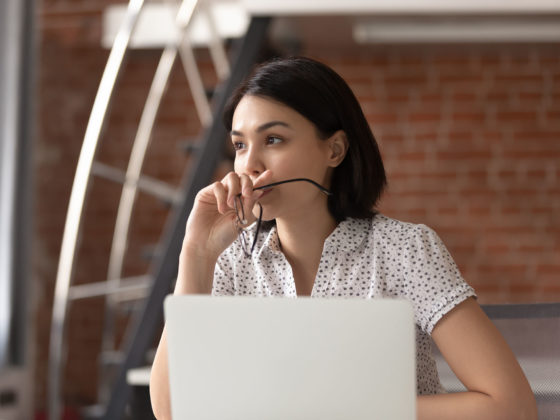 How to Appeal a Journal Decision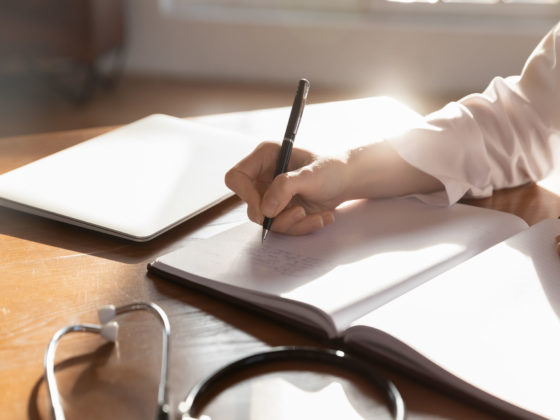 Medical Research Abstract: How to Write
You may also like.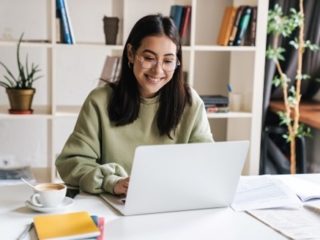 When Data Speak, Listen: Importance of Data Collection and Analysis Methods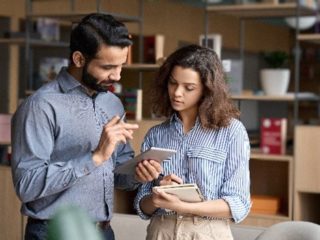 Choosing the Right Research Methodology: A Guide for Researchers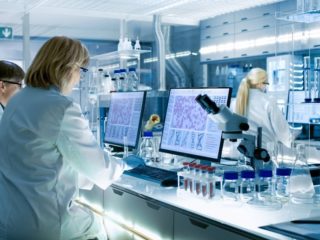 Navigating the Reproducibility Crisis: A Guide to Analytical Method Validation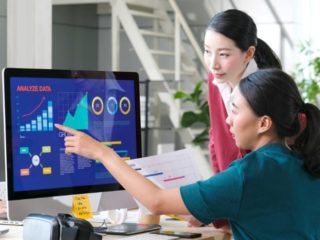 Why is data validation important in research?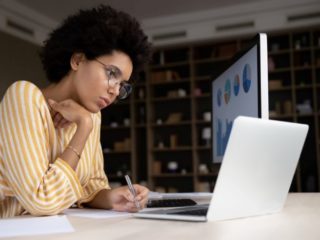 Writing a good review article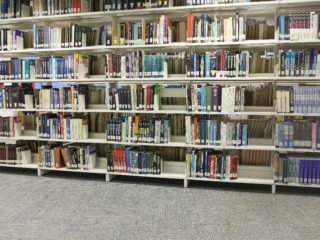 Scholarly Sources: What are They and Where can You Find Them?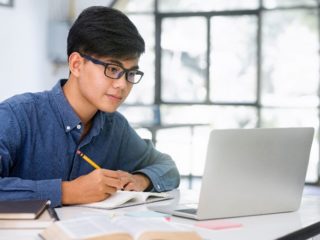 Research Designs: Types and Differences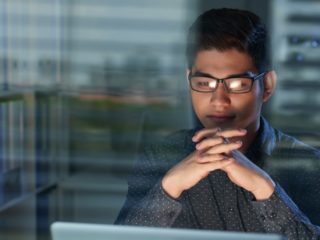 The Top 5 Qualities of Every Good Researcher
Input your search keywords and press Enter.
How To Structure Your Literature Review
3 options to help structure your chapter.
By: Amy Rommelspacher (PhD) | Reviewer: Dr Eunice Rautenbach | November 2020 (Updated May 2023)
Writing the literature review chapter can seem pretty daunting when you're piecing together your dissertation or thesis. As  we've discussed before , a good literature review needs to achieve a few very important objectives – it should:
Demonstrate your knowledge of the research topic
Identify the gaps in the literature and show how your research links to these
Provide the foundation for your conceptual framework (if you have one)
Inform your own  methodology and research design
To achieve this, your literature review needs a well-thought-out structure . Get the structure of your literature review chapter wrong and you'll struggle to achieve these objectives. Don't worry though – in this post, we'll look at how to structure your literature review for maximum impact (and marks!).
But wait – is this the right time?
Deciding on the structure of your literature review should come towards the end of the literature review process – after you have collected and digested the literature, but before you start writing the chapter. 
In other words, you need to first develop a rich understanding of the literature before you even attempt to map out a structure. There's no use trying to develop a structure before you've fully wrapped your head around the existing research.
Equally importantly, you need to have a structure in place before you start writing , or your literature review will most likely end up a rambling, disjointed mess. 
Importantly, don't feel that once you've defined a structure you can't iterate on it. It's perfectly natural to adjust as you engage in the writing process. As we've discussed before , writing is a way of developing your thinking, so it's quite common for your thinking to change – and therefore, for your chapter structure to change – as you write. 
Need a helping hand?
Like any other chapter in your thesis or dissertation, your literature review needs to have a clear, logical structure. At a minimum, it should have three essential components – an  introduction , a  body   and a  conclusion . 
Let's take a closer look at each of these.
1: The Introduction Section
Just like any good introduction, the introduction section of your literature review should introduce the purpose and layout (organisation) of the chapter. In other words, your introduction needs to give the reader a taste of what's to come, and how you're going to lay that out. Essentially, you should provide the reader with a high-level roadmap of your chapter to give them a taste of the journey that lies ahead.
Here's an example of the layout visualised in a literature review introduction:
Your introduction should also outline your topic (including any tricky terminology or jargon) and provide an explanation of the scope of your literature review – in other words, what you  will   and  won't   be covering (the delimitations ). This helps ringfence your review and achieve a clear focus . The clearer and narrower your focus, the deeper you can dive into the topic (which is typically where the magic lies). 
Depending on the nature of your project, you could also present your stance or point of view at this stage. In other words, after grappling with the literature you'll have an opinion about what the trends and concerns are in the field as well as what's lacking. The introduction section can then present these ideas so that it is clear to examiners that you're aware of how your research connects with existing knowledge .
2: The Body Section
The body of your literature review is the centre of your work. This is where you'll present, analyse, evaluate and synthesise the existing research. In other words, this is where you're going to earn (or lose) the most marks. Therefore, it's important to carefully think about how you will organise your discussion to present it in a clear way. 
The body of your literature review should do just as the description of this chapter suggests. It should "review" the literature – in other words, identify, analyse, and synthesise it. So, when thinking about structuring your literature review, you need to think about which structural approach will provide the best "review" for your specific type of research and objectives (we'll get to this shortly).
There are (broadly speaking)  three options  for organising your literature review.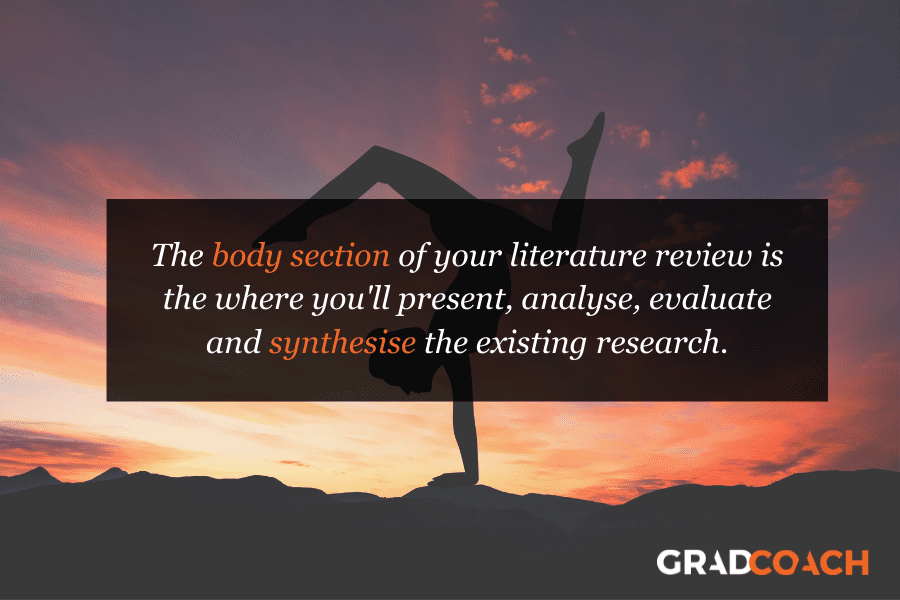 Option 1: Chronological (according to date)
Organising the literature chronologically is one of the simplest ways to structure your literature review. You start with what was published first and work your way through the literature until you reach the work published most recently. Pretty straightforward.
The benefit of this option is that it makes it easy to discuss the developments and debates in the field as they emerged over time. Organising your literature chronologically also allows you to highlight how specific articles or pieces of work might have changed the course of the field – in other words, which research has had the most impact . Therefore, this approach is very useful when your research is aimed at understanding how the topic has unfolded over time and is often used by scholars in the field of history. That said, this approach can be utilised by anyone that wants to explore change over time .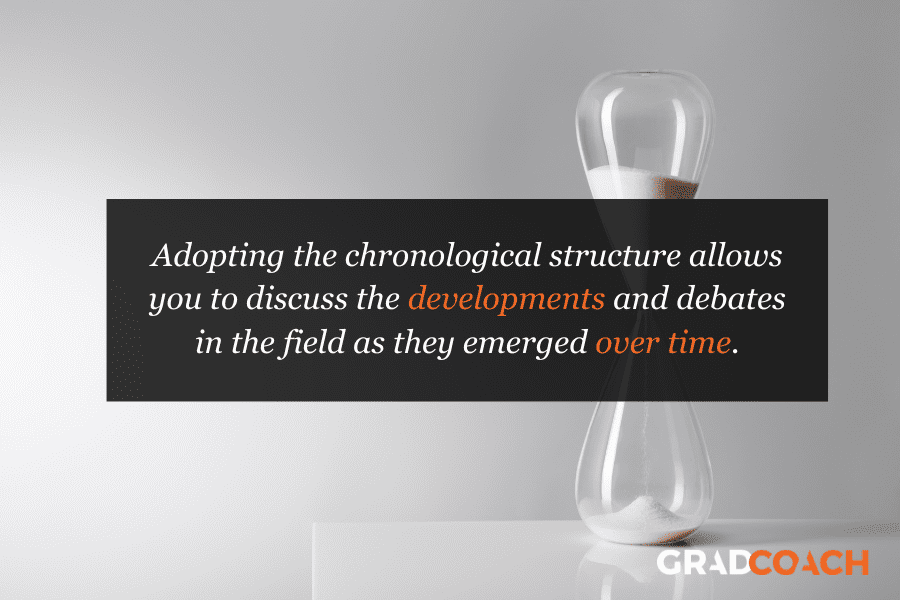 For example , if a student of politics is investigating how the understanding of democracy has evolved over time, they could use the chronological approach to provide a narrative that demonstrates how this understanding has changed through the ages.
Here are some questions you can ask yourself to help you structure your literature review chronologically.
What is the earliest literature published relating to this topic?
How has the field changed over time? Why?
What are the most recent discoveries/theories?
In some ways, chronology plays a part whichever way you decide to structure your literature review, because you will always, to a certain extent, be analysing how the literature has developed. However, with the chronological approach, the emphasis is very firmly on how the discussion has evolved over time , as opposed to how all the literature links together (which we'll discuss next ).
Option 2: Thematic (grouped by theme)
The thematic approach to structuring a literature review means organising your literature by theme or category – for example, by independent variables (i.e. factors that have an impact on a specific outcome).
As you've been collecting and synthesising literature, you'll likely have started seeing some themes or patterns emerging. You can then use these themes or patterns as a structure for your body discussion. The thematic approach is the most common approach and is useful for structuring literature reviews in most fields.
For example, if you were researching which factors contributed towards people trusting an organisation, you might find themes such as consumers' perceptions of an organisation's competence, benevolence and integrity. Structuring your literature review thematically would mean structuring your literature review's body section to discuss each of these themes, one section at a time.
Here are some questions to ask yourself when structuring your literature review by themes:
Are there any patterns that have come to light in the literature?
What are the central themes and categories used by the researchers?
Do I have enough evidence of these themes?
PS – you can see an example of a thematically structured literature review in our literature review sample walkthrough video here.
Option 3: Methodological
The methodological option is a way of structuring your literature review by the research methodologies used . In other words, organising your discussion based on the angle from which each piece of research was approached – for example, qualitative , quantitative or mixed  methodologies.
Structuring your literature review by methodology can be useful if you are drawing research from a variety of disciplines and are critiquing different methodologies. The point of this approach is to question  how  existing research has been conducted, as opposed to  what  the conclusions and/or findings the research were.
For example, a sociologist might centre their research around critiquing specific fieldwork practices. Their literature review will then be a summary of the fieldwork methodologies used by different studies.
Here are some questions you can ask yourself when structuring your literature review according to methodology:
Which methodologies have been utilised in this field?
Which methodology is the most popular (and why)?
What are the strengths and weaknesses of the various methodologies?
How can the existing methodologies inform my own methodology?
3: The Conclusion Section
Once you've completed the body section of your literature review using one of the structural approaches we discussed above, you'll need to "wrap up" your literature review and pull all the pieces together to set the direction for the rest of your dissertation or thesis.
The conclusion is where you'll present the key findings of your literature review. In this section, you should emphasise the research that is especially important to your research questions and highlight the gaps that exist in the literature. Based on this, you need to make it clear what you will add to the literature – in other words, justify your own research by showing how it will help fill one or more of the gaps you just identified.
Last but not least, if it's your intention to develop a conceptual framework for your dissertation or thesis, the conclusion section is a good place to present this.
Example: Thematically Structured Review
In the video below, we unpack a literature review chapter so that you can see an example of a thematically structure review in practice.
Let's Recap
In this article, we've  discussed how to structure your literature review for maximum impact. Here's a quick recap of what  you need to keep in mind when deciding on your literature review structure:
Just like other chapters, your literature review needs a clear introduction , body and conclusion .
The introduction section should provide an overview of what you will discuss in your literature review.
The body section of your literature review can be organised by chronology , theme or methodology . The right structural approach depends on what you're trying to achieve with your research.
The conclusion section should draw together the key findings of your literature review and link them to your research questions.
If you're ready to get started, be sure to download our free literature review template to fast-track your chapter outline.
Psst… there's more (for free)
This post is part of our dissertation mini-course, which covers everything you need to get started with your dissertation, thesis or research project. 
You Might Also Like:
25 Comments
Great work. This is exactly what I was looking for and helps a lot together with your previous post on literature review. One last thing is missing: a link to a great literature chapter of an journal article (maybe with comments of the different sections in this review chapter). Do you know any great literature review chapters?
I agree with you Marin… A great piece
I agree with Marin. This would be quite helpful if you annotate a nicely structured literature from previously published research articles.
Awesome article for my research.
I thank you immensely for this wonderful guide
It is indeed thought and supportive work for the futurist researcher and students
Very educative and good time to get guide. Thank you
Great work, very insightful. Thank you.
Thank you very much, very helpful
This is very educative and precise . Thank you very much for dropping this kind of write up .
Pheeww, so damn helpful, thank you for this informative piece.
I'm doing a research project topic ; stool analysis for parasitic worm (enteric) worm, how do I structure it, thanks.
comprehensive explanation. Help us by pasting the URL of some good "literature review" for better understanding.
great piece. thanks for the awesome explanation. it is really worth sharing. I have a little question, if anyone can help me out, which of the options in the body of literature can be best fit if you are writing an architectural thesis that deals with design?
I am doing a research on nanofluids how can l structure it?
Beautifully clear.nThank you!
Lucid! Thankyou!
Brilliant work, well understood, many thanks
I like how this was so clear with simple language 😊😊 thank you so much 😊 for these information 😊
Insightful. I was struggling to come up with a sensible literature review but this has been really helpful. Thank you!
You have given thought-provoking information about the review of the literature.
Thank you. It has made my own research better and to impart your work to students I teach
I learnt a lot from this teaching. It's a great piece.
I am doing research on EFL teacher motivation for his/her job. How Can I structure it? Is there any detailed template, additional to this?
You are so cool! I do not think I've read through something like this before. So nice to find somebody with some genuine thoughts on this issue. Seriously.. thank you for starting this up. This site is one thing that is required on the internet, someone with a little originality!
Submit a Comment Cancel reply
Your email address will not be published. Required fields are marked *
Save my name, email, and website in this browser for the next time I comment.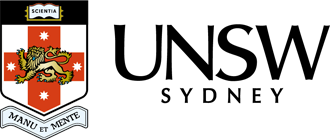 How to Prepare a Research Proposal and Literature Review
All HDR candidates are required to prepare a research proposal and literature review for their first Research Progress Review. If you are a PhD candidate, this will be your Confirmation Review. 
Your research proposal and literature review should be a comprehensive outline of your research topic and show how you will make an original contribution to knowledge in your field. Your Review panel will use your research proposal and literature review to assess the viability of your research project, and to provide you with valuable feedback on your topic, methodology, research design, timeline and milestones. 
UNSW Academic Skills provides a detailed description of how to develop and structure your research proposal. 
Your Faculty and/or School may have particular requirements, and you should contact your Postgraduate Coordinator or your supervisor if you're unsure of what is required.  
Additional Resources
All disciplinary areas A guide for writing thesis proposals - UNSW Academic Skills Confirmation – not as big a deal as you think it is? - the Thesis Whisperer
Humanities and Social Sciences Essential ingredients of a good research proposal for undergraduate and postgraduate students in the social sciences – Raymond Talinbe Abdulai and Anthony Owusu-Ansah, SAGE Open, Jul-Sep 2014  Template for writing your PhD Confirmation document in Sociology and Anthropology - S A Hamed Hosseini
Science, Technology, Engineering and Medicine How to prepare a research proposal – Asya Al-Riyami, Oman Medical Journal Writing a scientific research proposal – author unknown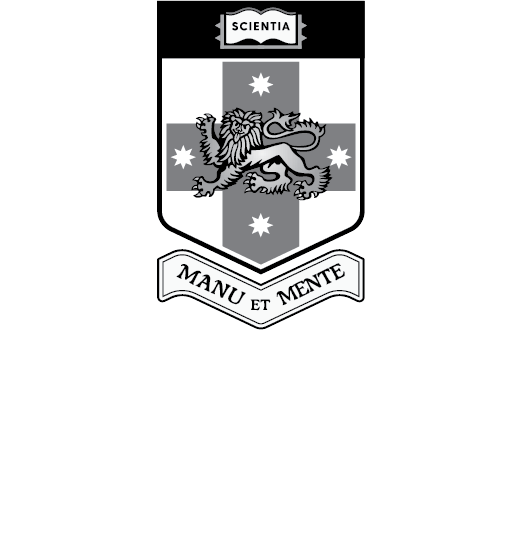 Find a degree
Ask a Question
Getting Started
International
Find a Researcher/Area
Postgraduate Coursework
Postgraduate Research
At a Glance
UNSW Sydney NSW 2052 Australia
Telephone +61 2 93851000
Maps
UNSW Sydney

Graduate Research School, Level 2, Rupert Myers Building (South Wing), UNSW Sydney NSW 2052 Australia Telephone +61 2 93855500 Dean of Graduate Research, Professor Jonathan Morris. UNSW CRICOS   Provider Code:  00098G  TEQSA Provider ID : PRV12055  ABN:  57 195 873 179
Have a language expert improve your writing
Run a free plagiarism check in 10 minutes, generate accurate citations for free.
Knowledge Base
Starting the research process
How to Write a Research Proposal | Examples & Templates
How to Write a Research Proposal | Examples & Templates
Published on October 12, 2022 by Shona McCombes and Tegan George. Revised on January 3, 2023.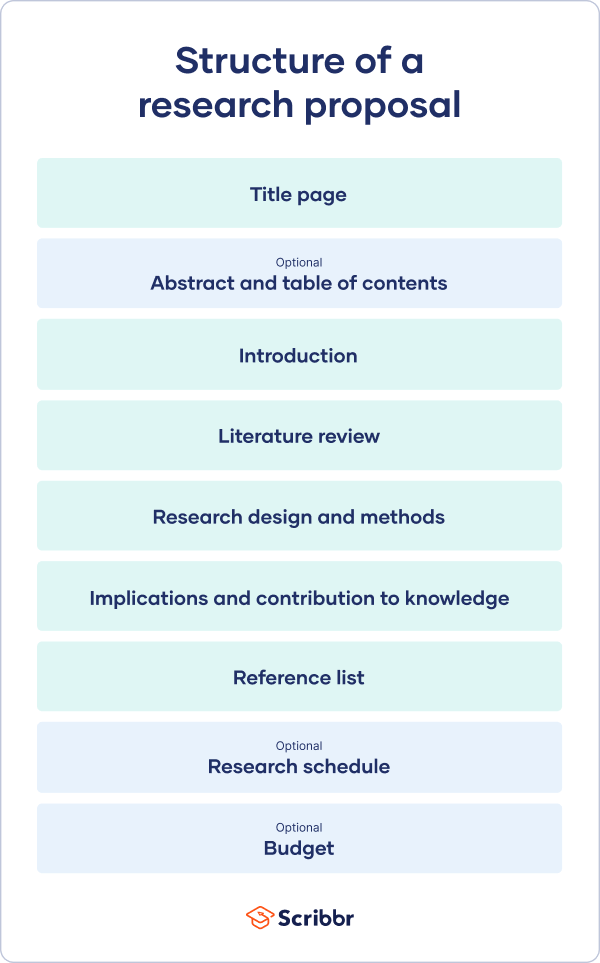 A research proposal describes what you will investigate, why it's important, and how you will conduct your research.
The format of a research proposal varies between fields, but most proposals will contain at least these elements:
Introduction
Literature review.
Reference list
While the sections may vary, the overall objective is always the same. A research proposal serves as a blueprint and guide for your research plan, helping you get organized and feel confident in the path forward you choose to take.
Table of contents
Research proposal purpose, research proposal examples, research design and methods, contribution to knowledge, research schedule, frequently asked questions about research proposals.
Academics often have to write research proposals to get funding for their projects. As a student, you might have to write a research proposal as part of a grad school application , or prior to starting your thesis or dissertation .
In addition to helping you figure out what your research can look like, a proposal can also serve to demonstrate why your project is worth pursuing to a funder, educational institution, or supervisor.
Research proposal length
The length of a research proposal can vary quite a bit. A bachelor's or master's thesis proposal can be just a few pages, while proposals for PhD dissertations or research funding are usually much longer and more detailed. Your supervisor can help you determine the best length for your work.
One trick to get started is to think of your proposal's structure as a shorter version of your thesis or dissertation , only without the results , conclusion and discussion sections.
Download our research proposal template
Writing a research proposal can be quite challenging, but a good starting point could be to look at some examples. We've included a few for you below.
Example research proposal #1: "A Conceptual Framework for Scheduling Constraint Management"
Example research proposal #2: "Making Healthy Connections: Mentoring, Monitoring and Measurement"
Example research proposal #3: "Medical Students as Mediators of Change in Tobacco Use"
Here's why students love Scribbr's proofreading services
Discover proofreading & editing
Like your dissertation or thesis, the proposal will usually have a title page that includes:
The proposed title of your project
Your supervisor's name
Your institution and department
The first part of your proposal is the initial pitch for your project. Make sure it succinctly explains what you want to do and why.
Your introduction should:
Introduce your topic
Give necessary background and context
Outline your  problem statement  and research questions
To guide your introduction , include information about:
Who could have an interest in the topic (e.g., scientists, policymakers)
How much is already known about the topic
What is missing from this current knowledge
What new insights your research will contribute
Why you believe this research is worth doing
As you get started, it's important to demonstrate that you're familiar with the most important research on your topic. A strong literature review  shows your reader that your project has a solid foundation in existing knowledge or theory. It also shows that you're not simply repeating what other people have already done or said, but rather using existing research as a jumping-off point for your own.
In this section, share exactly how your project will contribute to ongoing conversations in the field by:
Comparing and contrasting the main theories, methods, and debates
Examining the strengths and weaknesses of different approaches
Explaining how will you build on, challenge, or synthesize prior scholarship
Following the literature review, restate your main  objectives . This brings the focus back to your own project. Next, your research design or methodology section will describe your overall approach, and the practical steps you will take to answer your research questions.
To finish your proposal on a strong note, explore the potential implications of your research for your field. Emphasize again what you aim to contribute and why it matters.
For example, your results might have implications for:
Improving best practices
Informing policymaking decisions
Strengthening a theory or model
Challenging popular or scientific beliefs
Creating a basis for future research
Last but not least, your research proposal must include correct citations for every source you have used, compiled in a reference list . To create citations quickly and easily, you can use our free APA citation generator .
Some institutions or funders require a detailed timeline of the project, asking you to forecast what you will do at each stage and how long it may take. While not always required, be sure to check the requirements of your project.
Here's an example schedule to help you get started. You can also download a template at the button below.
Download our research schedule template
If you are applying for research funding, chances are you will have to include a detailed budget. This shows your estimates of how much each part of your project will cost.
Make sure to check what type of costs the funding body will agree to cover. For each item, include:
Cost : exactly how much money do you need?
Justification : why is this cost necessary to complete the research?
Source : how did you calculate the amount?
To determine your budget, think about:
Travel costs : do you need to go somewhere to collect your data? How will you get there, and how much time will you need? What will you do there (e.g., interviews, archival research)?
Materials : do you need access to any tools or technologies?
Help : do you need to hire any research assistants for the project? What will they do, and how much will you pay them?
Once you've decided on your research objectives , you need to explain them in your paper, at the end of your problem statement .
Keep your research objectives clear and concise, and use appropriate verbs to accurately convey the work that you will carry out for each one.
I will compare …
A research aim is a broad statement indicating the general purpose of your research project. It should appear in your introduction at the end of your problem statement , before your research objectives.
Research objectives are more specific than your research aim. They indicate the specific ways you'll address the overarching aim.
A PhD, which is short for philosophiae doctor (doctor of philosophy in Latin), is the highest university degree that can be obtained. In a PhD, students spend 3–5 years writing a dissertation , which aims to make a significant, original contribution to current knowledge.
A PhD is intended to prepare students for a career as a researcher, whether that be in academia, the public sector, or the private sector.
A master's is a 1- or 2-year graduate degree that can prepare you for a variety of careers.
All master's involve graduate-level coursework. Some are research-intensive and intend to prepare students for further study in a PhD; these usually require their students to write a master's thesis . Others focus on professional training for a specific career.
Critical thinking refers to the ability to evaluate information and to be aware of biases or assumptions, including your own.
Like information literacy , it involves evaluating arguments, identifying and solving problems in an objective and systematic way, and clearly communicating your ideas.
The best way to remember the difference between a research plan and a research proposal is that they have fundamentally different audiences. A research plan helps you, the researcher, organize your thoughts. On the other hand, a dissertation proposal or research proposal aims to convince others (e.g., a supervisor, a funding body, or a dissertation committee) that your research topic is relevant and worthy of being conducted.
Cite this Scribbr article
If you want to cite this source, you can copy and paste the citation or click the "Cite this Scribbr article" button to automatically add the citation to our free Citation Generator.
McCombes, S. & George, T. (2023, January 03). How to Write a Research Proposal | Examples & Templates. Scribbr. Retrieved May 30, 2023, from https://www.scribbr.com/research-process/research-proposal/
Is this article helpful?
Shona McCombes
Other students also liked, how to write a problem statement | guide & examples, writing strong research questions | criteria & examples, how to write a literature review | guide, examples, & templates, what is your plagiarism score.
Thesis, major paper, and major project proposals
Definitions
Introductory section
Literature review
Methodology
Schedule/work plan
Other potential elements
Proposal references
Ask for help
Writing a literature review involves many skills that students practice all the time, such as reading literature to find out what conversations are happening between scholars, gathering and synthesizing information, comparing and contrasting ideas, and presenting information so that readers can easily understand the author's thinking. If the research literature is where scholars have conversations with each other about their fields of study, the literature review is your opportunity to help your reader understand those conversations and how your topic fits within them.
Literature reviews in research proposals are often a preliminary version of the literature review in the completed thesis, major project, or research paper. For example, students may be asked to identify the topics they'll focus on in the final literature review and discuss those topics through synthesizing, comparing, contrasting, and/or identifying gaps in those resources. Students may also discuss the theoretical context of the proposed study in the literature review. In the final thesis, major project, or research paper, the literature review will likely be expanded to include additional resources and discussion. Check with your handbook for instructions regarding the number of topics, resources, and/or types of resources expected in the proposal's literature review. The handbook may also identify word count limits for the literature review in the proposal .
The information above regarding the expectations of a literature review in a proposal was gathered from RRU thesis and major project handbooks, current in 2020, from programs in the Faculty of Social and Applied Sciences, the Faculty of Management, and the College of Interdisciplinary Studies. If the details here differ from the information provided in the handbook for your project, please follow the handbook's directions.
Please watch The Literature Review video below for more information on writing a literature review. For best viewing, please expand the video to watch it in full screen mode.
If you're a Royal Roads' student and need assistance with finding sources for your literature review, please contact the Library . If you're a Royal Roads' student and you have questions about writing literature reviews, please contact the Writing Centre .
Image credit:: Image by geralt/21958 images from Pixabay
In SAGE Research Methods: Writing Up; look for the How Do I Write My Literature Review? drop down option. Access via this link requires a RRU username and password.
Literature Reviews
Available to everyone, this page on literature reviews in the Writing Centre's Types of Academic Writing guide provides resources such as lengthier videos that provide more in-depth explanations, examples of literature reviews, and much more.
Reviewing the Literature
In SAGE Research Methods: Project Planner ; access via this link requires a RRU username and password.
Image credit: Image by Mohamed Assan from Pixabay
<< Previous: Introductory section
Next: Methodology >>
Last Updated: May 9, 2023 9:40 AM
URL: https://libguides.royalroads.ca/proposals
How to Write a Successful Literature Review
One type of a proposal focus is a literature review/trend analysis . This type of a proposal is somewhat different from the other proposal foci. A sample literature/trend analysis is posted at the bottom of this guide.
A literature review surveys scholarly articles, books and other sources (e.g. dissertations, conference proceedings) relevant to a particular issue, area of research or theory, and provides a description, summary, and critical evaluation of these works.The goal of this form of a proposal is to provide an overview of the significant trends in the literature that is published on this topic.
The topics and references you include in your proposal should be purposeful and represent the key authors and arguments in that particular area of study. This necessitates that the review be consistently up to date and include the newest findings/discussions in that particular area of study or debate.
Definition and use/purpose
In a literature review you may highlight a critical area of a thesis, or it may be a focused, selected review of writings on a subject with the following purposes. Each work should:
Relate to the context of its contribution to the understanding of the subject under review
Describe / compare each work in relationship to the others in your proposal
Identify new ways to interpret, and shed light on any gaps in, previous research
Resolve conflicts among what is deemed as contradictory previous studies
Identify areas of prior scholarship to prevent duplication of effort
Illustrate how this work can be a starting point for further research
Highlight the relevancy of the work in the context of existing literature
The literature review itself, however, does not present new primary scholarship.
What to include
An overview of the subject, issue or theory under consideration, along with the objectives of the literature review
Division of works under review into categories (e.g. those supporting a particular position, those who have the opposite view, and those who give alternative theses entirely)
An explanation of how each work is similar to and how it varies from the others
A conclusion . Determine which aspects are key in the debates on the topic, are most convincing, and make the greatest contribution to the understanding and development of this particular research area.
Evaluating the data
Authority — What are the author's credentials? Is there evidence to support the author's arguments (e.g., primary historical material, case studies, narratives, statistics, recent scientific findings)?
Objectivity — Does the author have a bias in the writing, or is the perspective even-handed? Does the author consider contrasting or opposing data or does he or she ignore other pertinent information in order to prove the author's point?
Persuasiveness — Which of the author's theses are most/least convincing?
Value — Does the author provide enough context to make the case that this is a relevant discussion in the current state of the field? Does this work make a significant contribution to create a stronger understanding of the subject?
A sample of a well-written literature review/trend analysis is available below. If you have questions, please email Cindy Winter or call her at 612-759-8580. You may also contact one of the section chairs .
Family Science is a vibrant and growing discipline. Visit Family.Science to learn more and see how Family Scientists make a difference.
NCFR is a nonpartisan, 501(c)(3) nonprofit organization whose members support all families through research, teaching, practice, and advocacy.
Get the latest updates on NCFR & Family Science in our weekly email newsletter:
Connect with Us
National Council on Family Relations 661 LaSalle Street, Suite 200 Saint Paul, MN 55114 Phone: (888) 781-9331 [email protected] Terms & Conditions | Privacy Policy
© Copyright 2023 NCFR
Have a language expert improve your writing
Run a free plagiarism check in 10 minutes, automatically generate references for free.
Knowledge Base
Dissertation
What is a Literature Review? | Guide, Template, & Examples
What is a Literature Review? | Guide, Template, & Examples
Published on 22 February 2022 by Shona McCombes . Revised on 7 June 2022.
What is a literature review? A literature review is a survey of scholarly sources on a specific topic. It provides an overview of current knowledge, allowing you to identify relevant theories, methods, and gaps in the existing research.
There are five key steps to writing a literature review:
Search for relevant literature
Evaluate sources
Identify themes, debates and gaps
Outline the structure
Write your literature review
A good literature review doesn't just summarise sources – it analyses, synthesises, and critically evaluates to give a clear picture of the state of knowledge on the subject.
Table of contents
Why write a literature review, examples of literature reviews, step 1: search for relevant literature, step 2: evaluate and select sources, step 3: identify themes, debates and gaps, step 4: outline your literature review's structure, step 5: write your literature review, frequently asked questions about literature reviews, introduction.
Quick Run-through
Step 1 & 2
When you write a dissertation or thesis, you will have to conduct a literature review to situate your research within existing knowledge. The literature review gives you a chance to:
Demonstrate your familiarity with the topic and scholarly context
Develop a theoretical framework and methodology for your research
Position yourself in relation to other researchers and theorists
Show how your dissertation addresses a gap or contributes to a debate
You might also have to write a literature review as a stand-alone assignment. In this case, the purpose is to evaluate the current state of research and demonstrate your knowledge of scholarly debates around a topic.
The content will look slightly different in each case, but the process of conducting a literature review follows the same steps. We've written a step-by-step guide that you can follow below.

Writing literature reviews can be quite challenging! A good starting point could be to look at some examples, depending on what kind of literature review you'd like to write.
Example literature review #1: "Why Do People Migrate? A Review of the Theoretical Literature" ( Theoretical literature review about the development of economic migration theory from the 1950s to today.)
Example literature review #2: "Literature review as a research methodology: An overview and guidelines" ( Methodological literature review about interdisciplinary knowledge acquisition and production.)
Example literature review #3: "The Use of Technology in English Language Learning: A Literature Review" ( Thematic literature review about the effects of technology on language acquisition.)
Example literature review #4: "Learners' Listening Comprehension Difficulties in English Language Learning: A Literature Review" ( Chronological literature review about how the concept of listening skills has changed over time.)
You can also check out our templates with literature review examples and sample outlines at the links below.
Download Word doc Download Google doc
Prevent plagiarism, run a free check.
Before you begin searching for literature, you need a clearly defined topic .
If you are writing the literature review section of a dissertation or research paper, you will search for literature related to your research objectives and questions .
If you are writing a literature review as a stand-alone assignment, you will have to choose a focus and develop a central question to direct your search. Unlike a dissertation research question, this question has to be answerable without collecting original data. You should be able to answer it based only on a review of existing publications.
Make a list of keywords
Start by creating a list of keywords related to your research topic. Include each of the key concepts or variables you're interested in, and list any synonyms and related terms. You can add to this list if you discover new keywords in the process of your literature search.
Social media, Facebook, Instagram, Twitter, Snapchat, TikTok
Body image, self-perception, self-esteem, mental health
Generation Z, teenagers, adolescents, youth
Search for relevant sources
Use your keywords to begin searching for sources. Some databases to search for journals and articles include:
Your university's library catalogue
Google Scholar
Project Muse (humanities and social sciences)
Medline (life sciences and biomedicine)
EconLit (economics)
Inspec (physics, engineering and computer science)
You can use boolean operators to help narrow down your search:
Read the abstract to find out whether an article is relevant to your question. When you find a useful book or article, you can check the bibliography to find other relevant sources.
To identify the most important publications on your topic, take note of recurring citations. If the same authors, books or articles keep appearing in your reading, make sure to seek them out.
You probably won't be able to read absolutely everything that has been written on the topic – you'll have to evaluate which sources are most relevant to your questions.
For each publication, ask yourself:
What question or problem is the author addressing?
What are the key concepts and how are they defined?
What are the key theories, models and methods? Does the research use established frameworks or take an innovative approach?
What are the results and conclusions of the study?
How does the publication relate to other literature in the field? Does it confirm, add to, or challenge established knowledge?
How does the publication contribute to your understanding of the topic? What are its key insights and arguments?
What are the strengths and weaknesses of the research?
Make sure the sources you use are credible, and make sure you read any landmark studies and major theories in your field of research.
You can find out how many times an article has been cited on Google Scholar – a high citation count means the article has been influential in the field, and should certainly be included in your literature review.
The scope of your review will depend on your topic and discipline: in the sciences you usually only review recent literature, but in the humanities you might take a long historical perspective (for example, to trace how a concept has changed in meaning over time).
Remember that you can use our template to summarise and evaluate sources you're thinking about using!
Take notes and cite your sources
As you read, you should also begin the writing process. Take notes that you can later incorporate into the text of your literature review.
It's important to keep track of your sources with references to avoid plagiarism . It can be helpful to make an annotated bibliography, where you compile full reference information and write a paragraph of summary and analysis for each source. This helps you remember what you read and saves time later in the process.
You can use our free APA Reference Generator for quick, correct, consistent citations.
To begin organising your literature review's argument and structure, you need to understand the connections and relationships between the sources you've read. Based on your reading and notes, you can look for:
Trends and patterns (in theory, method or results): do certain approaches become more or less popular over time?
Themes: what questions or concepts recur across the literature?
Debates, conflicts and contradictions: where do sources disagree?
Pivotal publications: are there any influential theories or studies that changed the direction of the field?
Gaps: what is missing from the literature? Are there weaknesses that need to be addressed?
This step will help you work out the structure of your literature review and (if applicable) show how your own research will contribute to existing knowledge.
Most research has focused on young women.
There is an increasing interest in the visual aspects of social media.
But there is still a lack of robust research on highly-visual platforms like Instagram and Snapchat – this is a gap that you could address in your own research.
There are various approaches to organising the body of a literature review. You should have a rough idea of your strategy before you start writing.
Depending on the length of your literature review, you can combine several of these strategies (for example, your overall structure might be thematic, but each theme is discussed chronologically).
Chronological
The simplest approach is to trace the development of the topic over time. However, if you choose this strategy, be careful to avoid simply listing and summarising sources in order.
Try to analyse patterns, turning points and key debates that have shaped the direction of the field. Give your interpretation of how and why certain developments occurred.
If you have found some recurring central themes, you can organise your literature review into subsections that address different aspects of the topic.
For example, if you are reviewing literature about inequalities in migrant health outcomes, key themes might include healthcare policy, language barriers, cultural attitudes, legal status, and economic access.
Methodological
If you draw your sources from different disciplines or fields that use a variety of research methods , you might want to compare the results and conclusions that emerge from different approaches. For example:
Look at what results have emerged in qualitative versus quantitative research
Discuss how the topic has been approached by empirical versus theoretical scholarship
Divide the literature into sociological, historical, and cultural sources
Theoretical
A literature review is often the foundation for a theoretical framework . You can use it to discuss various theories, models, and definitions of key concepts.
You might argue for the relevance of a specific theoretical approach, or combine various theoretical concepts to create a framework for your research.
Like any other academic text, your literature review should have an introduction , a main body, and a conclusion . What you include in each depends on the objective of your literature review.
The introduction should clearly establish the focus and purpose of the literature review.
If you are writing the literature review as part of your dissertation or thesis, reiterate your central problem or research question and give a brief summary of the scholarly context. You can emphasise the timeliness of the topic ("many recent studies have focused on the problem of x") or highlight a gap in the literature ("while there has been much research on x, few researchers have taken y into consideration").
Depending on the length of your literature review, you might want to divide the body into subsections. You can use a subheading for each theme, time period, or methodological approach.
As you write, make sure to follow these tips:
Summarise and synthesise: give an overview of the main points of each source and combine them into a coherent whole.
Analyse and interpret: don't just paraphrase other researchers – add your own interpretations, discussing the significance of findings in relation to the literature as a whole.
Critically evaluate: mention the strengths and weaknesses of your sources.
Write in well-structured paragraphs: use transitions and topic sentences to draw connections, comparisons and contrasts.
In the conclusion, you should summarise the key findings you have taken from the literature and emphasise their significance.
If the literature review is part of your dissertation or thesis, reiterate how your research addresses gaps and contributes new knowledge, or discuss how you have drawn on existing theories and methods to build a framework for your research. This can lead directly into your methodology section.
A literature review is a survey of scholarly sources (such as books, journal articles, and theses) related to a specific topic or research question .
It is often written as part of a dissertation , thesis, research paper , or proposal .
There are several reasons to conduct a literature review at the beginning of a research project:
To familiarise yourself with the current state of knowledge on your topic
To ensure that you're not just repeating what others have already done
To identify gaps in knowledge and unresolved problems that your research can address
To develop your theoretical framework and methodology
To provide an overview of the key findings and debates on the topic
Writing the literature review shows your reader how your work relates to existing research and what new insights it will contribute.
The literature review usually comes near the beginning of your  dissertation . After the introduction , it grounds your research in a scholarly field and leads directly to your theoretical framework or methodology .
Cite this Scribbr article
If you want to cite this source, you can copy and paste the citation or click the 'Cite this Scribbr article' button to automatically add the citation to our free Reference Generator.
McCombes, S. (2022, June 07). What is a Literature Review? | Guide, Template, & Examples. Scribbr. Retrieved 30 May 2023, from https://www.scribbr.co.uk/thesis-dissertation/literature-review/
Is this article helpful?
Shona McCombes
Other students also liked, how to write a dissertation proposal | a step-by-step guide, what is a theoretical framework | a step-by-step guide, what is a research methodology | steps & tips.
We use cookies to enhance our website for you. Proceed if you agree to this policy or learn more about it.
Essay Database >
Essays Samples >
Essay Types >
Research Proposal Example
Literature Review Research Proposals Samples For Students
100 samples of this type
Over the course of studying in college, you will definitely need to craft a bunch of Research Proposals on Literature Review. Lucky you if linking words together and organizing them into meaningful text comes naturally to you; if it's not the case, you can save the day by finding a previously written Literature Review Research Proposal example and using it as a model to follow.
This is when you will definitely find WowEssays' free samples collection extremely helpful as it embodies numerous professionally written works on most various Literature Review Research Proposals topics. Ideally, you should be able to find a piece that meets your requirements and use it as a template to compose your own Research Proposal. Alternatively, our skilled essay writers can deliver you an original Literature Review Research Proposal model written from scratch according to your personal instructions.
Example Of A Personal Account Of How Economics Affects Your Life Essay
Example of welfare time restrictions argumentative essay.
Password recovery email has been sent to [email protected]
Use your new password to log in
You are not register!
By clicking Register, you agree to our Terms of Service and that you have read our Privacy Policy .
Now you can download documents directly to your device!
Check your email! An email with your password has already been sent to you! Now you can download documents directly to your device.
The sample is NOT original!
Short on a deadline?
Don't waste time. Get help with 11% off using code - GETWOWED
No, thanks! I'm fine with missing my deadline
17 Research Proposal Examples
A research proposal systematically and transparently outlines a proposed research project.
The purpose of a research proposal is to demonstrate a project's viability and the researcher's preparedness to conduct an academic study. It serves as a roadmap for the researcher.
The process holds value both externally (for accountability purposes and often as a requirement for a grant application) and intrinsic value (for helping the researcher to clarify the mechanics, purpose, and potential signficance of the study).
Key sections of a research proposal include: the title, abstract, introduction, literature review, research design and methods, timeline, budget, outcomes and implications, references, and appendix. Each is briefly explained below.
Research Proposal Sample Structure
Title: The title should present a concise and descriptive statement that clearly conveys the core idea of the research projects. Make it as specific as possible. The reader should immediately be able to grasp the core idea of the intended research project. Often, the title is left too vague and does not help give an understanding of what exactly the study looks at.
Abstract: Abstracts are usually around 250-300 words and provide an overview of what is to follow – including the research problem, objectives, methods, expected outcomes, and significance of the study. Use it as a roadmap and ensure that, if the abstract is the only thing someone reads, they'll get a good fly-by of what will be discussed in the peice.
Introduction: Introductions are all about contextualization. They often set the background information with a statement of the problem. At the end of the introduction, the reader should understand what the rationale for the study truly is. I like to see the research questions or hypotheses included in the introduction and I like to get a good understanding of what the significance of the research will be. It's often easiest to write the introduction last
Literature Review: The literature review dives deep into the existing literature on the topic, demosntrating your thorough understanding of the existing literature including themes, strengths, weaknesses, and gaps in the literature. It serves both to demonstrate your knowledge of the field and, to demonstrate how the proposed study will fit alongside the literature on the topic. A good literature review concludes by clearly demonstrating how your research will contribute something new and innovative to the conversation in the literature.
Research Design and Methods: This section needs to clearly demonstrate how the data will be gathered and analyzed in a systematic and academically sound manner. Here, you need to demonstrate that the conclusions of your research will be both valid and reliable. Common points discussed in the research design and methods section include highlighting the research paradigm, methodologies, intended population or sample to be studied, data collection techniques, and data analysis procedures. Toward the end of this section, you are encouraged to also address ethical considerations and limitations of the research process, but also to explain why you chose your research design and how you are mitigating the identified risks and limitations.
Timeline: Provide an outline of the anticipated timeline for the study. Break it down into its various stages (including data collection, data analysis, and report writing). The goal of this section is firstly to establish a reasonable breakdown of steps for you to follow and secondly to demonstrate to the assessors that your project is practicable and feasible.
Budget: Estimate the costs associated with the research project and include evidence for your estimations. Typical costs include staffing costs, equipment, travel, and data collection tools. When applying for a scholarship, the budget should demonstrate that you are being responsible with your expensive and that your funding application is reasonable.
Expected Outcomes and Implications: A discussion of the anticipated findings or results of the research, as well as the potential contributions to the existing knowledge, theory, or practice in the field. This section should also address the potential impact of the research on relevant stakeholders and any broader implications for policy or practice.
References: A complete list of all the sources cited in the research proposal, formatted according to the required citation style. This demonstrates the researcher's familiarity with the relevant literature and ensures proper attribution of ideas and information.
Appendices (if applicable): Any additional materials, such as questionnaires, interview guides, or consent forms, that provide further information or support for the research proposal. These materials should be included as appendices at the end of the document.
Research Proposal Examples
Research proposals often extend anywhere between 2,000 and 15,000 words in length. The following snippets are samples designed to briefly demonstrate what might be discussed in each section.
1. Education Studies Research Proposals
See some real sample pieces:
Assessment of the perceptions of teachers towards a new grading system
Does ICT use in secondary classrooms help or hinder student learning?
Digital technologies in focus project
Urban Middle School Teachers' Experiences of the Implementation of
Restorative Justice Practices
Experiences of students of color in service learning
Consider this hypothetical education research proposal:
The Impact of Game-Based Learning on Student Engagement and Academic Performance in Middle School Mathematics
Abstract: The proposed study will explore multiplayer game-based learning techniques in middle school mathematics curricula and their effects on student engagement. The study aims to contribute to the current literature on game-based learning by examining the effects of multiplayer gaming in learning.
Introduction: Digital game-based learning has long been shunned within mathematics education for fears that it may distract students or lower the academic integrity of the classrooms. However, there is emerging evidence that digital games in math have emerging benefits not only for engagement but also academic skill development. Contributing to this discourse, this study seeks to explore the potential benefits of multiplayer digital game-based learning by examining its impact on middle school students' engagement and academic performance in a mathematics class.
Literature Review: The literature review has identified gaps in the current knowledge, namely, while game-based learning has been extensively explored, the role of multiplayer games in supporting learning has not been studied.
Research Design and Methods: This study will employ a mixed-methods research design based upon action research in the classroom. A quasi-experimental pre-test/post-test control group design will first be used to compare the academic performance and engagement of middle school students exposed to game-based learning techniques with those in a control group receiving instruction without the aid of technology. Students will also be observed and interviewed in regard to the effect of communication and collaboration during gameplay on their learning.
Timeline: The study will take place across the second term of the school year with a pre-test taking place on the first day of the term and the post-test taking place on Wednesday in Week 10.
Budget: The key budgetary requirements will be the technologies required, including the subscription cost for the identified games and computers.
Expected Outcomes and Implications: It is expected that the findings will contribute to the current literature on game-based learning and inform educational practices, providing educators and policymakers with insights into how to better support student achievement in mathematics.
2. Psychology Research Proposals
See some real examples:
A situational analysis of shared leadership in a self-managing team
The effect of musical preference on running performance
Relationship between self-esteem and disordered eating amongst adolescent females
Consider this hypothetical psychology research proposal:
The Effects of Mindfulness-Based Interventions on Stress Reduction in College Students
Abstract: This research proposal examines the impact of mindfulness-based interventions on stress reduction among college students, using a pre-test/post-test experimental design with both quantitative and qualitative data collection methods .
Introduction: College students face heightened stress levels during exam weeks. This can affect both mental health and test performance. This study explores the potential benefits of mindfulness-based interventions such as meditation as a way to mediate stress levels in the weeks leading up to exam time.
Literature Review: Existing research on mindfulness-based meditation has shown the ability for mindfulness to increase metacognition, decrease anxiety levels, and decrease stress. Existing literature has looked at workplace, high school and general college-level applications. This study will contribute to the corpus of literature by exploring the effects of mindfulness directly in the context of exam weeks.
Research Design and Methods: Participants ( n= 234 ) will be randomly assigned to either an experimental group, receiving 5 days per week of 10-minute mindfulness-based interventions, or a control group, receiving no intervention. Data will be collected through self-report questionnaires, measuring stress levels, semi-structured interviews exploring participants' experiences, and students' test scores.
Timeline: The study will begin three weeks before the students' exam week and conclude after each student's final exam. Data collection will occur at the beginning (pre-test of self-reported stress levels) and end (post-test) of the three weeks.
Expected Outcomes and Implications: The study aims to provide evidence supporting the effectiveness of mindfulness-based interventions in reducing stress among college students in the lead up to exams, with potential implications for mental health support and stress management programs on college campuses.
3. Sociology Research Proposals
Understanding emerging social movements: A case study of 'Jersey in Transition'
The interaction of health, education and employment in Western China
Can we preserve lower-income affordable neighbourhoods in the face of rising costs?
Consider this hypothetical sociology research proposal:
The Impact of Social Media Usage on Interpersonal Relationships among Young Adults
Abstract: This research proposal investigates the effects of social media usage on interpersonal relationships among young adults, using a longitudinal mixed-methods approach with ongoing semi-structured interviews to collect qualitative data.
Introduction: Social media platforms have become a key medium for the development of interpersonal relationships, particularly for young adults. This study examines the potential positive and negative effects of social media usage on young adults' relationships and development over time.
Literature Review: A preliminary review of relevant literature has demonstrated that social media usage is central to development of a personal identity and relationships with others with similar subcultural interests. However, it has also been accompanied by data on mental health deline and deteriorating off-screen relationships. The literature is to-date lacking important longitudinal data on these topics.
Research Design and Methods: Participants ( n = 454 ) will be young adults aged 18-24. Ongoing self-report surveys will assess participants' social media usage, relationship satisfaction, and communication patterns. A subset of participants will be selected for longitudinal in-depth interviews starting at age 18 and continuing for 5 years.
Timeline: The study will be conducted over a period of five years, including recruitment, data collection, analysis, and report writing.
Expected Outcomes and Implications: This study aims to provide insights into the complex relationship between social media usage and interpersonal relationships among young adults, potentially informing social policies and mental health support related to social media use.
4. Nursing Research Proposals
Does Orthopaedic Pre-assessment clinic prepare the patient for admission to hospital?
Nurses' perceptions and experiences of providing psychological care to burns patients
Registered psychiatric nurse's practice with mentally ill parents and their children
Consider this hypothetical nursing research proposal:
The Influence of Nurse-Patient Communication on Patient Satisfaction and Health Outcomes following Emergency Cesarians
Abstract: This research will examines the impact of effective nurse-patient communication on patient satisfaction and health outcomes for women following c-sections, utilizing a mixed-methods approach with patient surveys and semi-structured interviews.
Introduction: It has long been known that effective communication between nurses and patients is crucial for quality care. However, additional complications arise following emergency c-sections due to the interaction between new mother's changing roles and recovery from surgery.
Literature Review: A review of the literature demonstrates the importance of nurse-patient communication, its impact on patient satisfaction, and potential links to health outcomes. However, communication between nurses and new mothers is less examined, and the specific experiences of those who have given birth via emergency c-section are to date unexamined.
Research Design and Methods: Participants will be patients in a hospital setting who have recently had an emergency c-section. A self-report survey will assess their satisfaction with nurse-patient communication and perceived health outcomes. A subset of participants will be selected for in-depth interviews to explore their experiences and perceptions of the communication with their nurses.
Timeline: The study will be conducted over a period of six months, including rolling recruitment, data collection, analysis, and report writing within the hospital.
Expected Outcomes and Implications: This study aims to provide evidence for the significance of nurse-patient communication in supporting new mothers who have had an emergency c-section. Recommendations will be presented for supporting nurses and midwives in improving outcomes for new mothers who had complications during birth.
5. Social Work Research Proposals
Experiences of negotiating employment and caring responsibilities of fathers post-divorce
Exploring kinship care in the north region of British Columbia
Consider this hypothetical social work research proposal:
The Role of a Family-Centered Intervention in Preventing Homelessness Among At-Risk Youthin a working-class town in Northern England
Abstract: This research proposal investigates the effectiveness of a family-centered intervention provided by a local council area in preventing homelessness among at-risk youth. This case study will use a mixed-methods approach with program evaluation data and semi-structured interviews to collect quantitative and qualitative data.
Introduction: Homelessness among youth remains a significant social issue. This study aims to assess the effectiveness of family-centered interventions in addressing this problem and identify factors that contribute to successful prevention strategies.
Literature Review: A review of the literature has demonstrated several key factors contributing to youth homelessness including lack of parental support, lack of social support, and low levels of family involvement. It also demonstrates the important role of family-centered interventions in addressing this issue. Drawing on current evidence, this study explores the effectiveness of one such intervention in preventing homelessness among at-risk youth in a working-class town in Northern England.
Research Design and Methods: The study will evaluate a new family-centered intervention program targeting at-risk youth and their families. Quantitative data on program outcomes, including housing stability and family functioning, will be collected through program records and evaluation reports. Semi-structured interviews with program staff, participants, and relevant stakeholders will provide qualitative insights into the factors contributing to program success or failure.
Timeline: The study will be conducted over a period of six months, including recruitment, data collection, analysis, and report writing.
Budget: Expenses include access to program evaluation data, interview materials, data analysis software, and any related travel costs for in-person interviews.
Expected Outcomes and Implications: This study aims to provide evidence for the effectiveness of family-centered interventions in preventing youth homelessness, potentially informing the expansion of or necessary changes to social work practices in Northern England.
Research Proposal Template
This is a template for a 2500-word research proposal. You may find it difficult to squeeze everything into this wordcount, but it's a common wordcount for Honors and MA-level dissertations.
Your research proposal is where you really get going with your study. I'd strongly recommend working closely with your teacher in developing a research proposal that's consistent with the requirements and culture of your institution, as in my experience it varies considerably. The above template is from my own courses that walk students through research proposals in a British School of Education.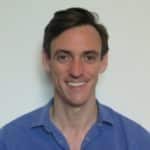 Chris Drew (PhD)
Dr. Chris Drew is the founder of the Helpful Professor. He holds a PhD in education and has published over 20 articles in scholarly journals. He is the former editor of the Journal of Learning Development in Higher Education.
Chris Drew (PhD) https://helpfulprofessor.com/author/admin/ 15 Self-Evaluation Examples
Chris Drew (PhD) https://helpfulprofessor.com/author/admin/ Cultural Blindness - Definition, Examples, Pros, Cons
Chris Drew (PhD) https://helpfulprofessor.com/author/admin/ 15 Inductive Reasoning Examples
Chris Drew (PhD) https://helpfulprofessor.com/author/admin/ 45 Interest Groups Examples
Leave a Comment Cancel Reply
Your email address will not be published. Required fields are marked *
Help & FAQs
Display Settings
California Air Resources Board
Developing an Equity Evaluation Framework for Place-Based, Community-Scale Mobility Investments
Sustainable Communities
Policy & Research Briefs
Pre-Proposal FAQs
Technical Feasibility, Cost-effectiveness, and Policy Strategies for Reducing Embodied Carbon in Building Materials
White Paper: Toxic Air Contaminant Emissions from Fossil Gas Appliances in California
Regional Propane and Woodburning Utilization in Commercial and Residential Buildings across California
Impacts of Telecommuting and Remote Services on Transportation, Land Use, And Climate Change
Sustainable Communities Strategies Evaluation Process Update
Guidance and Best Practices for Development of Greenhouse Gas Emissions and Vehicle Miles Traveled Mitigation Banks or Exchanges
Evaluate the Potential Quantification of Community Garden Project Benefits
Quantification Methodology Development for Air Filtration, Microgrid, and Electric Bicycle Incentive Projects
Regional Plans & Evaluations
Regional Plan Targets
SB 150 Data Dashboard
Active Transportation
Sustainable Transportation and Communities Division Contracts Email [email protected] Phone (800) 242-4450
I.      Objective
The objective of this project is to develop an evaluation framework and identify performance metrics to assess the synergistic equity impacts of place-based, community-scale mobility investments during and after project implementation. The resulting framework should be adaptable for diverse mobility project types and minimize the data collection burden for grantees while also supporting a robust quantitative evaluation of the real-world outcomes relevant to equity-related program objectives. It should incorporate local community context and measure the synergistic effects of multiple complementary mobility investments. This project will build on existing evaluation methods by incorporating new academic research and lessons learned from relevant pilot projects.
II.     Background
The Clean Energy and Pollution Reduction Act of 2015 (Senate Bill 350) directed state agencies to identify and assess barriers limiting zero-emission and near-zero-emission transportation options for low-income residents, including in disadvantaged communities. Pursuant to this directive, CARB (in consultation with the California Energy Commission and in collaboration with many other state agencies, local jurisdictions, and community groups) developed "The Low Income Barriers Study, Part B: Overcoming Barriers to Clean Transportation Access for Low-Income Residents" in 2018. The report outlined several priority recommendations, the first of which is to ensure low-income residents play an active role in clean transportation and mobility project planning. This report has informed the approach of several CARB programs addressing transportation and climate priorities at the local scale.
Climate equity programs funded under California Climate Investments such as the Sustainable Transportation Equity Project (STEP), launched in 2019, take a place-based, community-scale investment approach by funding a suite of complementary mobility-enhancing projects that address community-identified needs within one disadvantaged community. Some of the project types include active transportation infrastructure, such as bike lanes; mobility subsidies, such as prepaid transit debit cards; neighborhood design features that promote active transportation, such as urban forestry; and carsharing programs featuring zero-emission vehicles. A more extensive list of project types can be found in the table of eligible project types (Table 2) of the document "Draft Planning and Capacity Building, CMIS, and STEP Requirements and Criteria." The Strategic Growth Council's Transformative Climate Communities Program (TCC), authorized by Assembly Bill 2722 in 2016, demonstrates the transformative potential of place-based, community-driven climate investments, as detailed in the UCLA Luskin Center for Innovations progress reports. However, the progress reports also identify some of the challenges in quantitative evaluation of program outcomes for these types of community-scale investments.
Place-based, community-scale projects are tailored to the local context and community priorities, which can complicate standardized evaluation and comparison between diverse projects. Much of the extant mobility equity evaluation literature is focused on project selection and projected or modeled impacts rather than metrics for the real-world impact of the investment during and after implementation. Policy makers need methods to evaluate and compare the real-world outcomes of different mixes of community-scale mobility project types during and after implementation to better understand the impacts of mobility programs and make evidence-based decisions about prioritizing future investments. Additionally, programs such as STEP that are funded as a part of California Climate Investments are required to report on investment outcomes in accordance with the 2018 California Climate Investments Funding Guidelines. In 2020, the California State Auditor issued a report titled "Improved Program Measurement Would Help California Work More Strategically to Meet Its Climate Change Goals," based on an audit of CARB's transportation programs targeting greenhouse gas reduction. A key recommendation in the report is to develop metrics that directly measure outcomes tied to each of a program's stated objectives.
Under the current evaluation method, the impacts of each project component are assessed separately and added to calculate the cumulative impact of the overall investment. This evaluation method fails to capture any potential synergistic effects of coordinated investments and does not support assessment of whether this place-based funding approach should be prioritized over a piecemeal approach to funding individual projects. Similarly, it fails to assess what investment types or characteristics maximize the benefits achieved and the effectiveness of public dollars.
One challenge in assessing the impacts of community-scale investments is collecting assessment data at an appropriate scale. Census data may not detect the impacts of small-scale investments in one priority community because of the infrequency of census data collection relative to grant terms and the broad geographic scale of reported metrics. To capture smaller-scale impacts, the current assessment methodology relies on user surveys. However, this approach misses information about community members who are not accessing the funded project and any barriers preventing them from accessing it. For instance, surveying the users of a new shuttle service about their satisfaction with the service will be biased towards positive feedback and will not reflect the needs of any community members facing barriers to accessing the service. Survey data are also more costly and labor-intensive for grantees to collect and potentially more prone to sampling bias and errors compared to other evaluation metrics, such as telematic information about trip origins and destinations.
This contract will address the need for a consistent framework to evaluate and prioritize investments in diverse community-scale, place-based project types supporting mobility equity. The contractor will propose a framework and new equity performance metrics that support robust project evaluation while minimizing the data collection burden for grantees and users of these services.
III.    Scope of Work
The draft scope of work below outlines CARB's goals, expected outcomes, and potential deliverables for this project. The pre-proposal should address at a high level how the proposers will approach these tasks. Proposers are not required to stay within these specific parameters and are encouraged to add detail or suggest alternative tasks and methods for realizing project goals based on their own expertise and understanding of the project and budget. The final contract and scope of work will be developed through an iterative process with CARB and the selected contractor and will include a detailed timeline as well as guidance on deliverables (e.g., white paper contents).
The outcome of this contract will be a white paper describing a new framework for the evaluation of the equity impacts of community-scale, place-based mobility investments in disadvantaged communities, including a set of performance metrics. The specific equity-related objectives to be evaluated will be developed in collaboration with the CARB contract contract manager but may include program objectives such as increasing access to key destinations for low-income communities and communities disproportionately impacted by air pollution who lack access to housing, jobs, and services. The new framework will help CARB staff prioritize mobility investments as more projects are implemented and evaluated. The framework should be sensitive to the constraints and challenges identified in the background section and to community priorities for these types of investments. While the contractor will not be expected to answer the questions below as part of this scope of work, the framework and metrics should support CARB's ongoing investigation of the following priority policy questions:
Do multiple coordinated place-based mobility investments in one community work synergistically to advance equity objectives more effectively than individual projects implemented in a piecemeal approach?
Which combinations of project types most effectively advance mobility equity priorities? (note: specific priorities to be evaluated will be decided in collaboration with the CARB contract manager)
Is there a threshold of investment or project scale at which a given project type has a significant impact? (e.g., a density of trees along a sidewalk that increases walking)
Are some project types or combinations of project types more effective than others or better suited to a particular community context?
In developing the framework, the contractor should complete the following six tasks and any others identified in collaboration with the CARB contract manager.
Task 1 – Review Existing Grants to Inform New Framework
Concurrent with the development of the annotated bibliography in Task 2 and in collaboration with the CARB contract manager, the contractor should select between two and four CARB grant projects to review in depth as case studies of the types of grants to be evaluated using the new framework to be developed in Task 4. CARB will provide existing data and information about the selected projects and relevant project-specific documents, such as status reports. The purpose of this review is for the contractor to become familiar with the types of projects funded; the place-based, community-scale structure of the grants; and the types of data that have been collected for evaluation so far. The contractor should summarize key insights in a brief written update to the CARB project manager. The review should identify evaluation challenges and opportunities for each project.
Task 1 Deliverables:
Brief written summary of key insights from project review
Task 2 – Prepare Annotated Bibliography of Mobility Equity Project Evaluation, Place-Based Investment Evaluation, and Relevant Pilot Projects
This project will build upon existing project evaluation methodologies by incorporating new insights from academic and gray literature. The contractor will prepare an annotated bibliography to support the new evaluation framework to be developed in Task 4. The contractor should review literature on equity evaluation of mobility projects during and after project implementation. Selection criteria should prioritize studies of community-scale mobility equity pilot projects, particularly those including multiple coordinated investments in one community, but may include larger scale, more traditional transportation projects depending on the available literature. Given that the literature on evaluating community-scale, place-based mobility projects is limited, the review should also include relevant sources that discuss evaluation of the synergistic impacts of other types of place-based investments, with an emphasis on project types that are most similar to the mobility equity projects funded by CARB.
Task 2 Deliverables:
Draft of annotated bibliography
Final annotated bibliography
Task 3 – Develop Table of Mobility Equity Performance Metrics
By synthesizing findings from Tasks 1 and 2 and, the contractor should develop a table of existing and proposed new equity performance metrics, divided by project type. In consultation with the CARB contract manager, the contractor should select a minimum of five mobility project types from the list of project types in Table 2 of the document "Draft Planning and Capacity Building, CMIS, and STEP Requirements and Criteria." The table may include details like community context and related example pilot projects if appropriate.
Task 3 Deliverables:
Template for equity performance metrics summary table, identifying parameters to include
Draft of equity performance metrics summary table
Final draft equity performance metrics summary table
Task 4 – Develop Recommendations for a New Evaluation Methodology for Equity Impacts of Community-Scale, Place-Based Mobility Investments in White Paper
In collaboration with the CARB contract manager, the contractor should synthesize findings from Tasks 1-3 to develop recommendations for a new equity evaluation framework for community-scale, place-based mobility investments. The new methodology should be summarized in a white paper and include the table of performance metrics developed in Task 3. The methodology should support evaluation of a diverse range of mobility projects, while minimizing the data collection burden for grantees. It should be designed to support CARB's ongoing investigation of the four priority policy questions identified at the beginning of Section III Scope of Work. The white paper should also include future areas of investigation and recommendations for any further work needed to develop the framework.
Task 4 Deliverables
Draft white paper "New Equity Evaluation Framework for Place-Based, Community-Scale Mobility Investments"
Final white paper "New Equity Evaluation Framework for Place-Based, Community-Scale Mobility Investments"
Task 5 – Summarize Key Findings in Policy Brief and Seminar Presentation
After developing the white paper in Task 4, the contractor should summarize key insights in a policy brief for non-technical readers and users, which may include policy makers or elected officials and community members. The policy brief will include a summary of the issue-of-focus for the white paper, key findings from Tasks 1-4, recommended next steps, and a summary of future research directions, as identified by the contractor in earlier tasks. The contractor will also present these key project findings at a one-hour seminar, to be held via webinar or webcast.
Task 5 Deliverables
Draft policy brief "New Equity Evaluation Framework for Place-Based, Community-Scale Mobility Investments"
Final policy brief "New Equity Evaluation Framework for Place-Based, Community-Scale Mobility Investments"
Draft slide deck presentation "New Equity Evaluation Framework for Place-Based, Community-Scale Mobility Investments"
Final slide deck for presentation "New Equity Evaluation Framework for Place-Based, Community-Scale Mobility Investments"
Seminar to present findings
Task 6 – Prepare Initial Kickoff Meeting Agenda, Monthly Progress Meeting Agendas, and Quarterly Progress Reports
The contractor will have an initial kickoff meeting with CARB staff via conference call or other virtual platform (e.g., Teams, Zoom, etc.). Before work on the agreement begins, the contractor's key personnel, such as the project manager and technical staff, will meet with the CARB Project Manager and other CARB staff to discuss the overall plan, details of performing the tasks, the project schedule, items related to personnel or changes in personnel, and any issues that should be resolved before work may begin.
The contractor will meet monthly with CARB's contract manager and additionally as needed throughout the contract term. The contractor will develop the agendas for monthly meetings and prepare quarterly progress reports for the contract manager and applicable staff. Meetings may include other key stakeholders—such as other CARB staff and State agency experts—to discuss project progress and solicit input on key project milestones and decision points.
Task 6 Deliverables:
Initial Kickoff Meeting Agenda
Monthly Meeting Agendas
Quarterly Progress Reports
IV.    Deliverables
The project pre-proposal must include but is not limited to the following deliverables:
During Active Contract Period
Work with CARB staff at the beginning of the project to create a plain-language outreach deliverable for the public describing the project's goals, process, and planned deliverables (available in multiple languages, template will be provided).
Agendas for monthly progress update meetings with CARB contract manager.
Quarterly Progress Reports including public-facing updates to be posted to CARB's website.
Prior to Contract Close
Brief written summary of key insights from review of CARB grants (Task 1)
Draft annotated bibliography
Template of table, identifying parameters to include
Draft of performance metrics summary table
Final performance metrics summary table
Draft white paper
Final draft of white paper
Draft policy brief
Final policy brief
Draft presentation
Final slide deck for presentation
NOTE: The contractor will be responsible for ensuring their documents comply with the American with Disabilities Act.
Additional deliverables may be determined in consultation with CARB staff.
V.     Timeline
It is anticipated this project will be completed in 18 months from the start date (start date is estimated to be in Spring 2024). The estimated budget for this project is up to $150,000.
Scoring Criteria
1. responsiveness to the goals and objectives outlined in the proposal solicitation (30 points).
The proposal should explain how the proposed project satisfies the project objectives. In particular, the proposal should describe how the proposers will approach incorporating the following key priorities into the development of the new review framework and performance metrics: (1) capturing the synergistic effects of a place-based investment approach, (2) identifying data sources that meaningfully measure real-world equity impacts at the community scale, (3) minimizing data collection burden on grantees, and (4) balancing the need for metrics that are specific to certain project types and community contexts with the need for standardized evaluation and comparison of effectiveness.
2. Work experience and subject matter expertise (30 points)
The proposers should demonstrate that they have the work experience and subject matter expertise required to successfully carry out the proposed project as described. In particular, the proposers should describe their commitment to equity and their expertise and experience in the areas of project evaluation frameworks and metrics, community-scale mobility projects, and place-based investments. The strongest proposers will also demonstrate a commitment to collaboration with community groups.
3. Explanation of technical or methodological approach (20 points)
The proposal should clearly explain the logic and feasibility of the project's methodology, spell out the sequence and relationships of major tasks, and explain methods for performing the work. The proposal should include a clear description and plan for how each task will be completed. The strongest proposals will use the scope of work described above as a starting point to develop a more detailed and specific plan for achieving the project outcomes. The proposers are encouraged to add specific interim deliverables or propose additional or alternative tasks or subtasks.
4. Budget and timeline detail and feasibility (15 points)
The proposal should describe how time and resources will be allocated and demonstrate how this allocation ensures the project's success. Proposal reviewers will evaluate, for example: if the objectives of the project can be met given this allocation, if there is adequate supervision and oversight to ensure that the project will remain on schedule, and if time and cost are appropriately divvied up across different project tasks and stages.
5. Expanding expertise (5 points)
The proposal should explain how the project team expands expertise such as by incorporating multidisciplinary expertise or perspectives; including members from various public universities, non-academic institutions, or community-based organizations; or providing opportunities to build skills and expertise for individuals from underrepresented groups. Reviewers will consider if key personnel contributing significantly to the project (i.e., a principal investigator, co-principal investigator or co-investigator, contributing 25 percent or more of their time to the project) have not worked with CARB in the past five years.
Advertisement
Supported by
Initial Takeaways From the Spending and Debt Ceiling Deal
Details are trickling out about the accord that could avert a default on the national debt. Here's what to know.
Send any friend a story
As a subscriber, you have 10 gift articles to give each month. Anyone can read what you share.
By Peter Baker
Reporting from Washington
President Biden and Speaker Kevin McCarthy reached an agreement on Saturday to raise the debt ceiling while imposing new restraints on federal spending. If approved by Congress, it will end a partisan deadlock and avert a potentially devastating national default.
The deal will not only resolve the high-octane dispute over debt and spending issues that has gripped Washington for weeks but also enact important changes in environmental permitting, work requirements for social safety-net programs, and Internal Revenue Service tax enforcement.
The accord, described as an agreement in principle that was cemented during a telephone call between Mr. Biden at Camp David and Mr. McCarthy back in Washington, still needs to be translated into formal legislative language before it is deemed final. Details were only beginning to trickle out Saturday night, and many questions remained outstanding.
But here are some takeaways based on the information initially made available.
The debt ceiling would be increased until 2025, after the next election.
The federal government reached the $31.4 trillion debt ceiling set by law in January, but the Treasury Department has been using various accounting tricks to avoid breaching it. Treasury Secretary Janet L. Yellen said on Friday that her department would run out of those measures by June 5 , at which point the government would not be able to meet its obligations.
The deal sealed by Mr. Biden and Mr. McCarthy would raise the debt ceiling for two years to take it beyond the 2024 election, so neither would have to address the issue again in the current term. Republicans had originally proposed one year. Both sides are banking on winning the 2024 election and being in a stronger political position when the ceiling is reached next time.
Domestic spending would be capped, but not as much as Republicans wanted.
Mr. McCarthy's Republicans insisted that any increase in the debt ceiling be conditioned on spending cuts, so the agreement he reached with Mr. Biden would limit certain programs to last the same two years for which the debt ceiling would be raised. Republicans had originally sought a 10-year time frame for spending limits but agreed to the shorter horizon.
The deal holds nondefense spending in 2024 at roughly its 2023 level and increases it by 1 percent in 2025, in part by redirecting funding from other programs. Among other things, the agreement would cut about $10 billion out of the $80 billion that Mr. Biden previously secured to help the I.R.S. go after wealthy tax cheats, and would use that money to preserve domestic programs that otherwise would have been cut.
Some of the billions of dollars left over from the Covid-19 pandemic relief package passed shortly after Mr. Biden took office would be clawed back. A New York Times analysis suggests the limits will reduce federal spending overall by about $650 billion over a decade — a fraction of the cuts Republicans originally sought — if spending grows at the anticipated rate of inflation after the caps lift in two years.
Defense, Social Security, Medicare and veterans' programs would be shielded.
The agreement would protect the military and entitlements like Social Security and Medicare from spending cuts imposed on other parts of government. It would also fully finance medical care for veterans, including expanded services for those exposed to toxic burn pits.
The deal would effectively preserve substantial increases won by the Biden administration over the last two years in areas like Title I education funding for low-income students, Child Care and Development Block Grants, cancer research and other priorities of the president. It would leave intact Mr. Biden's efforts to forgive $400 billion in student loan debt in coming decades, although that faces a challenge in the Supreme Court . But it would include none of the tax increases on the wealthy and corporations that Mr. Biden sought in his original budget proposal.
Some recipients of government assistance would face new work requirements.
New work requirements would be imposed on some recipients of government aid, including food stamps and the Temporary Assistance for Needy Families program. Among other things, the agreement would limit how long people under 54 without children could receive food stamps, although those limits would expire in 2030 unless renewed by Congress. The package would also expand food stamp access for veterans and homeless people.
Major energy projects would be granted a streamlined review process.
Environmental permitting for major energy projects would be streamlined. A single lead agency would be charged with developing a single review document according to a public timeline. The agreement would enact these changes without curtailing the overall scope of the current review process, cutting down the statute of limitations, imposing barriers to standing or taking away injunctive relief or other judicial remedies.
Peter Baker is the chief White House correspondent and has covered the last five presidents for The Times and The Washington Post. He is the author of seven books, most recently "The Divider: Trump in the White House, 2017-2021," with Susan Glasser. @ peterbakernyt • Facebook