12+ Opening Speech Examples for Presentations & Quick Tips
Last updated on October 17th, 2023
These days, most of the audience prefers an informal approach in presentations, but at the same time, it must sound professional. When people prepare for any type of presentation, they often face this dilemma: how to start a presentation? What should be the opening speech? How much time should we take for the introduction part?
The first three minutes of your presentations are crucial to get to your audience with an engaging message and make the overall presentation effective. With the proper opening speech for your presentation, you can hook your audience, win the audience's attention and get them audience interested in what you have to say. Check out some speech introduction examples to get familiar with this topic. Undoubtedly, if the beginning of your presentation is solid and exciting, the chances of success of your presentation increase. Opening your persuasive speech entirely depends upon your style and choice because when you are giving a presentation, you are required to be yourself and avoid putting artistic elements. So, choose something with which you are entirely comfortable.
If you are looking on how to start a speech then this article can help you to get some ideas. Here is a list of opening speech examples that you can use to prepare your presentations with a persuasive speech that convinces the audience. Find useful phrases and strategies to make your presentation a success:
1. Opening Speech with Greetings
This is the very basic, common and important step in which you need to greet your audience by wish them good morning/afternoon or evening (as per the time of session in which you are giving presentation). How to start a speech? Check out some of the examples below including a simple but effective speech introduction greeting example.
Example of Opening Greetings
Hello, everyone. I'd like, first of all, to thank the organizers of this meeting for inviting me here today.
Another example of opening Greeting speech.
Good morning, ladies and gentlemen. I am honored to have the opportunity to address such a distinguished audience.
2. Open the Speech by Giving Compliment & Show Gratitude towards your Audience
Secondly, just after wishing greeting to your audience give them compliment and choose some words which show that you are delighted to see them there.
Example:
It's great to see you all, Thank you for coming here today.
3. Give your introduction: Introduce Yourself
How you introduce yourself during a presentation is important. There are many ways to introduce yourself. Here we will see some examples on how to introduce yourself in a presentation. First of all, give your introduction start from telling your name. You can show some casual attitude by telling your short name or nick name, and then tell the audience more about your background and what you do.
For example, a good way to start introducing yourself could be:
My name is Louis Taylor, friends call me Lee sometimes.
Then introduce yourself professionally and give quite information about what you do and why are here today. For Example:
I am a software engineer by profession and working in ABC Corp. Today, I am here to provide you some exciting information about new technology, which is going to be very beneficial for you in future.
Another example of self-introduction speech:
For those of you who don't know me already, my name is Louis Taylor, and I'm responsible for the software department at ABC Corp.
Using a self-introduction template and slide in your presentation, you can support your speech while presenting the information about you in the projection. You can also visit self introduction speech examples to find out some examples on how to introduce yourself and download self-introduction templates for PowerPoint & Google Slides.
4. Opening with the Topic of the Speech
Next is the part where you introduce the topic of your presentation or speech. Here are some examples of good opening speech for presentations examples on a specific topic.
What I'd like to present to you today is…
Or here is a simplified example of a good introduction for presentation in which we try to get the audience's attention over the screen where you are presenting the content of your PowerPoint or Google Slides presentation.
As you can see on the screen, our topic today is…
5. Signpost
Put all your information in front of them and then put your proposal and its related information and key point by which you can implement and utilize that idea effectively. Now let collect these points to make a summary and concise illustration. Here is an example of presentation starting speech that you can use:
"Good afternoon every one, it's great to see you all here, thank you for coming. My name is Louis Taylor, friends call me Lee sometimes. I am a software engineer by profession and working with ABC Ltd. Today we are here to know about new software so that we can take most of it. Firstly, we will look how it work, next we will discuss where can we use it, then we will learn what are its advantages and finally we will discuss what precautions are required to kept in mind while implementing it."
6. Creating an Emotional Connection in Your Opening Speech
An effective opening speech is not just about presenting information or stating facts; it's about forging an emotional connection with your audience. Building this connection can make your presentation more engaging, relatable, and memorable. Here are some strategies to achieve this:
Storytelling: One of the most powerful ways to establish an emotional connection is through storytelling. Sharing a personal anecdote or a relevant story can evoke emotions and draw your audience into your presentation. Make sure your story aligns with the overall theme of your presentation and adds value to your message.
Example of speech opening:
"Good morning, everyone. When I was a little boy, I used to watch my grandfather work tirelessly on his old typewriter. The clacking of the keys was a lullaby that lulled me into dreams of creating something impactful. Today, I am here to talk about the evolution of technology and its effect on communication, from typewriters of old to the smartphones of today."
Relatability: Find common ground with your audience. This could be based on shared experiences, values, or aspirations. Doing so helps to humanize you, making it easier for your audience to relate to your message.
"Like many of you, I too struggle with maintaining a work-life balance in this fast-paced digital world. Today, I'll share some strategies I've discovered that have significantly improved my quality of life."
Utilizing Emotions: Use emotions like humor, surprise, curiosity, or inspiration to engage your audience. Different emotions can be used depending on the tone and purpose of your presentation.
"Did you know that the average person spends two weeks of their life waiting for traffic lights to change? That certainly puts our daily commute in a new light, doesn't it?"
Remember, authenticity is crucial in building an emotional connection. Be yourself, share your experiences, and speak from the heart. This helps to gain your audience's trust and keeps them engaged throughout your presentation.
7. Harnessing the Power of Visual Aids in Your Opening Speech
Visual aids are a potent tool in any presentation, particularly in your opening speech. They can grab your audience's attention with a visually appealing cover slide, support your message, and make a lasting impression. Here are some ways you can utilize visual aids in your opening speech.
Images: An image is worth a thousand words, they say, and it's true. An impactful or relevant image can pique the curiosity of your audience and set the tone for your presentation. Ensure the image aligns with your topic and contributes to your overall message.
"As you can see on the screen, this is an image of a barren desert. It may surprise you to learn that this was once a thriving forest. Today, I'll be talking about climate change and its irreversible effects."
Short Videos: A short video can be a great way to engage your audience. This could be a brief clip that illustrates your topic, a short animation, or even a quick introductory video about you or your organization.
Example of a presentation opening statement:
"Before we start, let's watch this brief video about the incredible journey of a raindrop."
Infographics and Charts: If you are sharing statistical data or complex information, infographic slides or charts can simplify and clarify your message. They are visually engaging and can help your audience understand and remember the information.
"Take a look at this chart. It shows the exponential increase in cybercrime over the last five years, a topic that we will delve into further today."
Slides: A well-designed slide can provide a visual structure for your opening speech. It should be clean, easy to read, and should not distract from your speech. Avoid cluttering your slides with too much text or complex graphics.
"According to the infographic on the screen, we can see the three core areas we'll be focusing on in today's presentation."
Remember, the goal of using visual slides is to enhance your message, not overshadow it. They should complement your speech and provide visual interest for your audience. Always test your visual aids beforehand to ensure they work properly during your presentation.
8. Engaging Your Audience with Rhetorical Questions
A rhetorical question is a powerful tool you can use in your opening speech to provoke thought and engage your audience. By posing a question that doesn't require an answer, you can pique your audience's interest, make them think, and steer their focus towards your presentation's key points. Here's how to use rhetorical questions effectively in your opening speech:
Spark Curiosity: Use a rhetorical question to spark curiosity about your topic. This question should be thought-provoking and relevant to your presentation.
"Have you ever stopped to wonder how much of your life is influenced by social media?"
Highlight Key Issues: A rhetorical question can help highlight the key issues or problems that your presentation aims to address. This will help your audience understand the importance of your topic.
"What would happen if our natural resources were to run out tomorrow?"
Encourage Reflection: Encourage your audience to reflect on their personal experiences or beliefs. This will make your presentation more relatable and engaging.
"How many of us truly understand the value of our mental health?"
Set the Tone: You can also use a rhetorical question to set the tone of your presentation, whether it's serious, humorous, or contemplative.
"Is there anyone here who doesn't love pizza?"
Remember, rhetorical questions are meant to stimulate thought, not to put anyone on the spot. Make sure your questions are relevant to your topic and are appropriate for your audience. With the right questions, you can grab your audience's attention, keep them engaged, and guide their thinking throughout your presentation.
9. Leveraging Statistical Data in Your Opening Speech
Using statistical data in your opening speech is a powerful way to capture the audience's attention and lend credibility to your message. Surprising or impactful statistics related to your presentation's topic can instantly make your audience sit up and take notice. Here's how you can incorporate statistical data effectively in your opening speech:
Relevant and Interesting Data: Choose statistics that are directly relevant to your topic and are likely to pique your audience's interest. This data should enhance your message and provide valuable context for your presentation.
"Do you know that according to the World Health Organization, depression is the leading cause of disability worldwide, affecting over 264 million people?"
Simplify Complex Data: If you're presenting complex or dense data, make sure to simplify it for your audience. Use percentages, comparisons, or visual aids like infographics or charts to make the data easily understandable.
"Look at this chart. It represents the staggering 80% increase in cybercrime incidents over the past five years."
Credible Sources: Always ensure your data comes from credible and reputable sources. This not only adds legitimacy to your presentation, but it also boosts your credibility as a speaker.
"According to a recent study published in the Journal of Environmental Science, air pollution contributes to 1 in 8 deaths worldwide."
Shocking or Surprising Data: If you have statistics that are surprising or counter-intuitive, they can be an excellent way to grab your audience's attention and spark curiosity about your presentation.
"Can you believe that, according to the United Nations, we waste approximately 1.3 billion tons of food every year, while one in nine people worldwide go hungry?"
Using statistical data in your opening speech can help to highlight the significance of your topic, draw your audience in, and lay a solid foundation for the rest of your presentation. Remember to present your data in a clear, accessible way, and always cite your sources to maintain credibility.
10. Creating a Powerful Hook with Anecdotes and Quotations
Anecdotes and quotations can be a powerful tool in your opening speech, serving as hooks that draw your audience into your presentation. They can provide a human element to your topic, connect with your audience on an emotional level, and add depth to your message. Here's how you can effectively incorporate anecdotes and quotations in your opening speech:
Relevant Anecdotes: Sharing a relevant anecdote, whether personal or related to your topic, can make your presentation more relatable and engaging. Your anecdote should be brief, interesting, and serve to illustrate a point related to your topic.
"When I was a teenager, my family's home was destroyed by a fire. That experience ignited in me a passion for safety measures and awareness, which brings us to today's topic: fire safety in residential areas."
Inspiring Quotations: A well-chosen quote can add depth and perspective to your topic. It can inspire, provoke thought, or set the tone for your presentation. Presenting it with a visually appealing quote slide increases the chances to make a lasting impression. Make sure the quote is relevant to your topic and from a credible source.
"Albert Einstein once said, 'The world as we have created it is a process of our thinking. It cannot be changed without changing our thinking.' This leads us into our discussion today on the importance of mindset in personal development."
Humorous Anecdotes or Quotations: Depending on the formality of the setting and the topic of your presentation, a funny anecdote or quote can help to relax the audience, making them more receptive to your message.
"Mark Twain once said, 'I didn't have time to write a short letter, so I wrote a long one instead.' As a fellow writer, I can relate to this sentiment, which brings us to our topic today: the art of concise writing."
Remember, your anecdote or quote should serve to enhance your message, not distract from it. It should be interesting, relevant, and appropriately timed. With the right anecdote or quote, you can create a powerful hook that engages your audience from the outset.
11. Integrating Storytelling in your Opening Speech
Storytelling is a compelling method to make your opening speech memorable and engaging. A well-told story can create a strong emotional connection with your audience, making your presentation more impactful. Here's how to effectively weave storytelling into your opening speech:
Choosing the Right Story: The story you tell should be relevant to your topic and capable of illustrating the point you're trying to make. It could be a personal experience, a case study, or a historical event.
"Years ago, I worked on a project that, at the outset, seemed destined for success. But due to a lack of clear communication within the team, the project failed. Today, we will be discussing the importance of effective communication within teams."
Creating Suspense: Build suspense in your story to hold your audience's attention. You can do this by posing a problem or a conflict at the beginning of your story, which gets resolved by the end of your presentation.
"One day, as I was walking through a remote village in Africa, I came across a scene that profoundly changed my perspective. But before I reveal what it was, let's discuss the issue of clean drinking water in underdeveloped countries."
Showing, Not Telling: Make your story more vivid and engaging by showing, not telling. Use descriptive language and paint a picture with your words to make your audience feel like they're part of the story.
"As the sun rose over the bustling city of Tokyo, I found myself in a small sushi shop tucked away in a quiet alley, experiencing what would become a pivotal moment in my culinary journey."
Relatable Characters: If your story involves characters, make them relatable. Your audience should be able to see themselves in your characters, or at least understand their motivations and challenges.
"Meet Sarah, a single mother of two, working two jobs just to make ends meet. Her struggle is the reason we're here today, to discuss the issue of minimum wage in our country."
Storytelling is a powerful tool that can bring your presentation to life. A well-told story can captivate your audience, making your message more memorable and impactful. Be sure to select a story that aligns with your overall message and is appropriate for your audience.
12. Incorporating Interactive Elements in Your Opening Speech
Involving your audience from the get-go can make your presentation more engaging and memorable. By integrating interactive elements into your opening speech, you can foster a sense of participation and connection among your listeners. Here's how you can do it:
Audience Polling: Modern presentation software often includes real-time polling features. You can ask your audience a question related to your topic and display the results instantly.
"To start, I'd like to ask you all a question. (Show poll on screen) How many of you think that Artificial Intelligence will significantly change our lives in the next ten years?"
Questions for Thought: Pose a thought-provoking question to your audience at the beginning of your speech. It can stimulate curiosity and get your listeners thinking about your topic.
"Before we delve into today's topic, I want you to ponder this: what would you do if you had only 24 hours left to live? Keep that in mind as we discuss the importance of time management."
Physical Engagement: Depending on the formality and size of your audience, you can incorporate physical engagement. This can range from a simple show of hands to engaging activities.
"By a show of hands, how many of you have ever felt overwhelmed by the amount of information available on the internet? That's what we'll be discussing today: information overload in the digital age."
Interactive Quizzes: Quizzes can be a fun and interactive way to engage your audience and test their knowledge on your topic. It can also serve as a hook to introduce your topic. You can use a free Quiz PowerPoint template to ease the job of creating a quiz for your presentation.
"I have a quick quiz for you all (show quiz on screen). Let's see who can guess the most common fear among adults. The answer will lead us into our topic of discussion today: overcoming fear."
Remember, the goal of incorporating interactive elements is to engage your audience, so it should be relevant and add value to your presentation. Tailor your interactive elements to suit the needs and preferences of your audience, and you'll have a winning opening speech.
What are the Objectives of Preparing a Good Introduction and Opening Speech?
As we mentioned earlier, the first minutes of your presentation are crucial to hook the audience and let them pay attention to the message you want to convey. This will depend on the type of presentation (if it is persuasive presentation, informative presentation or a presentation for entertaining the audience), but in general terms, when presenting we need to:
Capture the audience's attention
Present information, opinions, ideas to the audience.
Present important details about a specific topic.
Sell an idea.
Make the information memorable so it can persist over the time.
Get your audience to take action, a Call to Action. E.g. purchase a product, enroll to something, fundraise, etc.
Real-Life Examples of Effective Opening Speeches
Barack Obama started his speech in the White House Correspondents' Dinner saying: "You can't say it, but you know it's true."
In same cases, humour can be a great companion for your speech. If you can use humour in a positive way, then getting a laugh in the first seconds of a presentation can get your audience hooked. It is a great way to open your speech.
Final Thoughts
Try to make habit of starting your presentation this way, it will sound great. You may come across several more opening speech examples for presentation but, once you implement this you yourself will realize that this is the best one. Alternatively you can learn more on quotes for presentations & speech topics to use during your presentation in PowerPoint, learn how to close your presentation , or find other relevant speech introduction greeting examples.
49 comments on " 12+ Opening Speech Examples for Presentations & Quick Tips "
thank you very much
Hi Kavishki, we hope the article was useful for you. Will be great to learn more about how you have used the speech examples. If you need more speech ideas, I'd recommend you free Persuasive Speech topics .
hi,good morning all of you.i'm shadi.now i'm going to do a panel discussion.we want some informations from you we believe all will support us.
Hi Kavishki, good morning. Can please provide more information about the Panel Discussion needs and if it involves a PowerPoint presentation? We'd be happy to be of help!
This was very useful to me! But i need more speech ideas!
Being a content person myself,i've gotta be honest.Now this was assisting,you bet…great stuffow.
Thank you so much. It's very helpful. Keep it up.. Good luck <3
plesae i would like u my pleasure to help me with some opening celebration word,s specially greeting to the audience
It would be appreciable if you share more speech about this.thank you.
thanks a lot for dis.. really its very helpful
I do thank you for the tips you provided me with on how to make speeches/presentations.
a very gud thanks for such tips
Thank you for the information. Very good tips.
thanks you for the great ideas. this can help me to improve my presentation skill.
this information very nice to me.i get many new thing after i read this article.this information can help me to make a good presentation later.thank you.
I think this article is very useful for me to make presentations. Thank.
I think it is true.Keep it up.
What a good infomation.It very useful thank u
Thank you for the information. Its very helpful
It is helpful for my presentations.
i hope someone could teach me present more effectively. i would appreciate it
Thank you for the information.i can learn about the article/speech with simple and easy to understand..
this is useful tips
Good tips on how to start a presentation.
Thankyou for this. This really helped me a lot.
This tips makes me more confident . Thank you very much and break a leg guys !
Hi, I'm Gayathiri. I would like to thank you for giving such a helpful tips. I will defenitely use this tips in my speech/presentation.So, I hope my friends also use this tips for their presentation.
it was a good tip for us newbie on how to make a speech without any worries.
Thank you for your note and tip… It can change me to be a good student..
This article really helped me a lot for preparing a presentation.
this all very useful tips…can boost my confident during the presentation.thank you so much….
it's very use helpful..thank you!
I need to view ths document
This was a good read. Thank you for the information.
Thank you for the information about the introduction during pesentation.Truely,i really need to study lot about how to start my presentation so that the audience are interesting to hear what i want to talk about and do not feel bored.
it's is very usefull article that can use as our revision in upcoming for the next presentation.Thank you..
Thank you miss because of this article, it can help me on my next presentation.
thank you for this article,it's useful to improve my presentation tasks.
this article has many tips for prepare to our presentation.thank you for sharing this article.
Thanks for the useful information. Can I ask how can I improve my self-confidence so as not to be embarrassed when presenting? Any idea? Thank you.
thank you..i'll try to use those information for my presentation so i'll be the best presenter in my class
this information very nice and useful to me.i get many new thing and tips after i read this article.this information can help me to make a good and better presentation later.thank you for useful information and meaningful for me
first of all, thank you for the help. there are a lot of great idea for me to use for my next presentation
Hi please i would like you to help me write an introduction for a speech about myself to my teacher
It's help my presentation
Thank you so so much I will tell this at the UNIVERSITY presentation
please i really love your speech but can you please throw more light on the introduction
Hi every body I have entretien to USA Ambassi.
I need good presentation.
thank you so much for such a beneficial tips.
Leave a Comment Cancel reply
Your email address will not be published. Required fields are marked *
Save my name, email, and website in this browser for the next time I comment.
Sign up to our newsletter
We will send you our curated collections to your email weekly. No spam, promise!

SpeakUp resources
Starting a presentation in english: methods and examples.
If you're going to make it in the professional world, most likely you'll have to give a presentation in English at some point. No reason to get nervous!
Most of the work involved lies in the introduction. You may or may not need an English presentation PPT file, your topic, audience, or time limit may vary, but a strong opening is a must no matter what! Everything that follows can build from the opening outline you present to your audience.
Let's look at some guidelines for starting a presentation in English. If you can master this part, you'll never have to worry about the rest!
Opening in a Presentation in English
While it's important to have your entire presentation organized and outlined, planning and organization are especially important in the introduction. This is what will guide you through a clear and concise beginning. Let's look at how to start a presentation with well-organized thoughts .
Introduction Outline
Introduce yourself and welcome everyone.
State the purpose of your presentation
Give a short overview of the presentation
As we say, it's as easy as 1-2-3. (No need for a more detailed English presentation script!) Let's examine the first step.
1. Introduce Yourself & Welcome Everyone
The self-introduction is your opportunity to make a good first impression. Be sure to open with a warm welcome and use language that is familiar and natural. Based on your audience, there are a few different expressions you can use to start your presentation.
If you're presenting to coworkers who may already know you:
Hello, [name] here. I would like to thank you all for your time. As you may know, I [describe what you do/your job title] I look forward to discussing [topic] today.
Good morning/afternoon/evening everyone. Thank you for being here. For those who don't know me, my name is [name], and for those who know me, hello again.
If you're presenting to people you've never met:
Hello everyone, it's nice to meet you all. My name is [name] and I am the [job/title].
Hello. Welcome to [event]. My name is [name] and I am the [job/title]. I'm glad you're all here.
There are certainly more ways to make an introduction. However, it's generally best to follow this format:
Start with a polite welcome and state your name.
Follow with your job title and/or the reason you're qualified to speak on the topic being discussed.
2. State the Purpose of Your Presentation
Now that your audience knows who you are and your qualifications, you can state the purpose of your presentation. This is where you clarify to your audience what you'll be talking about.
So, ask yourself, " What do I want my audience to get from this presentation? "
Do you want your audience to be informed?
Do you need something from your audience?
Do you want them to purchase a product?
Do you want them to do something for the community or your company?
With your goal in mind, you can create the next couple of lines of your presentation. Below are some examples of how to start.
Let me share with you…
I'd like to introduce you to [product or service]
Today I want to discuss…
I want to breakdown for you [topic]
Let's discuss…
Today I will present the results of my research on [topic]
By the end of this presentation, you'll understand [topic]
My goal is to explain…
As you know, we'll be talking about…
When talking about the purpose of your presentation, stick to your goals. You purpose statement should be only one to three sentences. That way, you can give your audience a clear sense of purpose that sets them up for the rest of the presentation.
3. A Short Overview of the Presentation
The final step in starting your presentation is to give a short outline of what you'll be presenting. People like a map of what to expect from a presentation.
It helps them organize their thoughts and gives a sense of order. Also, it lets the audience know why they're listening to you. This is what you'll use to grab their attention, and help them stay focused throughout the presentation.
Here are some examples of how you can outline your presentation:
Today, I'm going to cover… Then we'll talk about… Lastly, I'll close on…
We're going to be covering some key information you need to know, including…
My aim with this presentation is to get you to… To do that we'll be talking about…
I've divided my presentation into [number] sections… [List the sections]
Over the next [length of your presentation] I'm going to discuss…
That's it! It's as simple as 1-2-3. If you have a fear of public speaking or are not confident about presenting to a group of people, follow these three steps. It's a simple structure that can get you off to a good start. With that in mind, there are other ways to bring your introduction to the next level too! Read on for bonus tips on how to really engage your audience, beyond the basics.
For a Strong Presentation in English, Engage your Audience
Presentations aren't everyone's strongest ability, and that's OK. If you're newer to presenting in English, the steps above are the basics to getting started. Once you're more comfortable with presenting, though, you can go a step further with some extra tricks that can really wow your audience.
Mastering the skill of engaging an audience will take experience. Fortunately, there are many famous speakers out there you can model for capturing attention. Also, there are some common techniques that English-speakers use to gain an audience's attention.
*How and when you use these techniques in your introduction is at your discretion, as long as you cover the 3 steps of the introduction outline that we discussed earlier.*
Do or say something shocking.
The purpose of shocking your audience is to immediately engage them. You can make a loud noise and somehow relate the noise to your presentation. Or, you can say, " Did you know that… " and follow with a shocking story or statistic. Either way, the objective is to create surprise to draw their attention.
Tell a story
Telling a story related to your presentation is a great way to get the audience listening to you.
You can start by saying, " On my way to [location] the other day… " or " On my way here, I was reminded of… " and then follow with a story. A good story can make your presentation memorable.
Ask your audience to take part
Sometimes a good introduction that captures attention will involve asking for help from the audience. You can ask the audience to play a quick game or solve a puzzle that's related to your presentation. Also, you could engage the audience with a group exercise. This is a great way to get people involved in your presentation.
There are many more ways to engage the audience, so get creative and see what you can think up! Here are some resources that will help you get started.
Also, if you want to get better at public speaking (and help your English speaking too!), a great organization to know about is the Toastmasters . The organization is dedicated to helping you be a better speaker, and there are many local groups in America. They offer free lessons and events to help you master your English speaking, and also offer additional help to paying members.
The Takeaway
A presentation in English? No problem, as long as your introduction sets you up for success . Admittedly, this can be easier said than done. Native speakers and non-native speakers alike sometimes struggle with getting a good start on their English presentation. But the advice above can help you get the confidence you need to lay a good foundation for your next speech !
Free practice (Facebook group)
Phone: +1 (510) 560-7571
Terms of Use
Privacy Policy
Company Home
English++ about, contact, acknowledgements
Reading texts with exercises
Listening audio, transcripts, exercises
Presentation tips, phrases, slide show
Keywords keywords bank
Materials things to download
Repertoire of presentation phrases
Part one – introduction.
Signaling the start OK, then, shall we start? OK, then, I'd like to begin. Let's start ...
Greeting Good morning/afternoon, ladies and gentlemen/everyone. Thank you for coming. I'm very happy that you've come here today.
Self-introduction First of all, I'd like to introduce myself. My name is ... Let me start with just a few words about myself/my own background. I'm ................(name) from ...............(country/city). I'm from ...........(organisation). I work as a ..............(job) for ................(organisation). I study .........(subject) at ................(university). I'm in my third year. I represent ............/ I'm a representative of ...
Introducing the subject Today, I'm going to talk about... I'd like to talk to you today about ... I'm going to present the recent .../inform you about .../describe ... The subject/focus/topic of my talk/presentation/speech is ...
Stating the purpose We are here today to decide/learn about/discuss ... The aim/objective/purpose today is to update you on .../give you the background to ... In my presentation today I'll be discussing .../I'm going to explain ... What I'd like to do today is to present ...
Outline (main points/sequencing/length) I've divided my presentation into four parts/sections. They are ... My presentation will consist of ... Right, I'd like to begin with my first point. Firstly/First of all ....................I will ... Secondly/then/next ................I would like to ... Thirdly / and then we come to ... After that/later........................I'm going to talk about / look at ... Finally/lastly/last of all I'd like to analyze/discuss/look at/consider/explain/tell you about/ show you how/speak to you about ...
Inviting questions I'd be glad to answer any questions at the end of my talk. If you have any questions, please feel free to interrupt.
Part two – main body
reaching the end of one point Right, I've talked about/ mentioned... We've looked at ... That's all I have to say about ... That covers ...
moving on to the next point Now we come to ... That brings us to ... I'd like to move on/draw your attention to my next point. Let's move on to ... Let's look now at ...The next thing I'd like to talk about is ...
Giving reasons The main explanation for this is ... There are two reasons/explanations for this. First,... Second,... This can be explained by two factors. Firstly, ... Secondly, ... This is due to ... One reason for this is ... Another reason is ...
Developing the point Where does that take us? Let's look at this in more detail. What does that mean for us?
Giving examples A good example of this is ... To illustrate this point, ... To support what I've said ... I'd like to give you some examples ... for instance ... for example ... such as ... like...
Referring to visuals Take/Have a... Let's... I'd like you to look at this transparency/graph/table/pie chart/flow chart/bar chart/ diagram/chart I'd like to draw your attention to ... This shows/represents ... As you can see ... If you look at ...you can see from the transparency, etc. that ... Let me show you ... Could you look at your handouts ... The next slide/picture/graph shows ...
showing consequence therefore ... so ... consequently ... because of this ... as a result ....
comparing similarly ... in the same way ... one similarity/difference between ......... is that ...
contrasting but ... however ... although ... nevertheless... even though ... despite / in spite (of the fact that) ... whereas/while... in contrast to ... by contrast with ... on the other hand...
changing the word order, e.g.: 'What was important was the final conclusion.' (instead of: 'The final conclusion was important.')
repeating key words, e.g.: 'We need to compare past achievements and present achievements.' (instead of 'We need to compare past and present achieve- ments.')
showing an additional argument moreover ... in addition to this ... not only ... but also furthermore...
Part three – ending
Signaling the end That brings me to the end of my presentation. That completes my presentation. That covers all I want/wanted to say today. Before I stop/finish, let me just say ...
Summarizing Let me just run over the key points again. I'll briefly summarize the main issues. To sum up... Let's recap, shall we? If I can just sum up the main points ... Finally, I'd like to go over/review ... Firstly, I talked about ......... Secondly, I discussed......Thirdly, I looked at ......
Concluding In conclusion ... I'd like to conclude by saying ... As a conclusion, I'd like to ... I'd like to leave you with the following thought/idea.
Closing Thank you for your attention / being so attentive/listening. It was pleasure talking to you ... I will be giving you handouts. You will find handouts at the entrance. There are copies on the table.
Inviting questions Are there any questions? Have you got any questions?
Asking questions Could I go back to the point you made about...? I was interested in your comment on ... You said that ... Could you say a little more about that? Could you clarify what you said about ...? I'd like to ask about ... May I ask you a question? I'm interested in your opinion about ... Do you mind if I ask you... I'm interested to know ...
clarifying If I understand you correctly, you are saying/asking ... I didn't quite catch that. Could you go over that again? I'm not sure what you're getting at. Sorry, I'm not sure what you mean.
playing for time That's a good/interesting/difficult point/question/comment. I'm glad you raised that point.
avoiding giving answers Perhaps we could deal with that later. Can we talk about that on another occasion? I'm afraid that's not my field. I don't have the figures with me. I'm sure Mr/Ms ... could answer this question. I'll get back to you if time permits.
checking if the questioner is satisfied Does that answer your question? Is that clear? Can we go on?
concluding the questions Right, if nobody wants to ask anything else, I think we can finish here. Right, if there are no more questions ... Thank you.
Practical information
We use essential cookies to make Venngage work. By clicking "Accept All Cookies", you agree to the storing of cookies on your device to enhance site navigation, analyze site usage, and assist in our marketing efforts.
Manage Cookies
Cookies and similar technologies collect certain information about how you're using our website. Some of them are essential, and without them you wouldn't be able to use Venngage. But others are optional, and you get to choose whether we use them or not.
Strictly Necessary Cookies
These cookies are always on, as they're essential for making Venngage work, and making it safe. Without these cookies, services you've asked for can't be provided.
Show cookie providers
Functionality Cookies
These cookies help us provide enhanced functionality and personalisation, and remember your settings. They may be set by us or by third party providers.
Performance Cookies
These cookies help us analyze how many people are using Venngage, where they come from and how they're using it. If you opt out of these cookies, we can't get feedback to make Venngage better for you and all our users.
Targeting Cookies
These cookies are set by our advertising partners to track your activity and show you relevant Venngage ads on other sites as you browse the internet.
Google Tag Manager
Infographics
Graphic Design
Graphs and Charts
Data Visualization
Human Resources
Training and Development
Beginner Guides
Blog Marketing
How To Start a Presentation: 15 Ways to Set the Stage
By Krystle Wong , Jul 25, 2023
The opening moments of your presentation hold immense power – it's your opportunity to make a lasting impression and captivate your audience.
A strong presentation start acts as a beacon, cutting through the noise and instantly capturing the attention of your listeners. With so much content vying for their focus, a captivating opening ensures that your message stands out and resonates with your audience.
Whether you're a startup business owner pitching a brilliant idea, a seasoned presenter delivering a persuasive talk or an expert sharing your experience, the start of your presentation can make all the difference. But don't fret — I've got you covered with 15 electrifying ways to kickstart your presentation.
The presentation introduction examples in this article cover everything from self-introduction to how to start a group presentation, building anticipation that leaves the audience eager to delve into the depths of your topic.
Click to jump ahead:
How to create an engaging introduction for your presentation
15 ways to start a presentation and captivate your audience, common mistakes to avoid in the opening of a presentation, faqs on how to start a presentation, captivate the audience from the get-go.
Regardless of your mode of presentation , crafting an engaging introduction sets the stage for a memorable presentation journey. Let's dive into some key tips for how to start a presentation speech to help you nail the art of starting with a bang:
Understand your audience
The key to an engaging introduction is to know your audience inside out and give your audience what they want. Tailor your opening to resonate with their specific interests, needs and expectations. Consider what will captivate them and how you can make your presentation relevant to their lives or work.
Use a compelling hook
Grab the audience's attention from the get-go with a compelling hook. Whether it's a thought-provoking question, a surprising fact or a gripping story, a powerful opening will immediately pique their curiosity and keep them invested in what you have to say.
State your purpose
Be crystal clear about your subject matter and the purpose of your presentation. In just a few sentences, communicate the main objectives and the value your audience will gain from listening to you. Let them know upfront what to expect and they'll be more likely to stay engaged throughout.
Introduce yourself and your team
Give a self introduction about who you are such as your job title to establish credibility and rapport with the audience.
Some creative ways to introduce yourself in a presentation would be by sharing a brief and engaging personal story that connects to your topic or the theme of your presentation. This approach instantly makes you relatable and captures the audience's attention.
Now, let's talk about — how to introduce team members in a presentation. Before introducing each team member, briefly explain their role or contribution to the project or presentation. This gives the audience an understanding of their relevance and expertise.
Group presentations are also a breeze with the help of Venngage. Our in-editor collaboration tools allow you to edit presentations side by side in real-time. That way, you can seamlessly hare your design with the team for input and make sure everyone is on track.
Maintain enthusiasm
Enthusiasm is contagious! Keep the energy levels up throughout your introduction, conveying a positive and upbeat tone. A vibrant and welcoming atmosphere sets the stage for an exciting presentation and keeps the audience eager to hear more.
Before you think about how to present a topic, think about how to design impactful slides that can leave a lasting impression on the audience. Here are 120+ presentation ideas , design tips, and examples to help you create an awesome slide deck for your next presentation.
Captivating your audience from the get-go is the key to a successful presentation. Whether you're a seasoned speaker or a novice taking the stage for the first time, the opening of your presentation sets the tone for the entire talk.
So, let's get ready to dive into the 15 most creative ways to start a presentation. I promise you these presentation introduction ideas will captivate your audience, leaving them hanging on your every word.
1. Ask a thought-provoking question
Get the audience's wheels turning by throwing them a thought-provoking question right out of the gate. Make them ponder, wonder and engage their critical thinking muscles from the very start.
2. Share a surprising statistic or fact
Brace yourself for some wide eyes and dropped jaws! Open your presentation with a jaw-dropping statistic or a mind-blowing fact that's directly related to your topic. Nothing captures attention like a good ol' dose of shock and awe.
3. Tell a relevant story
Start your presentation with a riveting story that hooks your audience and relates to your main message. Stories have a magical way of captivating hearts and minds. Organize your slides in a clear and sequential manner and use visuals that complement your narrative and evoke emotions to engage the audience.
With Venngage, you have access to a vast library of high-quality and captivating stock photography, offering thousands of options to enrich your presentations. The best part? It's entirely free! Elevate your visual storytelling with stunning images that complement your content, captivate your audience and add a professional touch to your presentation.
4. Use a powerful quote
Sometimes, all you need is some wise words to work wonders. Begin with a powerful quote from a legendary figure that perfectly fits your presentation's theme — a dose of inspiration sets the stage for an epic journey.
5. Engage with a poll or interactive activity
Turn the audience from passive listeners to active participants by kicking off with a fun poll or interactive activity. Get them on their feet, or rather — their fingertips, right from the start!
Venngage's user-friendly drag-and-drop editor allows you to easily transform your slides into an interactive presentation . Create clickable buttons or navigation elements within your presentation to guide your audience to different sections or external resources.
Enhance engagement by incorporating videos or audio clips directly into your presentation. Venngage supports video and audio embedding, which can add depth to your content.
6. Utilize visuals or props
Capture your audience's gaze by whipping out captivating visuals or props that add an exciting touch to your subject. A well-placed prop or a stunning visual can make your presentation pop like a fireworks show!
That said, you maybe wondering — how can I make my presentation more attractive. A well-designed presentation background instantly captures the audience's attention and creates a positive first impression. Here are 15 presentation background examples to keep the audience awake to help you get inspired.
7. State a bold statement or challenge
Ready to shake things up? Kick off with a bold and daring statement that sets the stage for your presentation's epic journey. Boldness has a way of making ears perk up and eyes widen in anticipation!
8. Use humor or wit
Sprinkle some humor and wit to spice things up. Cracking a clever joke or throwing in a witty remark can break the ice and create a positively charged atmosphere. If you're cracking your head on how to start a group presentation, humor is a great way to start a presentation speech.
Get your team members involved in the fun to create a collaborative and enjoyable experience for everyone. Laughter is the perfect way to break the ice and set a positive tone for your presentation!
9. Invoke emotion
Get those heartstrings tugging! Start with a heartfelt story or example that stirs up emotions and connects with your audience on a personal level. Emotion is the secret sauce to a memorable presentation.
Aside from getting creative with your introduction, a well-crafted and creative presentation can boost your confidence as a presenter. Browse our catalog of creative presentation templates and get started right away!
10. Use a dramatic pause
A great group presentation example is to start with a powerful moment of silence, like a magician about to reveal their greatest trick. After introducing your team, allow a brief moment of silence. Hold the pause for a few seconds, making it feel deliberate and purposeful. This builds anticipation and curiosity among the audience.
11. Pose a problem and offer a solution
A great idea on how to start a business presentation is to start by presenting a problem and offering a well-thought-out solution. By addressing their pain points and showcasing your solution, you'll capture their interest and set the stage for a compelling and successful presentation.
Back up your solution with data, research, or case studies that demonstrate its effectiveness. This can also be a good reporting introduction example that adds credibility to your proposal.
Preparing a pitch deck can be a daunting task but fret not. This guide on the 30+ best pitch deck tips and examples has everything you need to bring on new business partners and win new client contracts. Alternatively, you can also get started by customizing one of our professional pitch deck templates for free.
12. Provide a brief outline
Here's a good introduction for presentation example if you're giving a speech at a conference. For longer presentations or conferences with multiple speakers especially, providing an outline helps the audience stay focused on the key takeaways. That way, you can better manage your time and ensure that you cover all the key points without rushing or running out of time.
13. Begin with a personal connection
Share a real-life experience or a special connection to the topic at hand. This simple act of opening up creates an instant bond with the audience, turning them into your biggest cheerleaders.
Having the team share their personal experiences is also a good group presentation introduction approach. Team members can share their own stories that are related to the topic to create an emotional connection with your audience.
14. Begin with an opening phrase that captures attention
Use opening phrases that can help you create a strong connection with your audience and make them eager to hear more about what you have to say. Remember to be confident, enthusiastic and authentic in your delivery to maximize the impact of your presentation.
Here are some effective presentation starting words and phrases that can help you grab your audience's attention and set the stage for a captivating presentation:
"Imagine…"
"Picture this…"
"Did you know that…"
"Have you ever wondered…"
"In this presentation, we'll explore…"
"Let's dive right in and discover…"
"I'm excited to share with you…"
"I have a confession to make…"
"I want to start by telling you a story…"
"Before we begin, let's consider…"
"Have you ever faced the challenge of…"
"We all know that…"
"This is a topic close to my heart because…"
"Over the next [minutes/hours], we'll cover…"
"I invite you to journey with me through…"
15. Share a fun fact or anecdote
Time for a little fun and games! Kick-off with a lighthearted or fascinating fact that'll make the audience go, "Wow, really? Tell me more!" A sprinkle of amusement sets the stage for an entertaining ride.
While an introduction for a presentation sets the tone for your speech, a good slide complements your spoken words, helping the audience better understand and remember your message. Check out these 12 best presentation software for 2023 that can aid your next presentation.
The opening moments of a presentation can make or break your entire talk. It's your chance to grab your audience's attention, set the tone, and lay the foundation for a successful presentation. However, there are some common pitfalls that speakers often fall into when starting their presentations.
Starting with Apologies
It might be tempting to start with a preemptive apology, especially if you're feeling nervous or unsure about your presentation. However, beginning with unnecessary apologies or self-deprecating remarks sets a negative tone right from the start. Instead of exuding confidence and credibility, you're unintentionally undermining yourself and your message.
Reading from Slides
One of the most common blunders in the opening of a PowerPoint presentation is reading directly from your slides or script. While it's crucial to have a well-structured outline, reciting word-for-word can lead to disengagement and boredom among your audience. Maintain eye contact and connect with your listeners as you speak. Your slides should complement your words, not replace them.
Overwhelming with Information
In the excitement to impress, some presenters bombard their audience with too much information right at the beginning.
Instead of overloading the audience with a sea of data, statistics or technical details that can quickly lead to confusion and disinterest, visualize your data with the help of Venngage. Choose an infographic template that best suits the type of data you want to visualize. Venngage offers a variety of pre-designed templates for charts, graphs, infographics and more.
Ignoring the Audience
It's easy to get caught up in the content and forget about the people in front of you. Don't overlook the importance of acknowledging the audience and building a connection with them. Greet them warmly, make eye contact and maintain body language to show genuine interest in their presence. Engage the audience early on by asking a show of hands question or encourage audience participation.
Lack of Clarity
Your audience should know exactly what to expect from your presentation. Starting with a vague or unclear opening leaves them guessing about the purpose and direction of your talk. Clearly communicate the topic and objectives of your presentation right from the beginning. This sets the stage for a focused and coherent message that resonates with your audience.
Simplicity makes it easier for the audience to understand and retain the information presented. Check out our gallery of simple presentation templates to keep your opening concise and relevant.
Skipping the Hook
The opening of your presentation is the perfect opportunity to hook your audience's attention and keep them engaged. However, some presenters overlook this crucial aspect and dive straight into the content without any intrigue. Craft an attention-grabbing hook that sparks curiosity, poses a thought-provoking question or shares an interesting fact. A compelling opening is like the key that unlocks your audience's receptivity to the rest of your presentation.
Now that you've got the gist of how to introduce a presentation, further brush up your speech with these tips on how to make a persuasive presentation and how to improve your presentation skills to create an engaging presentation .
How can I overcome nervousness at the beginning of a presentation?
To overcome nervousness at the beginning of a presentation, take deep breaths, practice beforehand, and focus on connecting with your audience rather than worrying about yourself.
How long should the opening of a presentation be?
The opening of a presentation should typically be brief, lasting around 1 to 3 minutes, to grab the audience's attention and set the tone for the rest of the talk.
Should I memorize my presentation's opening lines?
While it's helpful to know your opening lines, it's better to understand the key points and flow naturally to maintain authenticity and flexibility during the presentation.
Should I use slides during the opening of my presentation?
Using slides sparingly during the opening can enhance the message, but avoid overwhelming the audience with too much information early on.
How do I transition smoothly from the opening to the main content of my presentation?
Transition smoothly from the opening to the main content by providing a clear and concise outline of what's to come, signaling the shift and maintaining a logical flow between topics.
Just as a captivating opening draws your audience in, creating a well-crafted presentation closing has the power to leave a lasting impression. Wrap up in style with these 10 ways to end a presentation .
Presenting virtually? Check out these tips on how to ace your next online presentation .
Captivating your audience from the very beginning is crucial for a successful presentation. The first few moments of your talk can set the tone and determine whether your audience remains engaged throughout or loses interest.
Start with a compelling opening that grabs their attention. You can use a thought-provoking question, a surprising statistic or a powerful quote to pique their curiosity. Alternatively, storytelling can be a potent tool to draw them into your narrative. It's essential to establish a personal connection early on, whether by sharing a relatable experience or expressing empathy towards their needs and interests.
Lastly, be mindful of your body language and vocal delivery. A confident and engaging speaker can captivate an audience, so make eye contact, use appropriate gestures and vary your tone to convey passion and sincerity.
In conclusion, captivating your audience from the very beginning requires thoughtful preparation, engaging content and a confident delivery. With Venngage's customizable templates, you can adapt your presentation to suit the preferences and interests of your specific audience, ensuring maximum engagement. Go on and get started today!
Improve with practice.
Enhance your soft skills with a range of award-winning courses.
Sign up to our newsletter
How to Structure your Presentation, with Examples
Updated august 03, 2018 - dom barnard.
For many people the thought of delivering a presentation is a daunting task and brings about a great deal of nerves . However, if you take some time to understand how effective presentations are structured and then apply this structure to your own presentation, you'll appear much more confident and relaxed.
Here is our complete guide for structuring your presentation, with examples at the end of the article to demonstrate these points.
Why is structuring a presentation so important?
If you've ever sat through a great presentation, you'll have left feeling either inspired or informed on a given topic. This isn't because the speaker was the most knowledgeable or motivating person in the world. Instead, it's because they know how to structure presentations - they have crafted their message in a logical and simple way that has allowed the audience can keep up with them and take away key messages.
Research has supported this, with studies showing that audiences retain structured information 40% more accurately than unstructured information.
In fact, not only is structuring a presentation important for the benefit of the audience's understanding, it's also important for you as the speaker. A good structure helps you remain calm, stay on topic, and avoid any awkward silences.
What will affect your presentation structure?
Generally speaking, there is a natural flow that any decent presentation will follow which we will go into shortly. However, you should be aware that all presentation structures will be different in their own unique way and this will be due to a number of factors, including:
Whether you need to deliver any demonstrations
How knowledgeable the audience already is on the given subject
How much interaction you want from the audience
Any time constraints there are for your talk
What setting you are in
Your ability to use any kinds of visual assistance
Before choosing the presentation's structure answer these questions first:
What is your presentation's aim?
Who are the audience?
What are the main points your audience should remember afterwards?
When reading the points below, think critically about what things may cause your presentation structure to be slightly different. You can add in certain elements and add more focus to certain moments if that works better for your speech.
What is the typical presentation structure?
This is the usual flow of a presentation, which covers all the vital sections and is a good starting point for yours. It allows your audience to easily follow along and sets out a solid structure you can add your content to.
1. Greet the audience and introduce yourself
Before you start delivering your talk, introduce yourself to the audience and clarify who you are and your relevant expertise. This does not need to be long or incredibly detailed, but will help build an immediate relationship between you and the audience. It gives you the chance to briefly clarify your expertise and why you are worth listening to. This will help establish your ethos so the audience will trust you more and think you're credible.
Read our tips on How to Start a Presentation Effectively
Build Career Skills Online
Fast-track your career with award-winning courses and realistic practice.
2. Introduction
In the introduction you need to explain the subject and purpose of your presentation whilst gaining the audience's interest and confidence. It's sometimes helpful to think of your introduction as funnel-shaped to help filter down your topic:
Introduce your general topic
Explain your topic area
State the issues/challenges in this area you will be exploring
State your presentation's purpose - this is the basis of your presentation so ensure that you provide a statement explaining how the topic will be treated, for example, "I will argue that…" or maybe you will "compare", "analyse", "evaluate", "describe" etc.
Provide a statement of what you're hoping the outcome of the presentation will be, for example, "I'm hoping this will be provide you with..."
Show a preview of the organisation of your presentation
In this section also explain:
The length of the talk.
Signal whether you want audience interaction - some presenters prefer the audience to ask questions throughout whereas others allocate a specific section for this.
If it applies, inform the audience whether to take notes or whether you will be providing handouts.
The way you structure your introduction can depend on the amount of time you have been given to present: a sales pitch may consist of a quick presentation so you may begin with your conclusion and then provide the evidence. Conversely, a speaker presenting their idea for change in the world would be better suited to start with the evidence and then conclude what this means for the audience.
Keep in mind that the main aim of the introduction is to grab the audience's attention and connect with them.
3. The main body of your talk
The main body of your talk needs to meet the promises you made in the introduction. Depending on the nature of your presentation, clearly segment the different topics you will be discussing, and then work your way through them one at a time - it's important for everything to be organised logically for the audience to fully understand. There are many different ways to organise your main points, such as, by priority, theme, chronologically etc.
Main points should be addressed one by one with supporting evidence and examples.
Before moving on to the next point you should provide a mini-summary.
Links should be clearly stated between ideas and you must make it clear when you're moving onto the next point.
Allow time for people to take relevant notes and stick to the topics you have prepared beforehand rather than straying too far off topic.
When planning your presentation write a list of main points you want to make and ask yourself "What I am telling the audience? What should they understand from this?" refining your answers this way will help you produce clear messages.
4. Conclusion
In presentations the conclusion is frequently underdeveloped and lacks purpose which is a shame as it's the best place to reinforce your messages. Typically, your presentation has a specific goal - that could be to convert a number of the audience members into customers, lead to a certain number of enquiries to make people knowledgeable on specific key points, or to motivate them towards a shared goal.
Regardless of what that goal is, be sure to summarise your main points and their implications. This clarifies the overall purpose of your talk and reinforces your reason for being there.
Follow these steps:
Signal that it's nearly the end of your presentation, for example, "As we wrap up/as we wind down the talk…"
Restate the topic and purpose of your presentation - "In this speech I wanted to compare…"
Summarise the main points, including their implications and conclusions
Indicate what is next/a call to action/a thought-provoking takeaway
Move on to the last section
5. Thank the audience and invite questions
Conclude your talk by thanking the audience for their time and invite them to ask any questions they may have. As mentioned earlier, personal circumstances will affect the structure of your presentation.
Many presenters prefer to make the Q&A session the key part of their talk and try to speed through the main body of the presentation. This is totally fine, but it is still best to focus on delivering some sort of initial presentation to set the tone and topics for discussion in the Q&A.
Other common presentation structures
The above was a description of a basic presentation, here are some more specific presentation layouts:
Demonstration
Use the demonstration structure when you have something useful to show. This is usually used when you want to show how a product works. Steve Jobs frequently used this technique in his presentations.
Explain why the product is valuable.
Describe why the product is necessary.
Explain what problems it can solve for the audience.
Demonstrate the product to support what you've been saying.
Make suggestions of other things it can do to make the audience curious.
Problem-solution
This structure is particularly useful in persuading the audience.
Briefly frame the issue.
Go into the issue in detail showing why it 's such a problem. Use logos and pathos for this - the logical and emotional appeals.
Provide the solution and explain why this would also help the audience.
Call to action - something you want the audience to do which is straightforward and pertinent to the solution.
Storytelling
As well as incorporating stories in your presentation , you can organise your whole presentation as a story. There are lots of different type of story structures you can use - a popular choice is the monomyth - the hero's journey. In a monomyth, a hero goes on a difficult journey or takes on a challenge - they move from the familiar into the unknown. After facing obstacles and ultimately succeeding the hero returns home, transformed and with newfound wisdom.
Storytelling for Business Success webinar , where well-know storyteller Javier Bernad shares strategies for crafting compelling narratives.
Another popular choice for using a story to structure your presentation is in media ras (in the middle of thing). In this type of story you launch right into the action by providing a snippet/teaser of what's happening and then you start explaining the events that led to that event. This is engaging because you're starting your story at the most exciting part which will make the audience curious - they'll want to know how you got there.
Great storytelling: Examples from Alibaba Founder, Jack Ma
Remaining method
The remaining method structure is good for situations where you're presenting your perspective on a controversial topic which has split people's opinions.
Go into the issue in detail showing why it's such a problem - use logos and pathos.
Rebut your opponents' solutions - explain why their solutions could be useful because the audience will see this as fair and will therefore think you're trustworthy, and then explain why you think these solutions are not valid.
After you've presented all the alternatives provide your solution, the remaining solution. This is very persuasive because it looks like the winning idea, especially with the audience believing that you're fair and trustworthy.
Transitions
When delivering presentations it's important for your words and ideas to flow so your audience can understand how everything links together and why it's all relevant. This can be done using speech transitions which are words and phrases that allow you to smoothly move from one point to another so that your speech flows and your presentation is unified.
Transitions can be one word, a phrase or a full sentence - there are many different forms, here are some examples:
Moving from the introduction to the first point
Signify to the audience that you will now begin discussing the first main point:
Now that you're aware of the overview, let's begin with...
First, let's begin with...
I will first cover...
My first point covers...
To get started, let's look at...
Shifting between similar points
Move from one point to a similar one:
In the same way...
Likewise...
This is similar to...
Similarly...
Internal summaries
Internal summarising consists of summarising before moving on to the next point. You must inform the audience:
What part of the presentation you covered - "In the first part of this speech we've covered..."
What the key points were - "Precisely how..."
How this links in with the overall presentation - "So that's the context..."
What you're moving on to - "Now I'd like to move on to the second part of presentation which looks at..."
Physical movement
You can move your body and your standing location when you transition to another point. The audience find it easier to follow your presentation and movement will increase their interest.
A common technique for incorporating movement into your presentation is to:
Start your introduction by standing in the centre of the stage.
For your first point you stand on the left side of the stage.
You discuss your second point from the centre again.
You stand on the right side of the stage for your third point.
The conclusion occurs in the centre.
Key slides for your presentation
Slides are a useful tool for most presentations: they can greatly assist in the delivery of your message and help the audience follow along with what you are saying. Key slides include:
An intro slide outlining your ideas
A summary slide with core points to remember
High quality image slides to supplement what you are saying
There are some presenters who choose not to use slides at all, though this is more of a rarity. Slides can be a powerful tool if used properly, but the problem is that many fail to do just that. Here are some golden rules to follow when using slides in a presentation:
Don't over fill them - your slides are there to assist your speech, rather than be the focal point. They should have as little information as possible, to avoid distracting people from your talk.
A picture says a thousand words - instead of filling a slide with text, instead, focus on one or two images or diagrams to help support and explain the point you are discussing at that time.
Make them readable - depending on the size of your audience, some may not be able to see small text or images, so make everything large enough to fill the space.
Don't rush through slides - give the audience enough time to digest each slide.
Guy Kawasaki, an entrepreneur and author, suggests that slideshows should follow a 10-20-30 rule :
There should be a maximum of 10 slides - people rarely remember more than one concept afterwards so there's no point overwhelming them with unnecessary information.
The presentation should last no longer than 20 minutes as this will leave time for questions and discussion.
The font size should be a minimum of 30pt because the audience reads faster than you talk so less information on the slides means that there is less chance of the audience being distracted.
Here are some additional resources for slide design:
7 design tips for effective, beautiful PowerPoint presentations
11 design tips for beautiful presentations
10 tips on how to make slides that communicate your idea
Group Presentations
Group presentations are structured in the same way as presentations with one speaker but usually require more rehearsal and practices. Clean transitioning between speakers is very important in producing a presentation that flows well. One way of doing this consists of:
Briefly recap on what you covered in your section: "So that was a brief introduction on what health anxiety is and how it can affect somebody"
Introduce the next speaker in the team and explain what they will discuss: "Now Elnaz will talk about the prevalence of health anxiety."
Then end by looking at the next speaker, gesturing towards them and saying their name: "Elnaz".
The next speaker should acknowledge this with a quick: "Thank you Joe."
From this example you can see how the different sections of the presentations link which makes it easier for the audience to follow and remain engaged.
Example of great presentation structure and delivery
Having examples of great presentations will help inspire your own structures, here are a few such examples, each unique and inspiring in their own way.
How Google Works - by Eric Schmidt
This presentation by ex-Google CEO Eric Schmidt demonstrates some of the most important lessons he and his team have learnt with regards to working with some of the most talented individuals they hired. The simplistic yet cohesive style of all of the slides is something to be appreciated. They are relatively straightforward, yet add power and clarity to the narrative of the presentation.
Start with why - by Simon Sinek
Since being released in 2009, this presentation has been viewed almost four million times all around the world. The message itself is very powerful, however, it's not an idea that hasn't been heard before. What makes this presentation so powerful is the simple message he is getting across, and the straightforward and understandable manner in which he delivers it. Also note that he doesn't use any slides, just a whiteboard where he creates a simple diagram of his opinion.
The Wisdom of a Third Grade Dropout - by Rick Rigsby
Here's an example of a presentation given by a relatively unknown individual looking to inspire the next generation of graduates. Rick's presentation is unique in many ways compared to the two above. Notably, he uses no visual prompts and includes a great deal of humour.
However, what is similar is the structure he uses. He first introduces his message that the wisest man he knew was a third-grade dropout. He then proceeds to deliver his main body of argument, and in the end, concludes with his message. This powerful speech keeps the viewer engaged throughout, through a mixture of heart-warming sentiment, powerful life advice and engaging humour.
As you can see from the examples above, and as it has been expressed throughout, a great presentation structure means analysing the core message of your presentation. Decide on a key message you want to impart the audience with, and then craft an engaging way of delivering it.
By preparing a solid structure, and practising your talk beforehand, you can walk into the presentation with confidence and deliver a meaningful message to an interested audience.
It's important for a presentation to be well-structured so it can have the most impact on your audience. An unstructured presentation can be difficult to follow and even frustrating to listen to. The heart of your speech are your main points supported by evidence and your transitions should assist the movement between points and clarify how everything is linked.
Research suggests that the audience remember the first and last things you say so your introduction and conclusion are vital for reinforcing your points. Essentially, ensure you spend the time structuring your presentation and addressing all of the sections.
Advertising
Applications
Assessments
Certificates
Announcement
Invitations
Newsletters
Questionnaires
Food & Beverages
Recruitment
Marketing Examples
Transportation
4+ Presentation Speech Examples & Samples in PDF | DOC
Retirement Presentation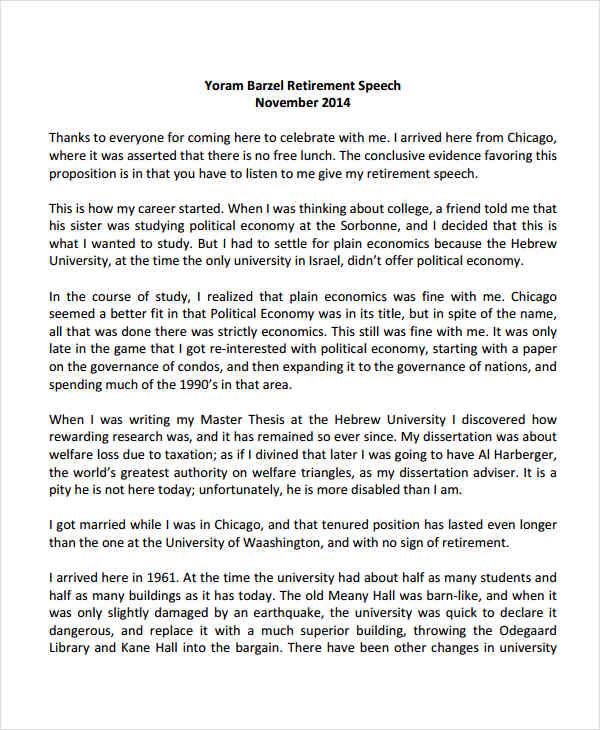 Award Presentation Speech
Graduation Presentation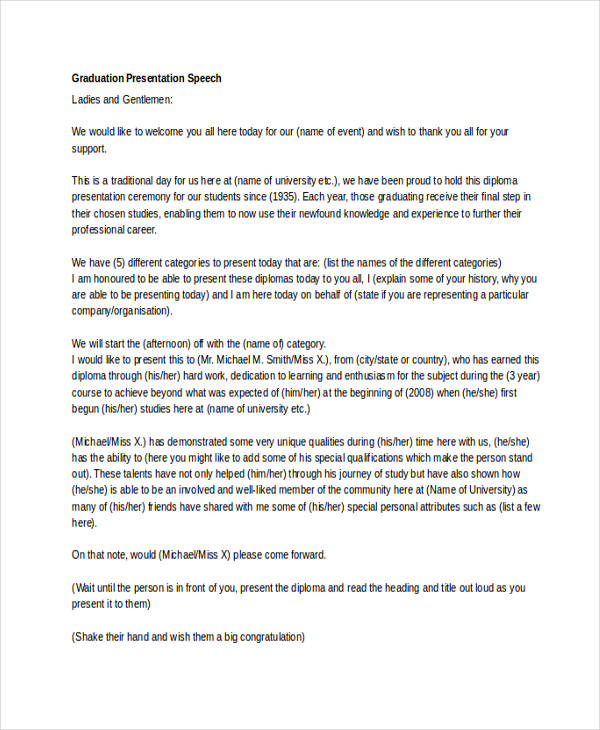 What Is a Presentation Speech?
How to prepare a speech presentation, sample presentation speech.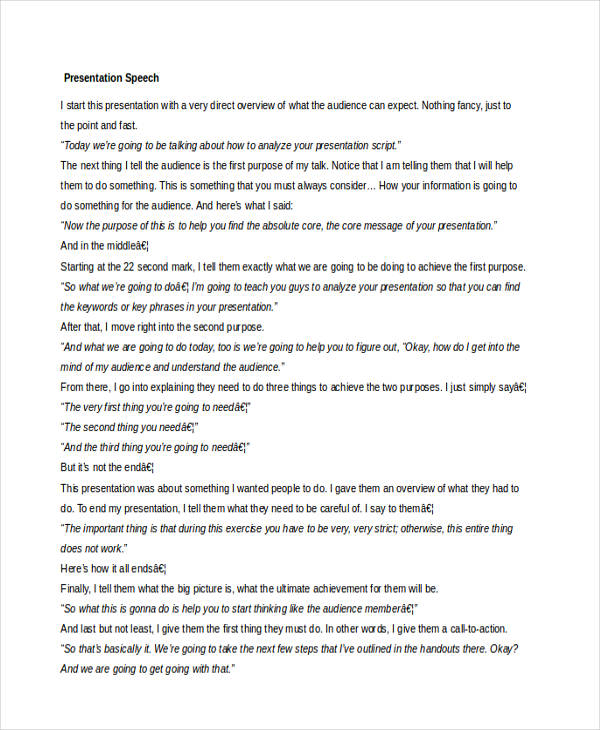 Financial Results Presentation
Tips for Effective Presentations
Connect with your audience. Interact with your listeners and make them feel as if they are a part of the conversation. A passionate speaker is sure to attract an audience.
Concentrate on your central message. Focus on the message you want to relay to your audience by providing key points.
Use visuals. Providing supporting visuals will allow your audience to further understand your message. You can use images, charts, graphs, and the like.
Maintain eye contact. Eye contact is essential for face-to-face communication. This is sure to attract attentive listeners.
Start out strongly. For any speech, such as a valedictorian speech , you'll want to give a good first impression. A few minutes into your speech, you should be able to build a strong connection with your audience.
Tell stories. Creating mental scenarios for your audience will help them pay attention. This speech in pdf will allow them to understand the point of your presentation and the morals that must be remembered.
Move around. If possible, do not limit yourself to one position. Walk around and use hand gestures to emphasize your points. Allow your listeners to feel your passion for the subject.
Come prepared. Have your materials ready and be sure to practice beforehand. You don't want to be left stuttering during your presentation. This will only make your audience doubt your credibility.
More Design
7+ retirement speech examples, samples, do you know what you have to learn to be a speech pathologist, 7+ marketing questionnaire examples, samples, 34+ outline examples in word, 7+ short essay examples, samples, 8+ feedback questionnaire examples, samples, 9+ presentation agenda examples, samples, 32+ examples of smart goals.

Related Articles
id; ?>)" rel="noopener" role="button" tabindex="0" aria-label="postclick">7+ Special Occasion Speech Examples, Samples
id; ?>)" rel="noopener" role="button" tabindex="0" aria-label="postclick">How to Start a Speech
You are using an outdated browser. Please upgrade your browser or activate Google Chrome Frame to improve your experience.
25 English Presentation Phrases to Impress Your Audience
Does giving a presentation make you feel a little nervous?
Well, you're not alone.
According to Forbes , giving a presentation makes 80% of us feel nervous !
The good news is that feeling nervous might be a good thing. This feeling pushes us to prepare ourselves better, and as long as you're well prepared, you'll do just fine.
So then, let's take a look at how we can prepare ourselves to give amazing presentations in English. Today, we're going to focus on the business English phrases you can count on (depend on) to make your presentation go more smoothly from start to finish.
But first, here are some tips to use when preparing for your presentation.
Download: This blog post is available as a convenient and portable PDF that you can take anywhere. Click here to get a copy. (Download)
Greeting Your Audience
You're now standing in front of your audience. Before you begin your presentation, start by greeting your audience, welcoming them to the event and introducing yourself.
1. Good morning/afternoon/evening, everyone.
2. welcome to [name of event]..
Sample sentence: Welcome to our 3rd Annual Sales Leadership Conference.
3. First, let me introduce myself. I am [name] from [company].
Beginning your presentation.
After you have given an introduction, you are ready to begin speaking about your topic. Use these phrases to get started.
4. Let me start by giving you some background information.
Use this phrase to give your audience a brief overview of the topic you'll be discussing. This is a good way to give them an idea of what's going on and to bring them up to date.
5. As you're aware, …
If you're bringing up a topic that your audience already knows about or is aware of, then you can use this phrase to introduce this known topic.
Sample sentence: As you're aware , the CEO of DHL Express has often said that globalization is here to stay.
Transitioning to the Next Topic
Before you move on to your next point, be sure to make it clear to your audience that you're now starting a new topic. Let them know exactly what that new topic will be. The two phrases below are very similar in meaning, and they can both be used for transitions.
6. Let's move on to…
Sample sentence: Let's move on to our second sales strategy.
7. Turning our attention now to…
Sample sentence: Turning our attention now to the results of our 2016 customer survey.
Providing More Details
Use these phrases to tell your audience that you'll be giving them a more detailed explanation of the topic. Both the words 'expand' and 'elaborate' mean to explain more fully.
8. I'd like to expand on…
Sample sentence: Now I'd like to expand on my point about increasing our market share.
9. Let me elaborate further.
Linking to another topic.
When making reference to a point you made earlier, or to remind your audience about something you said before, use these phrases to that link.
10. As I said at the beginning, …
This phrase lets you remind your audience about a point you made earlier. It can also be used to emphasize a point or theme.
Sample sentence: As I said in the beginning , we'll see an increase in profit if we follow these five steps.
11. This relates to what I was saying earlier…
This phrase will help you make connections between ideas in your presentation. It shows that two different ideas are connected.
Sample sentence: This relates to what I was saying earlier about increasing production to meet the year-end demand.
12. This ties in with…
Sample sentence: This ties in with the way we've been doing business for the past 20 years.
Emphasizing a Point
Use these phrases to draw attention to an important point that you want your audience to note.
13. The significance of this is…
The word "significance'" is similar in meaning to "importance."
Sample sentence: The significance of this is , if we complete this project on schedule, we'll have more people available to work on the next project.
14. This is important because…
Sample sentence: This is important because any marketing effort we put in now will help to boost demand for our products in the long run.
15. We have to remember that …
Sample sentence: We have to remember that people are our most important resource.
Making Reference to Information
Very often, you may need to support your discussion points by drawing attention and making reference to information and data from studies, reports and other sources.
16. Based on our findings, …
Sample sentence: Based on our findings, 74% of our market is made up of teenagers who find our clothing line stylish and upbeat.
17. According to our study, …
Sample sentence: According to our study, 63% of working people in this city go directly to the gym after work.
18. Our data shows …
Sample sentence: Our data shows that more than 23% of men in this town who used to drive to work now prefer to save money and the environment by cycling instead.
Explaining Visuals
To present a clearer picture of your point, you may show your data, information or examples in the form of visuals such as charts, tables and graphs.
19. I'd like to illustrate this point by showing you…
The word "illustrate" means "show," usually with examples, data or visuals.
Sample sentence: I'd like to illustrate this point by showing you a chart of the number of people in each age group who prefer to shop online.
20. This chart shows a breakdown of …
A "breakdown" refers to the detailed parts or figures that make up the total picture. A breakdown is often used in a presentation to show all the smaller parts behind something bigger.
Sample sentence: This chart shows a breakdown of the ingredients we use in our gluten-free products.
Restating Your Point
Sometimes in order to emphasize your point, you have to state it in a way that's easier for your audience to understand and remember. This often involves rephrasing, simplifying or clarifying your point.
21. In other words, …
Use this phrase to rephrase or reword your point in another way.
Sample sentence: In other words , we need to change our current design to make it more attractive to older children.
22. To put it simply, …
Use this phrase to simplify points that are complex or difficult to understand.
Sample sentence: To put it simply , we'll need you to work harder at making this launch a success.
23. What I mean to say is …
Use this phrase to explain your point in a way that's easier for your audience to understand.
Sample sentence: What I mean to say is that we need to change the way we market our products.
Concluding Your Presentation
This is the very end of the presentation. You have said everything you need to say, and now you need to finish it nicely. You may also have some time for questions. If there is time for questions, invite your audience to ask any questions they have.
24. In conclusion, let me sum up my main points.
As part of your closing statement, "sum up" (summarize, state briefly) your speech by mentioning the main points of your speech.
25. Thank you for your attention. Now I am happy to answer any questions you might have.
End your presentation by thanking your audience and offering to answer their questions.
The Top 3 Tips for Preparing Your Business Presentation in English
1. have a plan.
Always have a plan. Spend some time thinking about not only what you're going to say but how you're going to say it.
If English isn't your native language, it's very important that you think about what language you're going to be using. Think about all the vocabulary, phrases and grammar that will make your message clear and easy to understand.
What are the big ideas you want to explain for your presentation? Which words will express these ideas best? I recommend:
Have a clear goal in mind to help you stay on track and be logical. Whenever you feel lost during the presentation, just remember this clear, main goal. An example of a goal could be to convince potential clients to work with you. Whenever you don't know what to say next, remember to focus on the advantages you want to present and on examples of what you did in the past to deserve their trust. Encourage them to ask you questions related to this goal.
Research content. If you know your facts, you already have the core of your presentation prepared. Write these facts down on topic cards, give out handouts (papers) with important information or include them on your PowerPoint slides.
Prepare the delivery. Rehearse giving the presentation several times. Some people like recording themselves, others prefer practicing in front of a mirror or having friends listen to them while presenting. Choose the method that works best for you.
Decide whether you are going to read or speak freely. Reading can sound unnatural, but you can use certain tricks to avoid this. You can underline important sentences which you can memorize, so that from time to time you can stop reading, say your memorized lines and look at the audience. In this way, reading can be made more natural. Make sure you slow down so that the audience can follow you.
Speaking freely is much better if you can remember everything you want to say, because you will seem more knowledgeable, prepared and confident. However, this can be more stressful.
2. Use Visuals
Using some visuals can make your presentation more entertaining, easier to understand and can get your points across more convincingly. My advice:
Decide whether you need a PowerPoint presentation or not. Do you have graphs, results or other things like this to show? Then yes, you need one. Are you just telling a story? Then you probably do not.
Do not fill your slides with too much information. Use a maximum of seven short lines of text—even seven can be too many. Highlight key words so the audience can see the main ideas right away. Use bullet points rather than full sentences.
If you are presenting graphs or charts , give the audience time to read them.  Do not show a huge table of data if they audience will not have time to read and understand it. Make sure you try reading each slide while timing yourself to see how long it takes, so you do not jump to the next slide too early during your presentation.
3. Structure Your Presentation Well
It is a common mistake to give an unclear and unorganized presentation. This happens when the presenter just starts speaking without a clear goal in mind. They might suddenly realize their allotted speaking time has ended, or that the audience is bored because they are not following what is being said. Here's what you should do instead:
Decide on three main points (or less) that you want to make. Audiences can't usually focus on more than three points.
Tell them from the beginning what points you will be making. Audiences like to know what to expect. Tell them the main goals of your presentation directly in the introduction.
Presenting main points: firstly, secondly, last but not least
Making additions: moreover, furthermore, in addition, besides, what's more
Making purposes clear: in order to, so as to
Presenting reasons and causes: on account of, due to, since, seeing that
Presenting consequences: consequently, as a result, therefore
Expressing contrast: in spite of, despite, although, even though, however, nevertheless, in contrast, on the contrary
So with this, you've mastered the 25 most commonly used phrases used in presentations and my three favorite tips.
Once you learn them, I think you'll find them very useful to you in any presentation.
Become familiar with them and I promise you'll feel much less nervous in your next presentation.
And One More Thing...
If you like learning English through movies and online media, you should also check out FluentU. FluentU lets you learn English from popular talk shows, catchy music videos and funny commercials , as you can see here:
If you want to watch it, the FluentU app has probably got it.
The FluentU app and website makes it really easy to watch English videos. There are captions that are interactive. That means you can tap on any word to see an image, definition, and useful examples.
FluentU lets you learn engaging content with world famous celebrities.
For example, when you tap on the word "searching," you see this:
FluentU lets you tap to look up any word.
Learn all the vocabulary in any video with quizzes. Swipe left or right to see more examples for the word you're learning.
FluentU helps you learn fast with useful questions and multiple examples. Learn more.
The best part? FluentU remembers the vocabulary that you're learning. It recommends examples and videos to you based on the words you've already learned. You'll have a truly personalized experience.
Start using FluentU on the website with your computer or tablet or, better yet, download the FluentU app from the iTunes or from the Google Play store .
Enter your e-mail address to get your free PDF!
We hate SPAM and promise to keep your email address safe