17 Advantages And Disadvantages Of PowerPoint
PowerPoint is a versatile and user-friendly multimedia presentation program compatible with most devices. It lets you make and share limitless presentations with ease. However, it comes with a fair share of disadvantages, like the complex features and tools, issues with performance on less powerful computers, and its price.
1. Available for All Major Operating Systems
2. abundant features, 3. widely accepted, 4. lots of themes and templates, 5. versatile interface, 6. relatively easy to use, 7. support various formats, 8. smooth integration with other office programs, 9. support add-in, 10. compare documents, 11. relatively easy to collaborate, 12. available mobile version, 13. password protection, 14. lack of innovation, 15. a bit complex to learn, 16. some performance issues on weak systems, 17. it's relatively expensive, advantages and disadvantages of powerpoint – at a glance.
PowerPoint is available on Windows, macOS, iOS, Android , and the web.
PowerPoint has a rich set of features , including templates and themes.
Even for beginners, PowerPoint is relatively easy to use .
PowerPoint enables customization through a wide range of add-ins .
PowerPoint simplifies collaboration with others by allowing easy sharing and editing of presentations.
PowerPoint has limited innovation over its three-decade history, potentially making presentations feel dated.
Learning to use PowerPoint's features and tools can be complex for some users.
PowerPoint may have performance issues on less powerful computers.
Compared to alternatives, PowerPoint can be relatively pricey if purchased outright.
Advantages Of PowerPoint
Microsoft PowerPoint is an excellent tool for presentations and more. Here are some of its key advantages:
PowerPoint is available for both Windows and macOS , as well as for mobile devices running iOS and Android. This makes it a convenient tool for creating presentations, regardless of what type of device you are using. You can also use PowerPoint for the Web in a web browser, making it even more accessible. Not a lot of presentation software offers such flexibility.
PowerPoint is the most feature-rich presentation software out there. It has everything you need to create a professional-looking presentation, including built-in templates, themes, and much more. Other presentation software simply cannot compete with PowerPoint in this regard.
PowerPoint is the most widely used presentation software, and it's the industry standard tool for preparing presentations. People are generally familiar with how PowerPoint works, which makes it easy to use when giving presentations. It is also the most compatible presentation software , meaning that it can be opened and viewed on just about any device.
PowerPoint comes with a variety of built-in themes and templates that you can use to make your presentation look more professional. If you're not a design expert, these templates can be a lifesaver. With just a few clicks, you can make your presentation look great without spending hours on design.
The interface of PowerPoint is also quite versatile. You can easily access all the needed features by using the toolbar options. Its interface is also customizable , so you can change it to suit your needs better.
PowerPoint is relatively easy to use , even if you've never used it before. Of course, it takes some time to learn all the features and how to use them effectively. However, you should be able to start creating basic presentations without much trouble.
You can open and edit presentations saved in various formats with PowerPoint. Some of the supported formats include pptx, ppt, gif, mp4, jpeg , and more. This is a convenient feature if you need to import or export presentations in variable programs. Other presentation software supports only a limited number of formats.
PowerPoint also integrates smoothly with other Microsoft Office programs, such as Word and Excel. This makes it easy to create presentations that include data from other Office programs. Moreover, PowerPoint files are supported by most online storage services, such as Google Drive and Dropbox, for seamless sharing.
PowerPoint also supports add-ins , which are small programs that add additional features to the software. There are a large number of add-ins available for PowerPoint that you can use to customize your presentations further.
The Review feature in PowerPoint allows you to compare two presentations side-by-side . This is a handy feature if you need to spot the differences between two versions of a presentation. It's especially useful when you want to review the changes to your presentation made by someone else.
PowerPoint makes it relatively easy to collaborate with others on a presentation. You can easily share your presentation with others and allow them to view it or make changes by sharing a link. This is a convenient feature if you are working on a team project.
PowerPoint is also available in a mobile version , which allows you to create and edit presentations on the go. You can download the PowerPoint app for free from the App Store or Google Play to use on iOS or Android devices. This is a handy feature if you need to make last-minute changes to your presentation.
One of the features of the PowerPoint software that most users find useful is the password protection feature. This allows you to set a password for your presentation so that only those who know the password can open and view it. Most other presentation software does not include this component.
Disadvantages of PowerPoint
Now that we've looked at the advantages of PowerPoint, let's take a look at some of its disadvantages:
It's been around three decades since PowerPoint was first released, and in that time, it hasn't seen a whole lot of innovation. This lack of innovation can make it feel dated compared to some of the newer presentation software options on the market. Some users find PowerPoint slides boring, as there is not much scope to create creative or interactive presentations.
The features and tools of PowerPoint can be a bit complex to learn , especially if you've never used the software before. It can take some time to get a grasp on how to use all the features effectively. And if you want to create more complex presentations, it may take even longer.
PowerPoint can also have some performance issues, especially on weak systems. The software can be a bit resource-intensive, so it may run slowly on older computers . Additionally, large or complex presentations may take longer to load and may not run as smoothly as you'd like.
If you want to purchase PowerPoint outright, it's relatively expensive compared to some of the other presentation software options on the market. Google Slides offers many of the same features as PowerPoint, but it's free to use.
PowerPoint is a widely used presentation software that is available for all major operating systems. It offers a large number of features and is widely accepted. However, it can be a bit complex to learn and is relatively expensive. Despite these disadvantages, PowerPoint is still a popular choice for creating presentations.
Related Posts:
You are using an outdated browser. Please upgrade your browser to improve your experience.
Pros & Cons PowerPoint & Google Slides Presentation Templates
A Pros and Cons PowerPoint template is used to highlight the positives and negatives of your business strategy, decision, and business process. It is essential to weigh the pros and cons before making any final decision about the business. You should keep both the aspects in mind as it helps to differentiate between the advantages and disadvantages and helps to conclude and make a decision keeping in mind the positive and negative aspects of any business or future venture.
SlideUpLift brings a wide variety of pre-designed editable collection of pros and cons PowerPoint templates to help you decide. Adding the pros and cons chart in your PowerPoint or Google Slides presentation templates will increase the chances of delivering the comparison information more accurately in front of your investors and clients. We have designed various pros and cons examples keeping the customer's requirements in mind. So what are you waiting for? Download the suited Pro and Cons PPT  templates from our wide range of collection and make your business analysis speak in front of your investors and clients.
Price <= $5.99
Price > $5.99
Business Option PowerPoint Template
Login to use this feature
Add-to-favs lets you build a list for inspiration and future use.
Log in now to start adding your favs.
If you don't have one. A free account also gives you access to our free templates library
Business Options Pros and Cons PowerPoint Template
Challenges and Solutions List PowerPoint Template
Problem Solution Directional Arrows PowerPoint Template
Strategic Initiatives Evaluation PowerPoint Template
Pros and Cons Arrows PowerPoint Template
Pros And Cons 7 PowerPoint Template
Pros And Cons 9 PowerPoint Template
Pros and Cons 13 PowerPoint Template
Pros and Cons Seesaw 1 PowerPoint Template
Two Options PowerPoint Template
Traffic Light Risk and Opportunity PowerPoint Template
What are the different ways of showing pros and cons powerpoint template.
Using Pros and Cons PowerPoint templates, there are several ways to explain the benefits and drawbacks of a particular topic or choice. You can show the Pros and Cons using a two column  PowerPoint table . A comparison chart is also a good method to highlight the advantages and disadvantages of two or more solutions. You may make a chart that contrasts the benefits and negatives of each choice side by side, making it easy for your audience to evaluate the possibilities.  You must use more  PowerPoint graphics  to create a fantastic eye-catching pros and cons PPT template. You don't need to become a perfect graphic designer to make a unique pro and con list template for your business presentations.
What Is The Best Background Color For The Pros And Cons Template?
Using a light Powerpoint background  is the best way of highlighting the positives and negatives in a Pro and Cons PowerPoint template. Light colors will give the user a clear idea of the information you want to deliver through your presentations. According to color psychology, highlighting the pros with green and the cons with red will give a clear understanding of the strengths and weaknesses.
Why Should You Use The Pros And Cons PPT Templates In The Presentation?
Including Pros and Cons PowerPoint template in a presentation can help in a variety of ways:
It allows for a clear and concise presentation of both positive and negative aspects of a topic
It helps to provide a balanced view and consider different perspectives
It allows for a more in-depth and thorough analysis of a topic
It helps to engage the audience by encouraging them to consider both sides of an issue
It helps a person to distinguish the information quickly and remember it for a longer period
How To Make Pros And Cons List Template In PowerPoint?
To make the company pros and cons list, you need to figure out the advantages and disadvantages of the company's current business plan and strategy so that your user can easily distinguish between both scenarios and make a decision. You can easily add a pro and con list template in your  business presentations  from our wide range of predesigned easy-to-use pros and cons PowerPoint template collection.
How Do You Make A Pros And Cons Chart In Powerpoint?
You can make a pros and cons chart in PowerPoint by separating the points of advantages and disadvantages into two sections. You can easily highlight the pros in green color in the form of an arrow or thumbs-up sign and the cons part in red. It will help give the user a clear indication of the strengths and weaknesses of any product or service.
How Do I Make An Attractive Pros And Cons Slide?
To make an attractive pros and cons slide, you need to ensure that you add the pros and cons list in your business presentations to help the clients or investors soak the vital information quickly through your presentations. Adding visual templates to your slides is important as it helps  make the presentation more attractive  and unique.
Related Presentation Templates
312 templates
Advantages-Disadvantages
39 templates
Strength & Weakness
5 templates
Dos & Don'ts
24 templates
Positive Negative
64 templates
Forgot Password?
Privacy Overview
Necessary cookies are absolutely essential for the website to function properly. This category only includes cookies that ensures basic functionalities and security features of the website. These cookies do not store any personal information
Any cookies that may not be particularly necessary for the website to function and is used specifically to collect user personal data via ads, other embedded contents are termed as non-necessary cookies. It is mandatory to procure user consent prior to running these cookies on your website.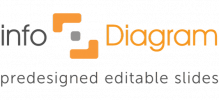 Blog – Creative Presentations Ideas
infoDiagram visual slide examples, PowerPoint diagrams & icons , PPT tricks & guides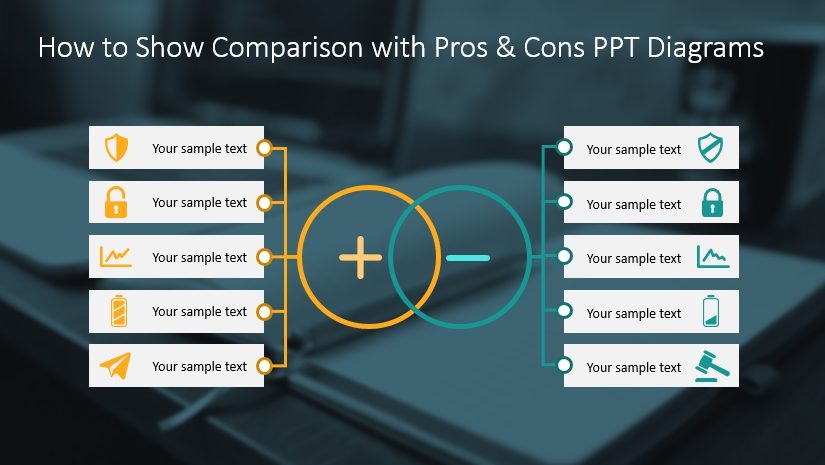 How to Show Comparison with Pros and Cons PowerPoint Diagrams
Do you need to add a slide with advantages and disadvantages comparison to your presentation? In this blog, we offer visual examples of how to illustrate the pros and cons of a business process, product, strategy, or decision using visual aids.
Do you have any ideas on how to create visually appealing positive and negative slide? Don't worry if your answer is 'no'. Check the following creative slide design ideas we share in this blog. They will help you create are fresh, simple, and elegant presentation.
All example slides below are a part of the Pros & Cons Diagrams PowerPoint template (see details by clicking the pictures).
Why Use Pros and Cons Diagrams in Your Presentation?
Here are the major reasons for using graphics to highlight the pros & cons:
Show the pluses and minuses of specific options
Compare the gains and losses of a proposal in the decision-making process
Visualize the benefits and drawbacks of the solution
Highlight the major advantages and disadvantages of the product, process, strategy, idea, etc.
Present a visual comparison of ups and downs on one slide
Replace ordinary tables and lists with creative diagrams
Apply Pros and Cons Diagrams Instead Ordinary Bullet Points
Are you going to use ordinary bullet points to list the advantages or disadvantages of the discussed subject? It would be better to visualize data to make sure that your audience will not miss any critical information.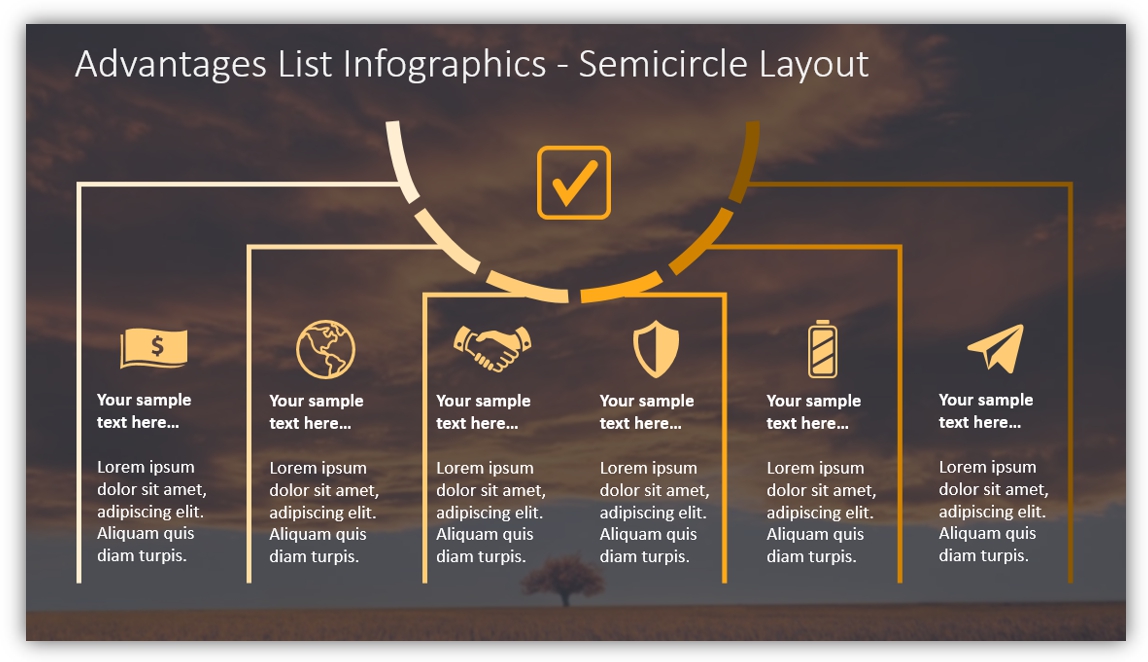 The example above demonstrates how you can transform a written list of the advantages into an eye-catching infographic. You can add different icons and short descriptions to draw your audience's attention to small details, that matter.
Design tip: if you are going to add more icons in your presentation, remember to keep them graphically consistent. Use one style for all slides and limited set of colors – ideally based on your branding.
Looking for more list presentation ideas? See three creative ways of illustrating a list in your presentation.
Use Pros and Cons Diagrams Instead of Traditional Comparison Tables
Let's face the truth, traditional Excel tables look pretty boring. If you want to make sure that your audience will not skip reading table information, you should pay attention to the slide design.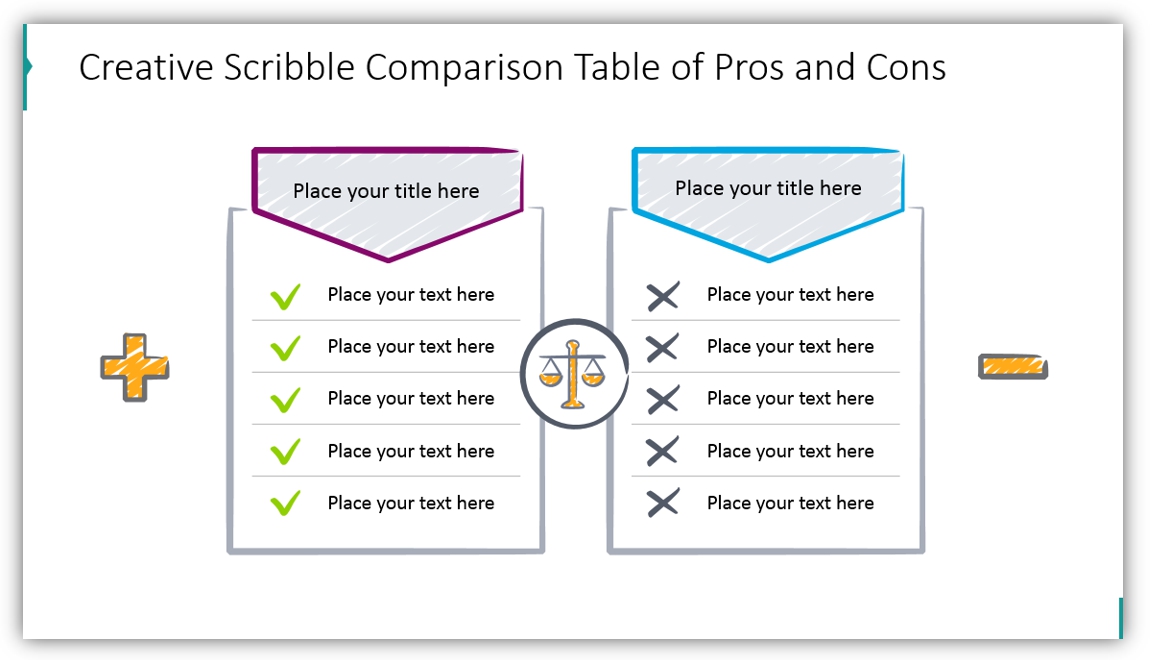 This slide example shows how you can highlight pluses and minuses utilizing a non-standard table. We also added hand-drawn icons and elements to make the table look creative and unique. Such hand-drawn visuals can help make your presentation more impactful .
Highlight Pros and Cons On Two Separate Slides
In case you want to discuss the advantages of the topic in more detail but don't want to overload the slide with text, you can choose the following design. A relevant background photo and a small text section work great together. Visualization of this type makes your message clear and concise helping to retain the audience's attention.
You can also apply this design to list the disadvantages. Take a look at the following template: high-resolution image pairs well with a short bulleted list and a few simple icons. These two slides will look great next to each other.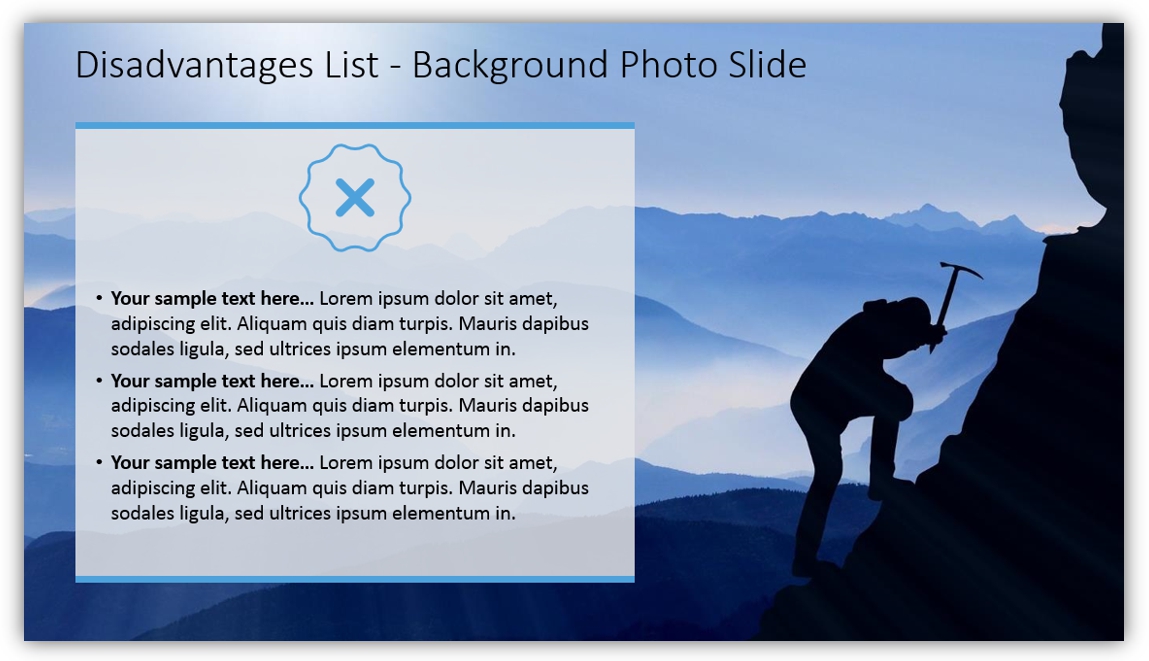 Put Benefits and Drawbacks On a Final Slide
If a major goal of your presentation is to focus on the advantages and disadvantages of the discussed idea, we suggest adding a pros and cons diagram for a final slide.
Take a glance at the following template, which presents benefits and drawbacks in a simple, yet effective way. The slide divided diagonally looks more creative and will suit any presentation. You can add big icons (like on the picture) to show where you stated the benefits and drawbacks.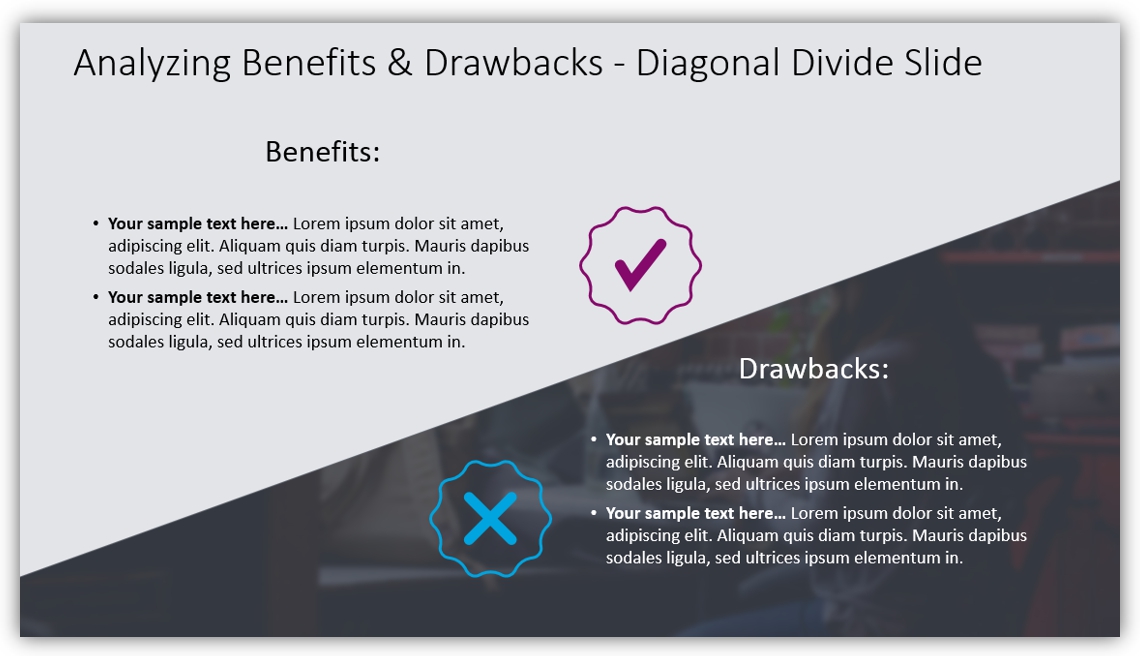 As you can see, there are a lot of unordinary Pros and Cons slide designs to choose from. You just need to select the most suitable diagram to create a killer presentation.
Don't be afraid to experiment: you can use several slides in the same presentation. For instance, you can focus separately on benefits and drawbacks, and then sum it up with a final slide with the most essential points. Just remember about visual consistency.
Do you need to create a to-do checklist slide for the project or review a presentation? You can rearrange and reuse one of the above diagrams, e.g. a slide with a tick and cross. Here we share more ideas on creating To-Do checklists for various purposes.
Resources of Comparison Diagrams
To save you time developing such comparison graphics, we designed an editable PowerPoint template with various pros and cons slides. Go and create engaging infographics, you can check the whole collection here:
Pros & Cons PPT Comparison Charts
You can also check the flat infographics deck to make your slide readable and distinguishable.
Want to recreate the pros and cons diagram yourself? Check our movie with step-by-step guides on creating fresh attractive comparison slides:
You can also download our slide redesign guide here: How to Create Visual Pros and Cons Slide in PowerPoint (a PDF document ).
Author: Leona Henryson – freelance writer and UX designer. Also, she is a contributing writer for various blogs. When she is not writing or designing, she is swimming, hiking, and, weather permitting, snowboarding.
Home PowerPoint Templates Pros & Cons Slide Templates for PowerPoint and Google Slides
Pros & Cons Slide Templates for PowerPoint and Google Slides
Download ready-made pros & cons slide designs for Microsoft PowerPoint presentations with creative characters and comparison tables that you can use to describe the pros & cons.
Pros & Cons PowerPoint templates can be used in any business presentation or product review PowerPoint presentation where you need to show a comparison chart. Pros & Cons concept can be applied to virtually any subject or technology to compare the advantages and disadvantages while using a product, ordering a service, taking an action or even taking a decision in the real world.
Featured Templates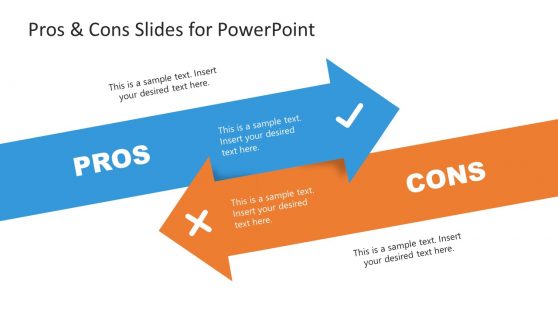 Pros & Cons Slides Template for PowerPoint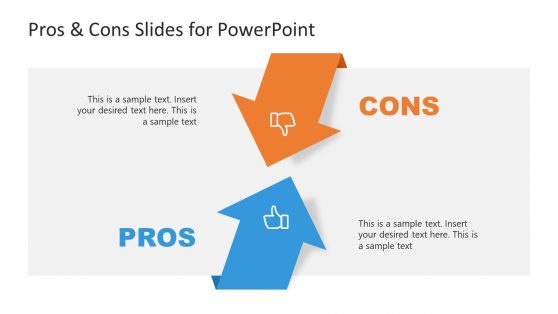 Pros Versus Cons Comparison Slide PowerPoint Template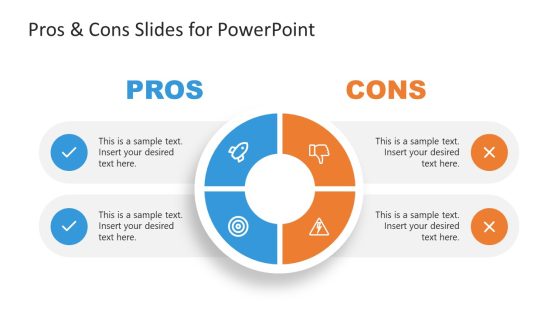 Pros & Cons Slide Template for PowerPoint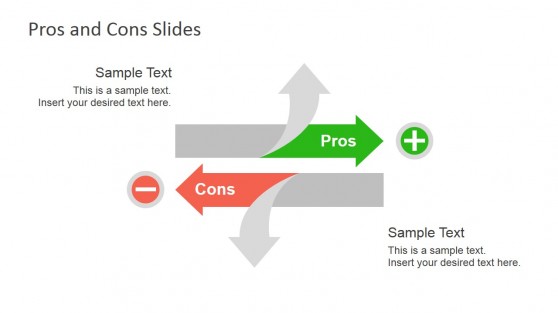 Pros & Cons Slide Diagrams for PowerPoint
Latest templates.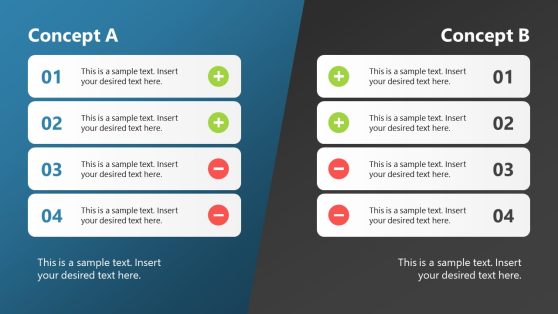 Animated Pros & Cons Comparison Slide Template for PowerPoint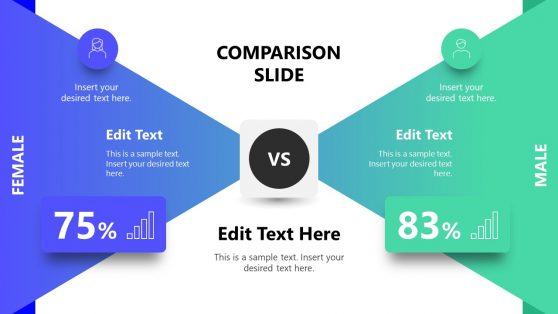 Modern Comparison Slide Template for PowerPoint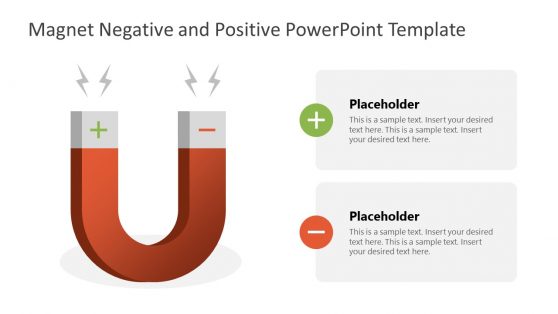 Magnet Negative & Positive PowerPoint Template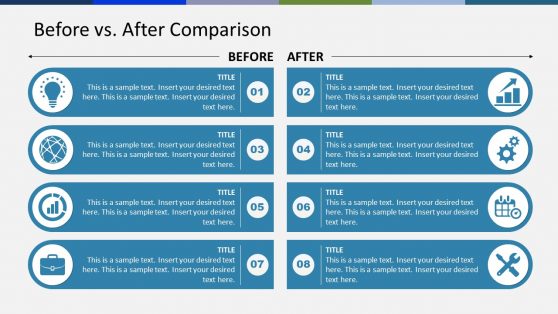 Before and After Comparison PowerPoint Template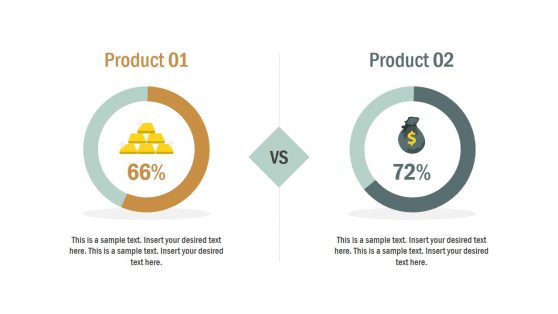 Product Comparison A vs B PowerPoint Template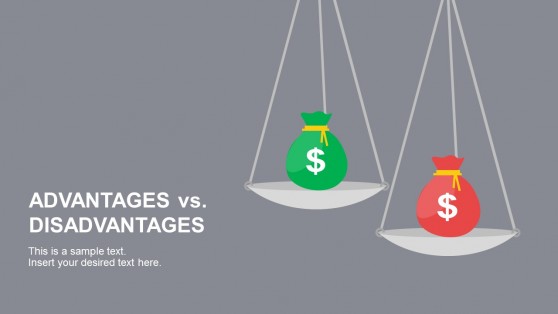 Advantages vs. Disadvantages PowerPoint Template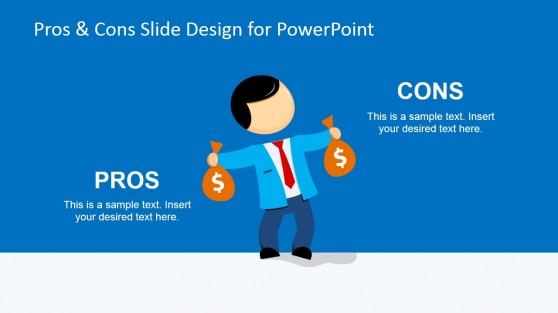 Pros & Cons PowerPoint Template
Use the Pros and Cons slides for PowerPoint, presenters can list all the advantages or disadvantages associated with a specific decision.
Alternatively, you can check out other alternative slides such as the Before & After slides or the Advantages versus Disadvantages slides for presentations.
What are the Pros and Cons Slide?
A pros and cons slide for PowerPoint, or Google Slides presentation are used to present a decision's advantages or disadvantages.
Why Use a Pros and Cons Slide?
Pros and cons slides can be used to show the differences between the advantages and disadvantages of a particular action or decision. It can help during a decision-making analysis or present the outcomes of previous decision analysis to an audience. It can help spot the gaps and areas where the consultant needs to do more profound research or highlight the differences between advantages and disadvantages.
Download Unlimited Content
Our annual unlimited plan let you download unlimited content from slidemodel. save hours of manual work and use awesome slide designs in your next presentation..
JD enjoys teaching people how to use ZoomShift to save time spent on scheduling. He's curious, likes learning new things everyday and playing the guitar (although it's a work in progress).
The Pros and Cons of Raising the Minimum Wage in the US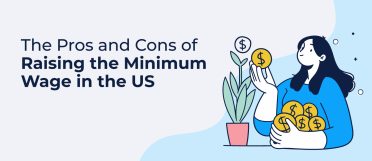 The United States federal minimum wage remains static at $7.25 per hour, a figure that hasn't seen an increase since 2009.
But with the cost of living consistently increasing nationwide, is this wage enough for America's industrious workforce to sustain a decent standard of living?
This question has ignited fiery discussions among politicians, economists, and the public at large. Some advocate for increasing the minimum wage as a solution to economic disparity, while others express worries about the potential adverse effects of such a decision.
In this article, let's delve into both sides of the argument and shed some light on the possible advantages and drawbacks of raising the minimum wage in today's economic climate.
What Is Minimum Wage?
The minimum wage is the lowest amount that an employer can pay their employees for an hour of work . It is set by federal, state, or local laws and varies depending on geographic location and industry.
Currently, the federal minimum wage in the US stands at $7.25 per hour, while some states have set their own minimum wage rates higher to reflect the cost of living in those areas. For example, the minimum wage in the state of New Jersey is $14.13 .
How Has the Minimum Wage Changed in the Past?
The journey of the U.S. federal minimum wage began in 1938 when the Fair Labor Standards Act (FLSA) set it at a mere $0.25 per hour. Since then, the rate has seen multiple upward adjustments.
By 1956, it had reached $1.00 per hour and by 1974, it doubled to $2.00 per hour. The 1980s experienced a slower climb, peaking at $3.35, a rate that persisted for nearly a decade. The 1990s then brought a series of increments, with the minimum wage ultimately settling at $5.15 by 1997. It wasn't until the late 2000s that the minimum wage saw significant hikes, reaching its 2009 level of $7.25 per hour.
Unfortunately, despite this upward trajectory, the minimum wage has not kept pace with inflation or the cost of living. When adjusted for inflation, the peak value of the minimum wage in real terms was back in 1968, when it was $1.60 per hour, equivalent to about $12 in today's economy.
This discrepancy between the minimum wage and the cost of living is a key factor fueling the current debates about raising the minimum wage.
10 Pros of Raising the Minimum Wage
Now that we have a better understanding of the history and current state of minimum wage in the US, let's explore some potential advantages of raising it.
1) Better Quality of Life for Minimum Wage Workers
Increasing the minimum wage can significantly improve the living standards for nearly a million workers who, in 2022, were earning at or below the set minimum. With higher wages, these workers may have more financial stability, allowing them to afford basic necessities such as food, housing, and healthcare more easily.
2) Reduced Income, Gender, and Racial Inequalities
Since women and people of color are more likely to hold minimum wage jobs, raising the minimum wage can help reduce income, gender, and racial inequalities.
According to a study by Pew Research Center, nearly two-thirds of minimum wage earners are women and a higher proportion of Black or Hispanic workers were paid at or below the federal minimum.
3) Increased Consumer Activity
Raising the minimum wage can also stimulate consumer spending, as workers with higher wages have more disposable income to spend on goods and services. This increased demand can lead to an economic boost for businesses.
According to a study by the Federal Reserve Bank of Chicago, for every $1.0 increase in the minimum wage, minimum wage households increased spending by approximately $700 per quarter.
4) More Jobs
There is a common assumption that raising the minimum wage will lead to job losses, but studies have shown otherwise. In fact, raising wages can potentially create new jobs as businesses experience increased demand and are forced to expand their operations.
5) Reduced Poverty Levels
A study by the Congressional Budget Office found that raising the minimum wage to $10.10 per hour would lift roughly 900,000 people out of poverty. With millions of Americans living in poverty and struggling to make ends meet, this can be a significant benefit of increasing the minimum wage.
6) Reduced Crime Rates
With higher wages, individuals may be less likely to resort to criminal activities as a means of making ends meet. This benefit not only improves the lives of individuals but also contributes to creating safer communities.
7) Increased Federal Revenues
As wages increase, so do federal income tax revenues. This can potentially offset any costs associated with raising the minimum wage while also providing funds for critical government programs and services.
8) Increased Workplace Productivity and Retention
Higher wages can also lead to increased productivity and retention rates in the workplace. When workers feel they are being fairly compensated, they may be more motivated to perform well and stay with their current employer. This can lead to a more stable workforce, reducing turnover costs for businesses.
9) Reduced Welfare Spending by the Go vernment
An increase in the minimum wage could potentially decrease the population's reliance on government welfare programs, resulting in long-term savings for taxpayers.
For instance, if wages were raised to $10.10 per hour, it could lead to an annual saving of approximately $4.6 billion on food stamp (SNAP) benefits for the U.S. government, as reported by The Center for American Progress .
10) Improved Social Mobility
Raising the minimum wage can also have long-term benefits for individuals and communities, such as improved social mobility. With higher wages, people may have more opportunities to further their education, gain new skills, and move up the socioeconomic ladder.
10 Cons of Raising the Minimum Wage
Raising the minimum wage also has its share of potential drawbacks. Let's take a look at ten important concerns raised by opponents of increasing the minimum wage.
1) Higher Housing and Consumer Good Prices
One potential concern is that wage increases could trigger a rise in housing and consumer goods prices. Businesses might offset the cost of higher wages by transferring it onto consumers, potentially leading to inflation and nullifying the effect of the wage increase.
For instance, a study conducted by Harvard Business School revealed that restaurant prices, particularly those in lower-tier establishments, saw an increase following a hike in the minimum wage.
2) Increased Automation
Another concern is that businesses may turn to automation as a means of cutting labor costs if the minimum wage is increased. This could lead to job losses in certain industries, particularly those with lower-skilled positions.
3) More Outsourcing
Some opponents also argue that an increase in the minimum wage could result in companies outsourcing jobs to countries with lower labor costs. For example, businesses in the US can outsource customer service or manufacturing jobs to countries like India and China where labor costs are lower.
4) Reduced Opportunities for New Workers
An increase in the minimum wage would also increase the cost of hiring new workers, which could lead to reduced opportunities for people with limited work experience or skills. This decrease in entry-level jobs can be a concern for young workers who may struggle to find employment.
5) Restricted Working Hours
A higher minimum wage could prompt some businesses to cut their employees' working hours, as observed in Seattle. This adjustment could potentially lead to a drop in the total take-home pay for workers, impacting their financial stability negatively.
6) Reduced Employee Benefits
In another bid to offset the costs of increased wages, some businesses could reduce employee benefits such as health insurance, retirement plans, and paid time off . This would, again, negatively affect workers, particularly those who rely on these benefits.
7) Impact on Small Businesses
While larger businesses may have the financial stability to absorb increased labor costs, small businesses with limited resources may struggle to keep up with higher wages. This could lead to cutbacks in other areas or even closures, potentially harming the economy.
8) Reduced Drive for Advanced Training
People go for advanced training to acquire more skills and advance in their careers. With increased wages, workers may be less motivated to pursue these opportunities as they may feel comfortable with their current income. This could lead to a decline in the overall skill level of the workforce.
9) Impact on Nonprofits and Government-Funded Programs
Nonprofits that rely heavily on low-wage workers — such as childcare providers and home health aides — could struggle to keep up with increased wages, putting a strain on their ability to provide essential services. In addition, government-funded programs such as Medicaid may also face financial challenges due to higher labor costs.
10) Maintained Regional Disparities
Certain regions in the US have a higher cost of living than others . Raising the minimum wage universally may not address these regional disparities and could potentially lead to job losses or business closures in areas with already struggling economies.
How to Deal With an Increase in Minimum Wage as a Business Owner?
As a business owner, you might find yourself at a disadvantage with an increase in the minimum wage. However, there are strategies you can implement to dampen the effect of this hike on your profitability.
Here are five important considerations:
Evaluate your current labor expenses: The first step should be to evaluate your current labor expenses and determine how much an increase in the minimum wage would impact your costs. This will help you plan and make necessary adjustments.
Cut non-essential expenses: You should reduce your business's non-essential expenses to help offset the cost of higher wages. This could include reducing marketing budgets or renegotiating vendor contracts.
Increase prices: Some businesses may choose to raise their prices in response to increased labor costs, but this should be done carefully to avoid losing customers.
Explore automation options: While not suitable for all industries, automation can be a viable cost-cutting solution for certain businesses. For example, using self-checkout kiosks in retail stores.
Consider outsourcing: In some cases, outsourcing tasks or services to countries with lower labor costs may be a feasible option. For example, you can outsource your business's call center operation to a low-wage country such as India or Pakistan.
Is Minimum Wage Meant to Be a Living Wage or a Starting Wage?
The concept of minimum wage was created to ensure that workers are able to earn a living and support themselves and their families. However, with the rising cost of living, some argue that the minimum wage should be higher to truly serve this purpose.
Does an Increase in Minimum Wage Reduce Poverty?
Increasing the minimum wage has the potential to reduce poverty, as it increases the earnings of the lowest-paid workers. A report from the Congressional Budget Office (CBO) suggested that a minimum wage hike to $15 by 2025 could pull 0.9 million people out of poverty.
Who Benefits the Most From Minimum Wage Increases?
Minimum wage increases mainly help those in low-income, part-time, or entry-level jobs. This is especially true for people who depend on these wages as their main income source.
Furthermore, groups that have traditionally been marginalized, such as women and racial/ethnic minorities, often see disproportionate benefits from minimum wage hikes, as they are more likely to be in low-wage jobs.
Is It Good or Bad to Raise the Minimum Wage?
The impacts of hiking the minimum wage remain debated. On one side, it could enhance living standards for low-wage workers, reduce poverty, and possibly stimulate consumer spending.
At the same time, it could potentially cause job losses, inflate prices, and burden small businesses. The effects largely hinge on the scale of the rise and the prevailing economic conditions.
Is Minimum Wage the Same for All Workers?
No, the minimum wage can vary based on several factors. Besides the federal rate, states can establish their own rates. Some cities, especially the high-cost ones, have their own minimum wage standards too.
Additionally, groups like tipped workers may have a lower minimum wage, provided the tips make up the difference.
Jump to section
Related articles.