AI Content Shield
AI KW Research
AI Assistant
SEO Optimizer
AI KW Clustering
Customer reviews
The NLO Revolution
Press Center
Help Center
Content Resources
Facebook Group
Paraphrase Games and Activities You Should Know
Table of Contents
Paraphrase games and activities teach your students to paraphrase without putting them to sleep. This article teaches and reinforces this skill in fun and exciting ways by using activities and games.
Students must sometimes find solutions or facts from what they've read and not merely duplicate the source. We call this "paraphrasing."
Why does this matter? First, we want to make sure we don't plagiarize, so we don't use someone else's work and call it our own. After rephrasing and rethinking, teachers need to hear what a student says to know if they understand.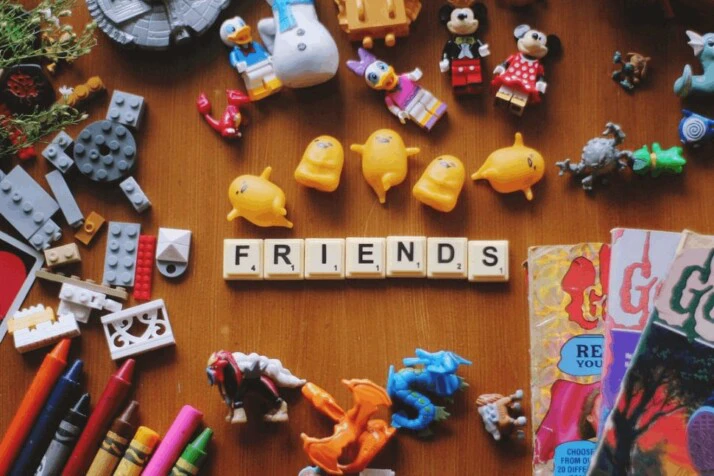 Why Play Paraphrase Games?
Teachers must often hear students synthesize and rewrite words to evaluate if they grasp it. Most people aren't born knowing how to paraphrase. These activities and games teach and reinforce paraphrase.
Most of us aren't born knowing how to paraphrase, though. Use these games and activities to help your students learn and practice paraphrasing.
1. Paraphrasing Races
The teacher puts the students into groups and gives each group a sentence. They have three minutes to come up with as many different ways to say the sentence as they can. Each good way of putting it is worth one point. The winner is the team with the most points.
2. Fun Question and Answer
At its core, paraphrasing means rewriting something in your own words, so have students start by doing that. Split your students into pairs and ask them questions.
Questions like "What did you do yesterday after school?" Tell me your vacation plans etc.
Student A gives a three- or four-sentence answer to the question.
Student B rewrites what Student A said.
Then, each pair changes roles.
You should show the class how to do this a few times before you start.
3. Quiz, Quiz, Trade Game
This is another version of the "Talk at First" Game. Start by:
Giving each student a piece of paper with a sentence on it.
Have students find partners.
Student A says her sentence, and Student B rewrites it in his or her own words.
The students then switch places. Then, they trade cards and go on to find different partners.
4. The Use of Index Cards
Ask students to take something their parent or sibling says and put it in their own words. Send them home with two index cards. On one, have them write down the original idea and on the other, how they changed it. Share the next day in class.
5. Identify Me
Make index cards with samples of academic text, like a few sentences from your science or social studies book.
Instructions
Give each group both a set of sample text cards and a set of blank index cards. Have each group choose someone to be the first judge and someone else to be the reader.
The judge picks a ready-made card and reads it out loud. Then, the judge puts it in the middle of the group so that everyone can see it.
Everyone in the group (except the reader) rewrites the text in their own words and writes it on a blank index card.
The card is then put in the reader. The reader reads each quoted card aloud, and the judge tries to guess who authored it. Give points for each right answer. Switch roles and keep playing until all of the task cards are used up.
6. Paraphrase Together
Try rewriting a short paragraph as a whole class. Use your document, camera or write it on the board to show the paragraph. You might want to give each student a copy. Make sure your pupils are aware of the distinction between paraphrasing and summarizing . Talk about the different ways to do things.
The students are to use the Four R's to paraphrase correctly.
Reword the sentences
Students should try to reword the sentences. Use synonyms for words and phrases whenever you can.
Rearrange the sentences
Students should be able to change the order of the words in a sentence to make a new sentence. They can even switch the order of the ideas in a paragraph.
Realize that s ome words are unchangeable
Students should be aware that some words and phrases cannot be changed. Words such as names, dates, titles, etc., but they can be rephrased in a different way.
Recheck for same meaning
Make sure that the meaning of your paraphrase is the same as the original.
Paraphrase games are a great way to practice and develop your paraphrasing skills . They provide a space to reflect on and improve on your writing skills as well as work on teamwork, and creativity.
With a bit of creative thinking and originality, these games provide a lot of possibility for unforgettable moments.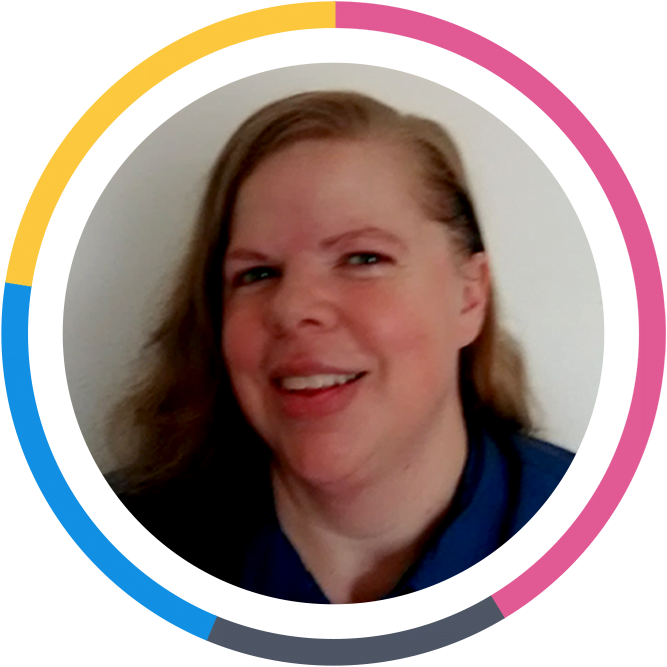 Pam is an expert grammarian with years of experience teaching English, writing and ESL Grammar courses at the university level. She is enamored with all things language and fascinated with how we use words to shape our world.
Explore All Paraphrasing Tool Articles
Advanced & effective paraphrase simplify tool.
The paraphrase simplify tool is designed to paraphrase and simplify your text effectively. This tool can be used for in-depth…
What Is a Paraphrase Citation?
When you paraphrase, many people think you don't have to give a citation. Understand that because you have used someone's…
Paraphrasing Vs Summarizing: What's the Difference?
Paraphrasing and summarizing are two similar activities, but they are not the same. To understand the difference between paraphrasing vs…
The Best Paraphrase Tools: A Review
When it comes to paraphrase tools, there are so many to choose. This is why we decided some paraphrase tool…
The Best Paraphrasing Hacks From Students Themselves
Did you have a tough concept that you had a lot of trouble understanding? Paraphrasing helps with that. But it…
What are the Best Paraphrasing Tool to Download
Paraphrasing is the process of rewriting or rephrase a sentence without changing its meaning. A paraphrasing tool allows you to…
Teaching Students to Paraphrase
Ideas for scaffolding paraphrasing so that students correctly learn this valuable but difficult-to-master skill.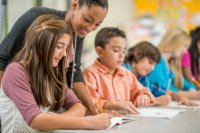 When discussing text in the classroom, it's tough for students to shift from utilizing an author's words (copying) to accepting the challenge to express that author's idea in their own words (paraphrasing).
But teaching effective paraphrasing is necessary because the use of paraphrasing facilitates important literacy skills : It encourages repeated reading, develops note-taking habits as students track quotes and outline text details, and expands vocabulary as they consider appropriate ways to describe the original text. The skill may seem daunting to students because it takes time to find the appropriate words to reshape a sentence, but that is time well spent.
We also need to teach paraphrasing, of course, so that students develop the skill set required to avoid committing plagiarism unintentionally .
Student Tools
One way to support students is to make them aware of tools that may help when they're paraphrasing. Think of these as training wheels—students won't use them forever.
Academic Phrasebank : Ready-made phrases help students organize their sentences when they paraphrase. The site provides sentence starters for defining ideas, comparing and contrasting ideas, describing cause and effect, and explaining evidence to support statements.
For instance, if a student were paraphrasing vocabulary word X, they would be able to find sentence starters such as "The word X encompasses...," "The word X is challenging to define because...," and "The word X is intended to...."
Ashford University Writing Center : This website has a five-item quiz to review the paraphrasing process. It allows students to identify examples and non-examples of paraphrasing for a given text.
When examining non-examples, students are shown how replacing or rearranging words is akin to copying and pasting on a computer. Students see examples of effective paraphrasing, including a change of sentence structure or personal elaboration combined with limited quoted information.
Tone Analyzer : This tool allows students to enter a brief sample from a text and receive an analysis of the tone. When using this tool, students can request an assessment of whether the text illustrates anger, joy, sadness, etc. In addition to these emotions, the website includes language descriptors such as confident (used to describe texts that use active voice and/or words such as will , must , etc.) or tentative (texts with words such as seems , appears , might , etc.). This tool is useful in helping students successfully align the tone of their paraphrased material with the tone of the original text.
Student Self-Check Prompts
Students should outgrow the tools above, and teachers can encourage that growth by showing them how to monitor their own progress with paraphrasing. Students can self-check to determine how on track with paraphrasing they are by asking themselves these questions:
Can I identify elements of the text that are most significant (and thus appropriate to preserve) when I put it in my own words?
Can I recite elements of the text from memory in order to prepare to put it into my own words?
How can I adjust the sentence structure to preserve the meaning of the text?
Student Cautions
Because the journey to paraphrasing may involve a few hiccups, it's a good idea to identify potential student challenges. When paraphrasing, remind students that they should:
Attempt to describe the text in their own words gradually, one component at a time (thanks to Doug Lemov and Maggie Johnson for this close reading strategy). For instance, they might first use their own words to describe significant phrases in the reading, and then make an effort to explain one or two key sentences, and finally attempt to paraphrase an entire paragraph.
Monitor the similarities between the text and the paraphrase. For instance, after describing specific sentences or paragraphs, they should note how many words are shared. Instead of using the same words as the author, focus on mirroring the same main idea. The Poorvu Center for Teaching and Learning at Yale offers easy-to-follow models for how to achieve this.
Ensure that there is a sufficient number of word substitutions in the paraphrased material. (Substituting only a couple of words could constitute plagiarism.) Students should focus on changing the structure of the sentence . This may involve converting a simple sentence to a compound sentence or adding a prepositional phrase.
Avoid adjusting special language (acronyms, figurative language, jargon, etc.). These kinds of terms are considered common knowledge, so using them in a paraphrase doesn't constitute plagiarism. Resources such as the Purdue Online Writing Lab can help students figure out whether a particular term is common knowledge.
Teachers can push students to move beyond copying by encouraging them to see paraphrasing as the go-to reading response. When we equip students with needed resources, we make student voice the rule instead of the exception.
Minds in Bloom
By Rachel Lynette
Teaching Kids to Paraphrase, Step by Step
Start by Talking
Paraphrase together.
Reword – Replace words and phrases with synonyms whenever you can.
Rearrange – Rearrange words within sentences to make new sentences. You can even rearrange the ideas presented within the paragraph.
Realize that some words and phrases cannot be changed – names, dates, titles, etc. cannot be replaced, but you can present them differently in your paraphrase.
Recheck – Make sure that your paraphrase conveys the same meaning as the original text.
At just 8.5 square miles, the Pacific island country of Nauru is one of the smallest countries in the world. The island was once rich in phosphate, but most of the resource has been mined, leaving damage to the environment behind. Nauru has a population of about 10,000 people.
Paraphrased Text:
Nauru is a Pacific island country that is only 8.5 square miles in area. It is one of the smallest countries on the planet and only about 10,000 people live there. Nauru has mined its once plentiful supply of phosphate. This has damaged the environment on the island.
Independent Practice
Pulling It All Together
paraphrasing from notes you have taken from the original text, rather than from the text itself.
including quotes in your paraphrased writings.
paraphrasing some parts and summarizing other parts.
paraphrasing, summarizing, and including quotes all in one piece.
using more than one source to paraphrase, summarize, and include quotes. (Throw in a bibliography, and what do you know? You've written an actual report!)
I apologize, but I had to remove all comments and disable commenting on this post because the topic attracts scores of bottom-feeders trying to drum up business for their unethical term paper writing services.
Related posts:
Join our Amazing Group of Teachers!
Subscribe to get weekly freebies, teacher care, and more!
[…] example, when children are learning about gravity, it's unlikely that the best way to teach them would be through […]
[…] and Cassi at Minds in Bloom offer this advice when paraphrasing – think about the 4 […]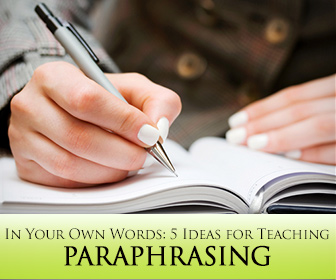  All topics A-Z
 Grammar
 Vocabulary
 Speaking
 Reading
 Listening
 Writing
 Pronunciation
 Virtual Classroom
Worksheets by season
 600 Creative Writing Prompts
 Warmers, fillers & ice-breakers
 Coloring pages to print
 Flashcards
 Classroom management worksheets
 Emergency worksheets
 Revision worksheets
Resources we recommend
Copyright 2007-2021 пїЅ
Submit a worksheet
Mobile version
Purdue OWL® Exercises Purdue OWL® College of Liberal Arts
Paraphrase and Summary Exercises

Welcome to the Purdue OWL
This page is brought to you by the OWL at Purdue University. When printing this page, you must include the entire legal notice.
Copyright ©1995-2018 by The Writing Lab & The OWL at Purdue and Purdue University. All rights reserved. This material may not be published, reproduced, broadcast, rewritten, or redistributed without permission. Use of this site constitutes acceptance of our terms and conditions of fair use.
The exercises in this section provide opportunities for second language writers (ESL) of various proficiency levels to practice with paraphrase and summary writing.
Exercises in this section were developed by Kamal Belmihoub. Last Update May 29, 2014.
Basic-level Paraphrase and Summary Writing
Paraphrasing.
Paraphrasing refers to rewriting a given sentence using your own words. When we need to use a sentence in our writing that someone else wrote, we paraphrase it. That is, we use the same idea(s) in that sentence and write it differently. In addition to using different words, we use different grammar. The main purpose of paraphrasing has to do with being able to use someone else's ideas while we write our own texts. Of course, it is required that any writer acknowledges the original source using the proper citation format.
This paraphrase has too many words, such as "PayLess is closed because of" are repeated. It is important to use different words and grammatical structure, while keeping the same meaning of the original sentence.
As can be seen in the above example, in addition to using different words, the grammatical structure of the sentence was changed by starting with the second part (dependent clause) of the original sentence.
Summarizing
A summary should be a short version of a longer original source. Its main goal is to present a large amount of information in a short and concise text that includes only the most important ideas of the original text.
Intermediate-level Paraphrase Exercises
Source Material
Inappropriate paraphrase
The inappropriate paraphrase is too close to the original sentence. Several words are the same and the complex structure of the sentence is the same. Deleting some words from the original sentence is not enough to write an appropriate paraphrase.
Appropriate paraphrase
The appropriate paraphrase uses a different structure for the sentence, and most words are different from the original.
Paraphrase Summary Exercises List of Works Consulted
List of works consulted.
"American History Series: The United States Turns Inward After World War One." Voice of America, 24 Nov. 2010. Web. 1 April 2013.
"Budgets Slash English Classes for Immigrants." 8 Apr.. 2013. Web. 1 May 2013.
"Bullying." Science Daily, n.d. Web. 30 May 2013.
"Business English Speakers Can Still be Divided by a Common Language." Voice of America, 1 Mar. 2011. Web. 1 Apr. 2013.
"Camaraderie of sports Teams May Deter Bullying." Science Daily, 5 May 2013. Web. 30 May 2013.
"Childhood Bullying Increases the Propensity to Self-Harm During Adolescence." Science Daily, 28 May 2013. Web. 30 May 2013.
"Exposure to Two Languages Can Have Far-Reaching Benefits." Northwestern, 20 May 2009. Web. 1 May 2013.
"Global Economic Forum Rates Global Risks for 2013." Voice of America, 11 Jan. 2013. Web. 30 May 2013.
"Let it Snow, Let it Snow, Let it Snow!" Voice of America, 25 Jan. 2013. Web. 1 Apr. 2013.
"Lifestyle Habits Lower Heart Failure Risk." Science Daily, 13 Sep. 2011. Web. 30 May 2013.
"More Wins for TEA Party Activists, but Will They Win in November?" Voice of America, 17 Sep. 2010. Web. 1 Apr. 2013.
"Movies Become Big Business in the 1920s." Voice of America, 7 Dec. 2010. Web. 1 Apr. 2013.
"New Anti-Cancer Components of Extra-Virgin Olive Oil Revealed." Science Daily, 27 Dec. 2008. Web. 30 May 2013.
"New Hampshire Chinese Language School Attracts non-Chinese Students." 30 Oct. 2009. Web. 1 May 2013.
"Quitting Smoking: Licensed Medications are Effective." Science Daily, 30 May 2013. Web. 30 May 2013.
"Soccer Training Improves Heart Health of Men with Type 2 Diabetes." Science Daily, 30 May 2013. Web. 30 May 2013.
"Tornado Season Returns, Voice of America." Voice of America. 30 Apr. 2012. Web. 1 Apr. 2013.
"What is the Human Relations Commission?" City of West Lafayette Indiana, 6 Mar. 2012. Web. 1 Apr. 2013.
"Women Edge Past Men in Getting Doctorates, Voice of America." Voice of America, 5 Oct. 2010. Web. 1 Apr. 2013.
"World's Population Reaches 7 Billion Voice of America. 4 Jan. 2012. Web. 1 Apr. 2013.
Professional development
Knowing the subject
Teaching Knowledge database N-P
Paraphrasing
See an explanation of the term 'Paraphrasing'.
Paraphrasing is finding another way to say something when you don't know how to say it. Paraphrasing is not only an essential skill for all speakers but also key to learners developing communicative ability beyond their existing knowledge of language.
Example The learner is describing a photograph of a glider and doesn't know the word, so paraphrases by saying 'an airplane that uses the wind'.
In the classroom One way to practise paraphrasing is through word games. For example, in a definition game learners have to provide paraphrases, so that others can guess the original word. This can be done in written form in crossword activities as well.
Further links: https://www.teachingenglish.org.uk/article/heroes-villains-pride-prejudice-0 https://www.teachingenglish.org.uk/article/windrush-generation https://www.teachingenglish.org.uk/article/green-great https://www.teachingenglish.org.uk/article/creativity-language-classroom  
Research and insight
Browse fascinating case studies, research papers, publications and books by researchers and ELT experts from around the world.
See our publications, research and insight
Paraphrasing practice worksheet
Use this handout with the Paraphrasing Practice resource. Provide students with this handout in order to participate in the exercises presented in the practice presentation.
Use this handout with the Paraphrasing Practice resource, both part of the "Teaching Academic Integrity: Paraphrasing" Unit. Provide students with this handout in order to participate in the exercises presented in the practice presentation.

English Language Arts
Graphic Organizers
Social Studies
Teacher Printables
Foreign Language
Home > English Language Arts Worksheets > Paraphrasing
When we do research, we will often find value in the work of others. By sharing this information or ideas with our audience we can immediately establish trust from them. We can achieve this by rewriting these thoughts in our own words. When we are paraphrasing in our work it is important to keep the original meaning and facts intact. In many cases the sheer volume of the original work is reduced in form when being paraphrased. In some cases, you will only need to paraphrase a sentence, in other situations an entire paragraph will be your target. Being able to paraphrase properly is a key research communication skill. It displays that we have a good command on our sources. This also serves as a potent substitute for a direct quote, which in certain situations can flow much better. Sourcing our arguments is helpful because it adds a level of validation to what we are saying. Otherwise it may come across as an opinion. It also displays that you have control over and a high level of understanding of the source because you were able to write it in your own words. When you are about to paraphrase something make certain you fully understand what is being said, if anything is unclear ask someone who is knowledge of it.
The best way to approach paraphrasing is to start by reading the work a few times. Now write an original thought based on what you have read. Make sure what you write keeps the nature and tone the author was originally trying to create. When you complete your paraphrase make sure to include a citation of where the original source is given credit. These worksheets will help you learn how to use paraphrasing in your work.
Get Free Worksheets In Your Inbox!
Printable paraphrasing worksheets, click the buttons to print each worksheet and answer key..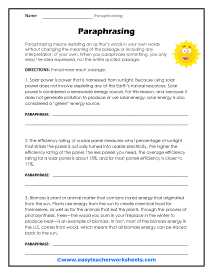 The Paragraph
Paraphrasing means restating an author's words in your own words without changing the meaning of the passage or including any interpretation of your own. When you paraphrase something, you only relay the idea expressed, not the entire quoted passage.

From Sources
Read each passage. On a separate page, paraphrase each passage. Try not to look back at the original while you are paraphrasing.

Susan B. Anthony
Read Susan B. Anthony's speech below. Then paraphrase the speech.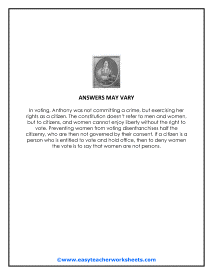 Highlight the portion of the text that you would like to focus on. Then paraphrase the ideas on the notecard below.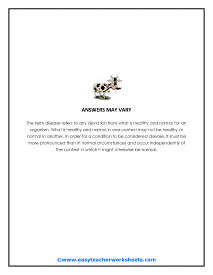 Paraphrasing Practice
Paraphrase each passage.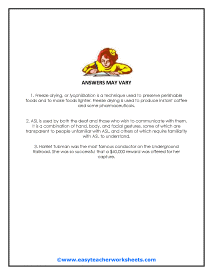 Read and Paraphrase
An onomatopoeia is a word that sounds like the sound it is trying to describe.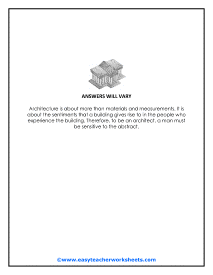 Paraphrasing with Synonyms
Rewrite each sentence below, replacing each underlined word with a synonym.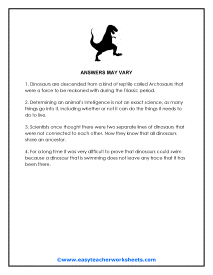 Paraphrasing Worksheet
Read the assigned passage. Then answer the questions below.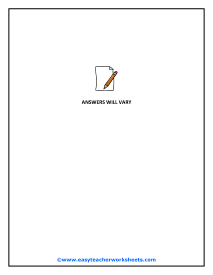 Using Synonyms When Paraphrasing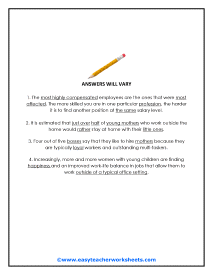 Rafael Palma
Paraphrase Palma's speech for use in your article. Then complete the worksheet below.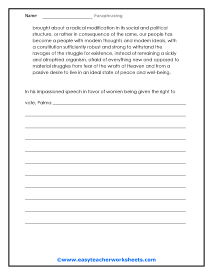 Paraphrasing means restating what an author has said in your own words without changing the meaning of the passage or including any interpretation of your own. When you paraphrase something, you only relay the idea expressed, not the entire quoted passage.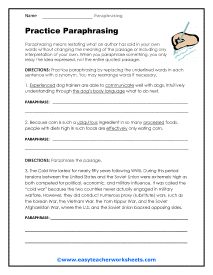 As you conduct your research, fill out the questionnaire below for each of your sources.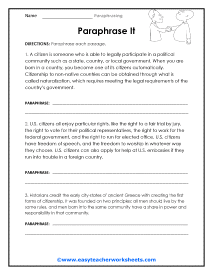 Paraphrase It
A citizen is someone who is able to legally participate in a political community such as a state, country, or local government.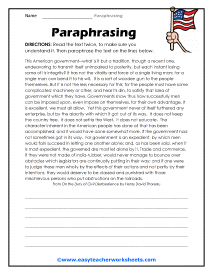 This American Government
Best 5 Paraphrasing Exercises
Read on to see our helpful paraphrasing exercises and tips in this article to get you started.
One of the most important skills you can hone as a student or writer is to paraphrase the words of other academics and experts effectively. Since new knowledge is built upon that which is already known, it makes sense that you'd want to reference the ideas of others in your work. However, this is often easier said than done. Paraphrasing, especially if you want to do it well, can be challenging.
Fortunately, as is the case with most other skills in life, you can improve your ability to paraphrase through practice. For instance, you can improve this skill by regularly doing paraphrasing exercises. As I was an academic for a long time in my life, I thought it might be helpful to those who have little or no experience in paraphrasing if I provided a list of paraphrasing exercises. If you're such a person, I hope that this article will get you started on your journey toward mastering the art of paraphrasing. Your academic or writing career will undoubtedly be better off for it when you do.
The Art of Paraphrasing
Paraphrasing exercises and activities to help you master the skill, 1. broaden your vocabulary, 2. create a word map, 3. paraphrase in small chunks, 4. ways to paraphrase shorter and easier sentences, 5. imagine you're explaining the source material to someone, helpful tips, 1. avoid plagiarism, 2. summarizing is not paraphrasing, 3. changing word order is not paraphrasing.
Although paraphrasing is an essential skill when writing papers, essays, or articles, it's one that many find challenging to master. To paraphrase the words of others, you need first to comprehend their meaning, and then you need to express this meaning in your own words. To do this effectively requires a broad and sophisticated range of vocabulary and advanced grammar skills.
As stated in the introduction, you can improve your paraphrasing skills through paraphrasing exercises. Doing this will help you construct meaningful and original paraphrased sentences and increase the speed at which you work. Especially when you're a student, reading, and paraphrasing the words of other scholars and experts can form a big chunk of your work. Learning how to paraphrase well and at a quick pace will enhance your academic experience and will open up your schedule for other activities, such as sports or parties.
Our paraphrasing vs. summarizing guide might be helpful.
Now that you know the importance of paraphrasing, let's dive right in and look at some exercises and activities that can help you improve. Remember, as is the case when learning any other new skill, you need to engage with these exercises regularly.
Since you cannot paraphrase appropriately without a decent range of vocabulary, it makes sense to aim to add more words to your vocabulary bank constantly. Of course, if you're an academic, you'll want to focus on improving your academic vocabulary in your specific field. However, since academic language has a formal tone, you can add general terms to your vocabulary bank to help you express yourself more sophisticatedly. Examples of such words, for instance, are verbs such as "theorize," "opine," "constitute," and "approximate."
There are various ways in which you can enrich your academic vocabulary. These include:
Keeping a word journal: A great way to learn new words is to carry a little book along with you, in which you can write down words that you don't know. You can write down the word and then look up the meaning when you have time. It can also be helpful to construct your sentence with the word once you've jotted down its definition.
Highlight words in texts: Whether you're working with a physical copy of a text or a digital version, it's good to highlight or underline words that you don't know. You can then either write a definition of the words in the margin or, if you're working with a digital copy, you can add a comment. Another good tip is to write by hand – people learn better when writing something by hand than if they typed the same information.
Read as much as you can: Although this may be obvious, the best way to improve your vocabulary is to read as many books and articles as you can fit into your schedule. Even if you don't have the time to look up the meaning of each word that you don't understand, just seeing the word pop up in different contexts will help you work out the meaning for yourself over time. Apart from reading, you can also listen to podcasts or watch documentaries and news channels.
If you're battling to paraphrase an original paragraph or sentence into your own words, it can be helpful to create a word map. You can, for instance, write a few complex words or phrases down on a piece of paper. Next, draw a box around each word or phrase, and leave enough space around each so that you can draw and link other boxes. As a next step, you can draw boxes in which you write the synonym of each word. You can also write down the definition of each word if you're unsure of its meaning.
Next, you need to clarify the relationship between these words or terms. Draw arrows between them indicating patterns, correlation, or cause and effect. You can also add boxes between the original words or phrases in which you add other words, such as verbs, adverbs, conjunctions, prepositions, or adjectives. Doing so can help you further explain the terms or link them meaningfully. Once you've added all the information you can think of, try to create a paraphrased sentence or paragraph from your word map.
A valuable way to learn how to paraphrase when you're a beginner is to break sentences into smaller parts. For example, instead of paraphrasing a long and complex sentence, which can become overwhelming if you're not used to this process, you can focus on shorter phrases. Let's take a look at an example. Here, for instance, is a long and complex sentence:
" Many impacts are unavoidable and will hit the world's most vulnerable populations hardest, it warns — but collective action from governments to both curb greenhouse-gas emissions and prepare communities to live with global warming could yet avert the worst outcomes. "
You may find it challenging to paraphrase this sentence as a whole. However, breaking it into smaller chunks makes the task more doable. You can break this sentence up in the following way:
Many impacts are unavoidable
And will hit the world's most vulnerable populations hardest, it warns
But collective actions from governments
To both curb greenhouse-gas emissions
And prepare communities to live with global warming
Could yet avert the worst outcomes
Remember, the sentence structure of your paraphrased version can and often will look different from the source. This means that you can form two or multiple sentences if this helps you create a meaningful paraphrased version, even if the original is one sentence.
If you want to practice your paraphrasing skills, you can do so by paraphrasing a sentence in two or three different ways. You can practice finding different synonyms, grammar, and sentence structures while retaining the meaning across all versions.
If you have time, you can do this exercise with longer sentences. However, it may be good to start by paraphrasing shorter sentences. Doing so will allow you to focus on finding multiple synonyms and different ways to write the same sentence.
Here's an example:
" Scientists know that bees are dying from a variety of factors. "
Paraphrased version 1:
"Experts maintain that the future of bees is in danger due to multiple causes."
Paraphrased version 2:
"There are many different reasons why bees are going extinct, according to scientists."
A helpful way of practicing paraphrasing while reading through articles or research papers is to recite your paraphrased version of some more complex sentences. Since the first step of paraphrasing is to ensure that you've correctly understood the source, repeating what you've just read in your own words can help you grasp the meaning of the source material.
You don't need to use formal academic language and complex terms when doing this paraphrasing exercise. Instead, the aim is to repeat what you've read in plain and simple terms. Also, since you don't need to write anything down for this paraphrasing exercise, it's something you can regularly do while you're reading through the source material.
It's vital that you understand what you're reading and that all the information is not just going over your head. Doing this exercise, primarily when you find yourself drifting off or having problems grasping a sentence, will ensure that you've understood the section you've read. At the same time, you get to practice your paraphrasing skills.
Here are some helpful tips to keep in mind while paraphrasing.
Even though you're not using direct quotes when paraphrasing but rather stating another author's ideas in your own words, you still need to reference their work. Failing to do so amounts to plagiarism, a serious offense, whether you're producing academic work or an article for a web page.
The format you have to use when citing the work of others varies. For instance, in academic writing, you need to provide in-text citations and a list of references at the end of your essay, article, or thesis. The precise way you'll write your in-text citations and list of references will be determined by the formatting style, whether this is APA , Harvard , Chicago , or MLA .
Although both tools or techniques involve using your own words to describe somebody else's text, they are different. You need to retain the original work's meaning with both techniques while using your own words. When you're summarizing a work , you're selecting only the most essential points of the text and rewriting these in your own words. This means that you provide a short overview of what a text is about.
It would be best to remain far more loyal to the source material with paraphrasing. You refer to specific ideas an author has provided to incorporate these into your work. To ensure that you're not changing the original version too much or skewing the meaning the author intended to bring across, you have to rewrite actual sentences and paragraphs. You can't just write a summary of large chunks of text.
Although this is a "technique" employed by lazy students, you should be aware that merely swapping around the word order of an original text does not constitute paraphrasing. It's also not good enough to merely change a sentence from passive voice to active voice or vice versa.
Using either of these as your only paraphrasing method when rewriting somebody else's words can amount to plagiarism since you've not used your own words or demonstrated your understanding of the source material. In such instances, you'd be better off simply rewriting the author's exact words and placing these in quotation marks.
To learn more, check out our guide on paraphrasing vs. plagiarism .
Bryan Collins is the owner of Become a Writer Today. He's an author from Ireland who helps writers build authority and earn a living from their creative work. He's also a former Forbes columnist and his work has appeared in publications like Lifehacker and Fast Company.
View all posts
Free Paraphrasing Tool
Try our other writing services

Avoid plagiarism in your paraphrased text
People are in love with our paraphrasing tool.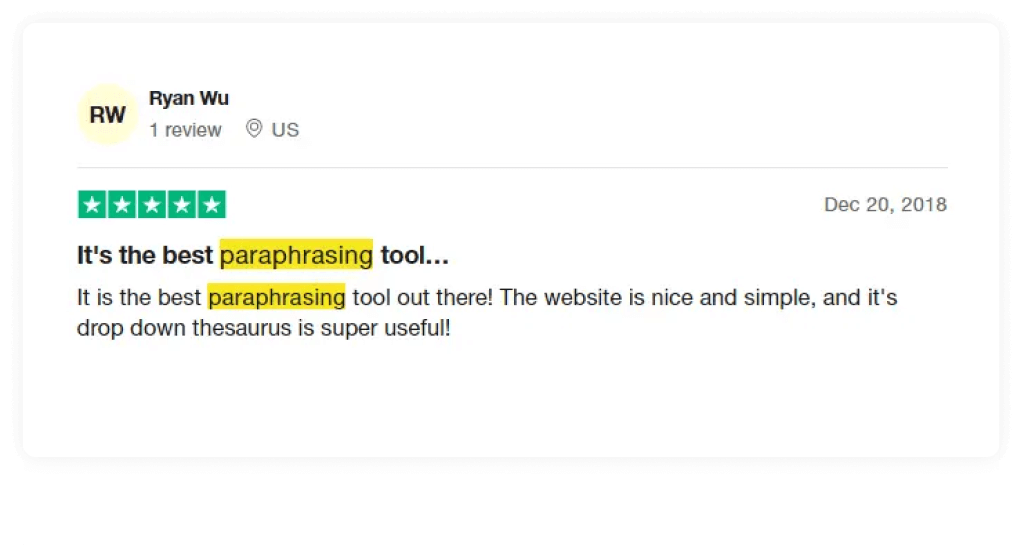 What's a paraphrasing tool?
This AI-powered paraphraser lets you rewrite text in your own words. Use it to  paraphrase articles, essays, and other pieces of text. You can also use it to rephrase sentences and find synonyms for individual words. And the best part? It's all 100% free!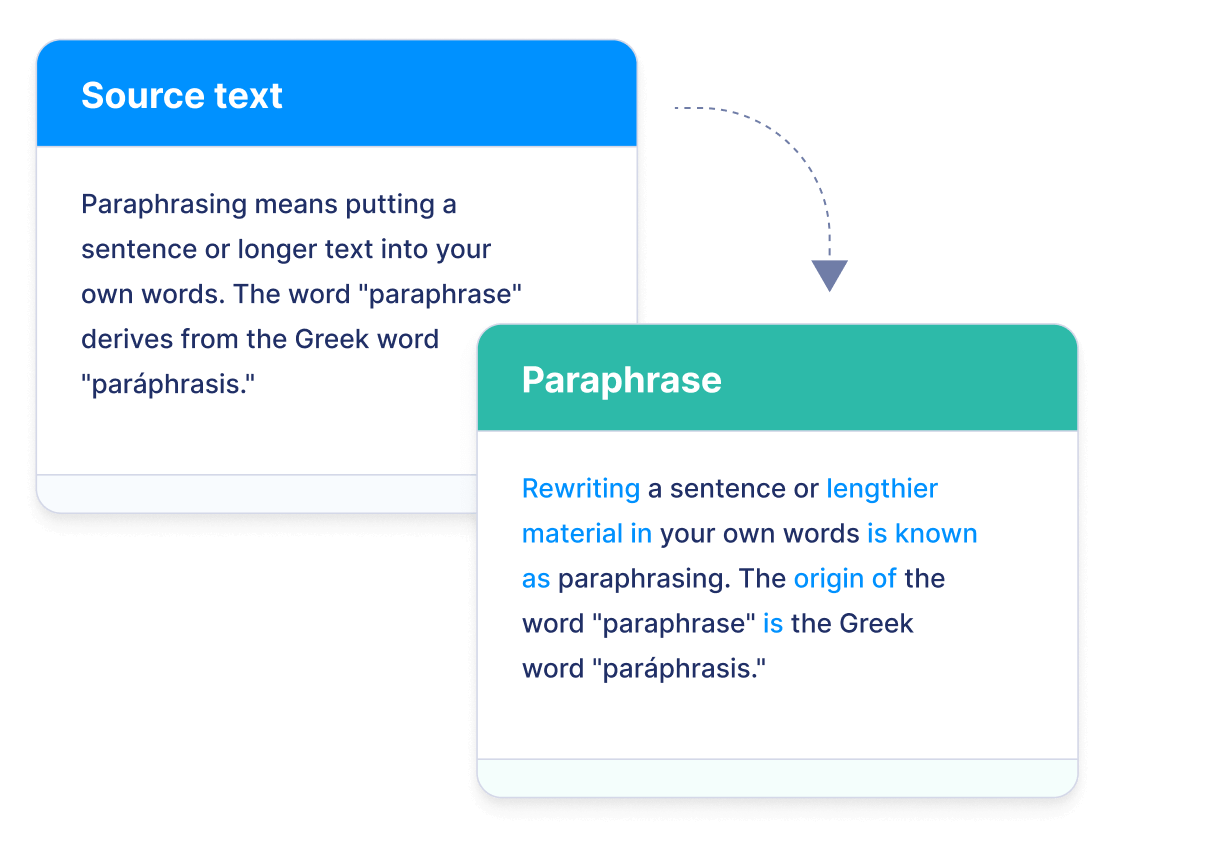 What's paraphrasing?
Paraphrasing involves expressing someone else's ideas or thoughts in your own words while maintaining the original meaning. Paraphrasing tools can help you quickly reword text by replacing certain words with synonyms or restructuring sentences. They can also make your text more concise, clear, and suitable for a specific audience. Paraphrasing is an essential skill in academic writing and professional communication.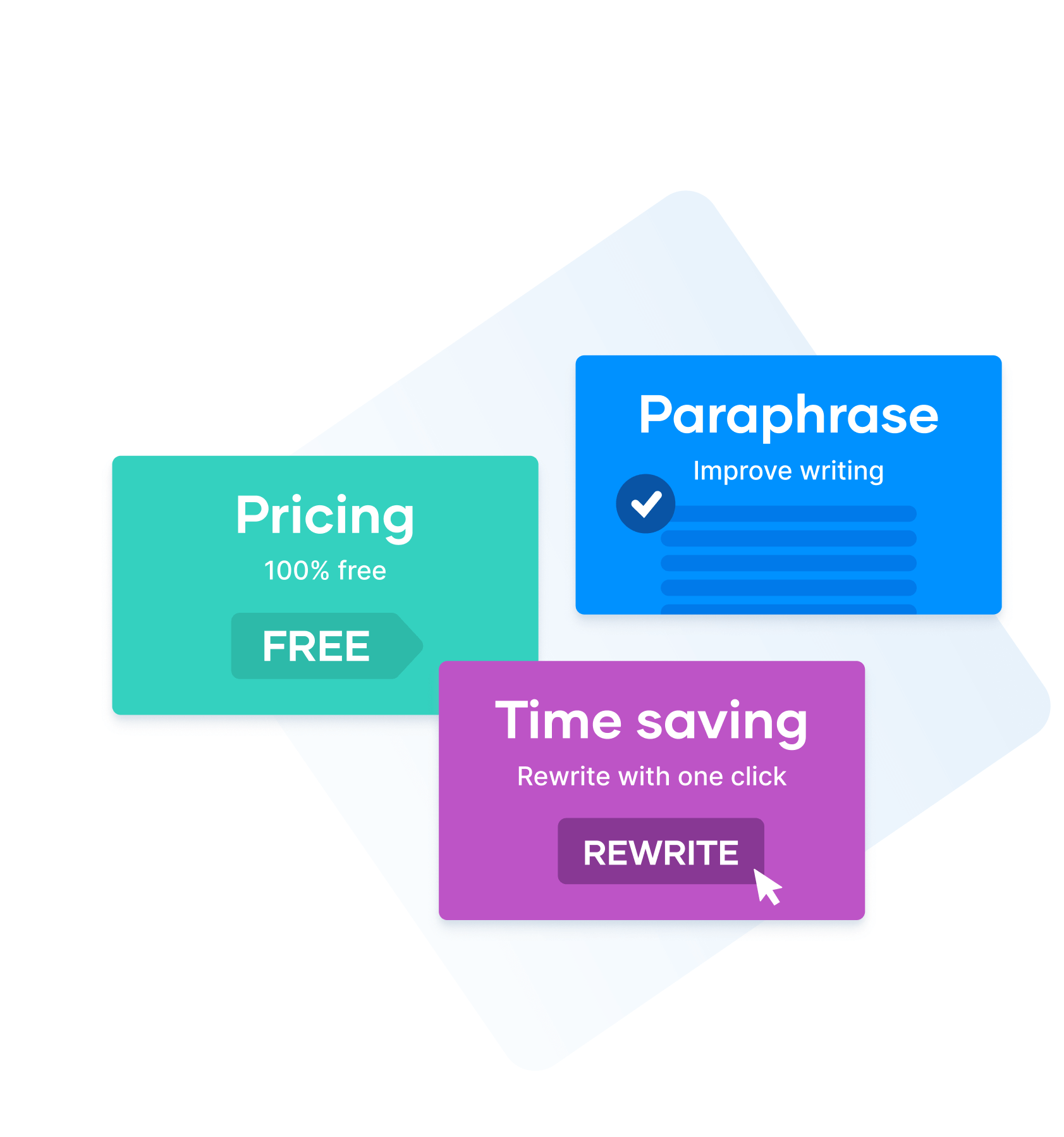 Why use this paraphrasing tool?
Save time: Gone are the days when you had to reword sentences yourself; now you can rewrite a text or a complete text with one click.
 Improve your writing: Your writing will always be clear and easy to understand. Automatically ensure consistent language throughout. 
Preserve original meaning: Paraphrase without fear of losing the point of your text.
No annoying ads: We care about the user experience, so we don't run any ads.
Accurate: Reliable and grammatically correct paraphrasing.
No sign-up required: We don't need your data for you to use our paraphrasing tool.
Super simple to use: A simple interface even your grandma could use.
It's 100% free: No hidden costs, just unlimited use of a free paraphrasing tool.
Features of the paraphrasing tool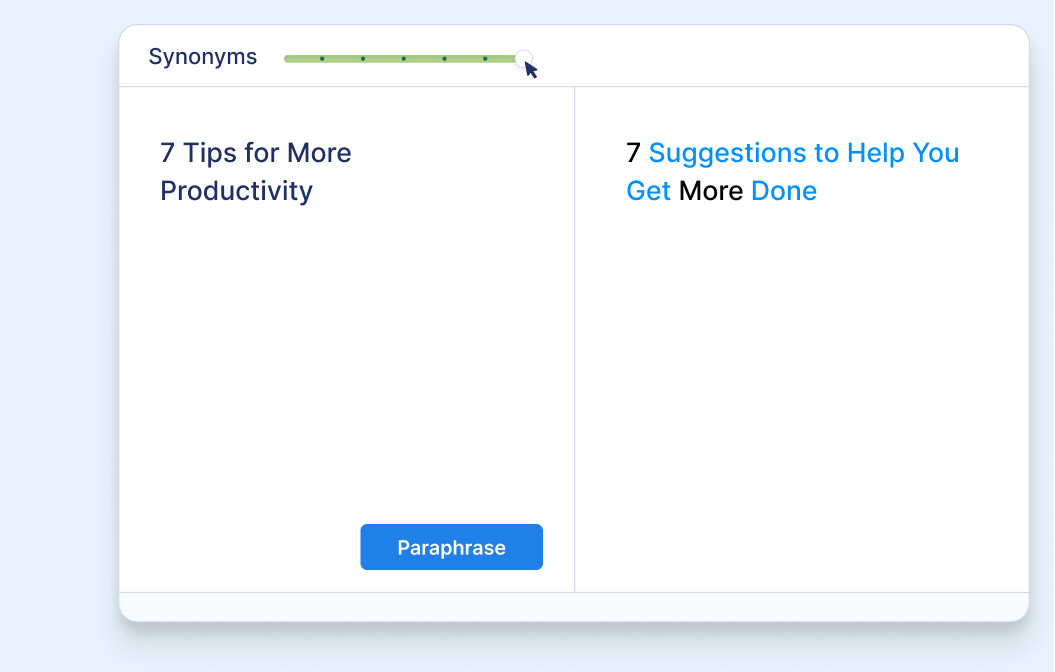 Rephrase individual sentences
With the Scribbr Paraphrasing Tool, you can easily reformulate individual sentences.
Write varied headlines
Rephrase the subject line of an email
Create unique image captions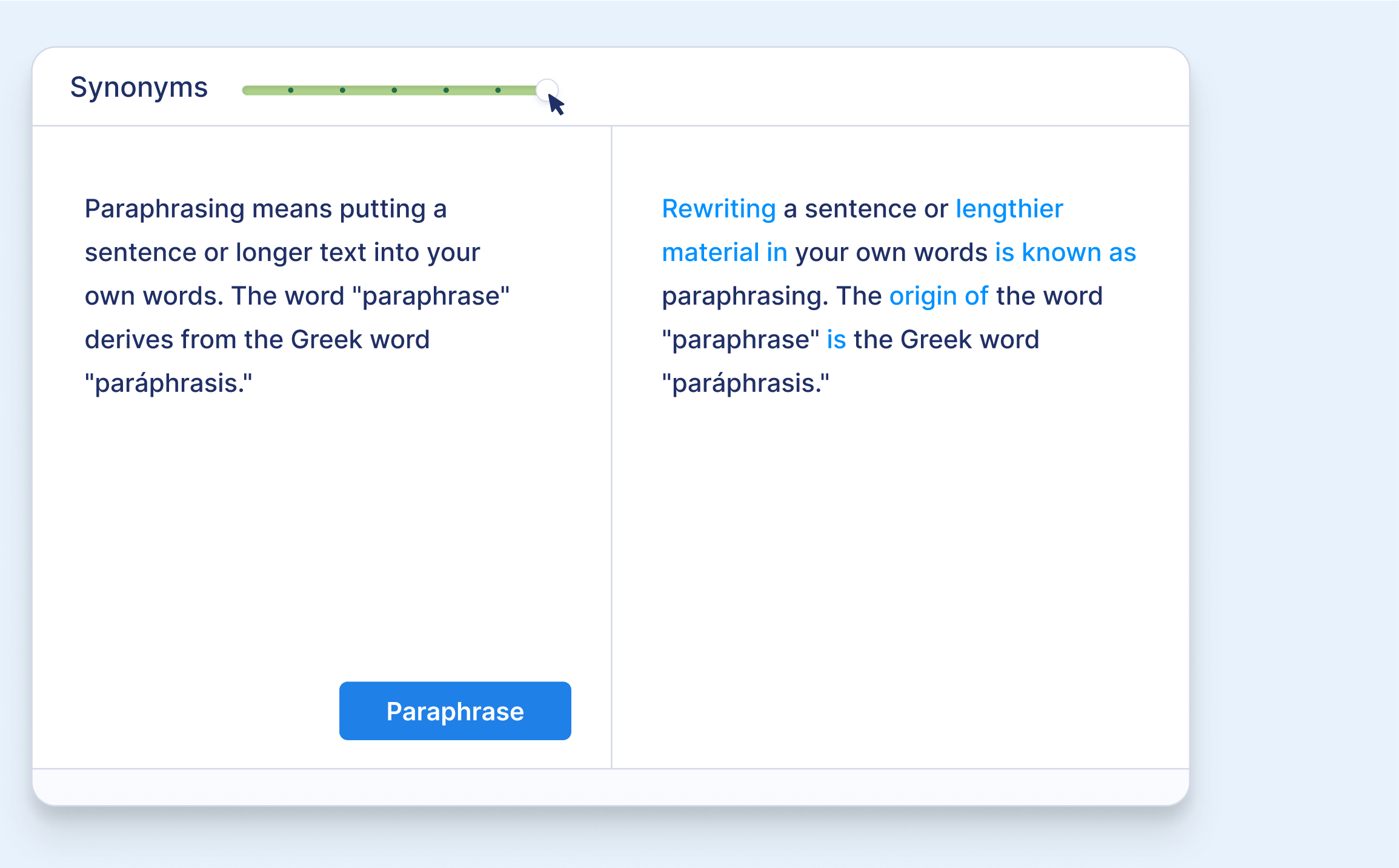 Paraphrase a whole text
Our paraphraser can also help with longer passages (up to 125 words per input). Upload your document or copy your text into the input field.
With one click, you can reformulate the entire text.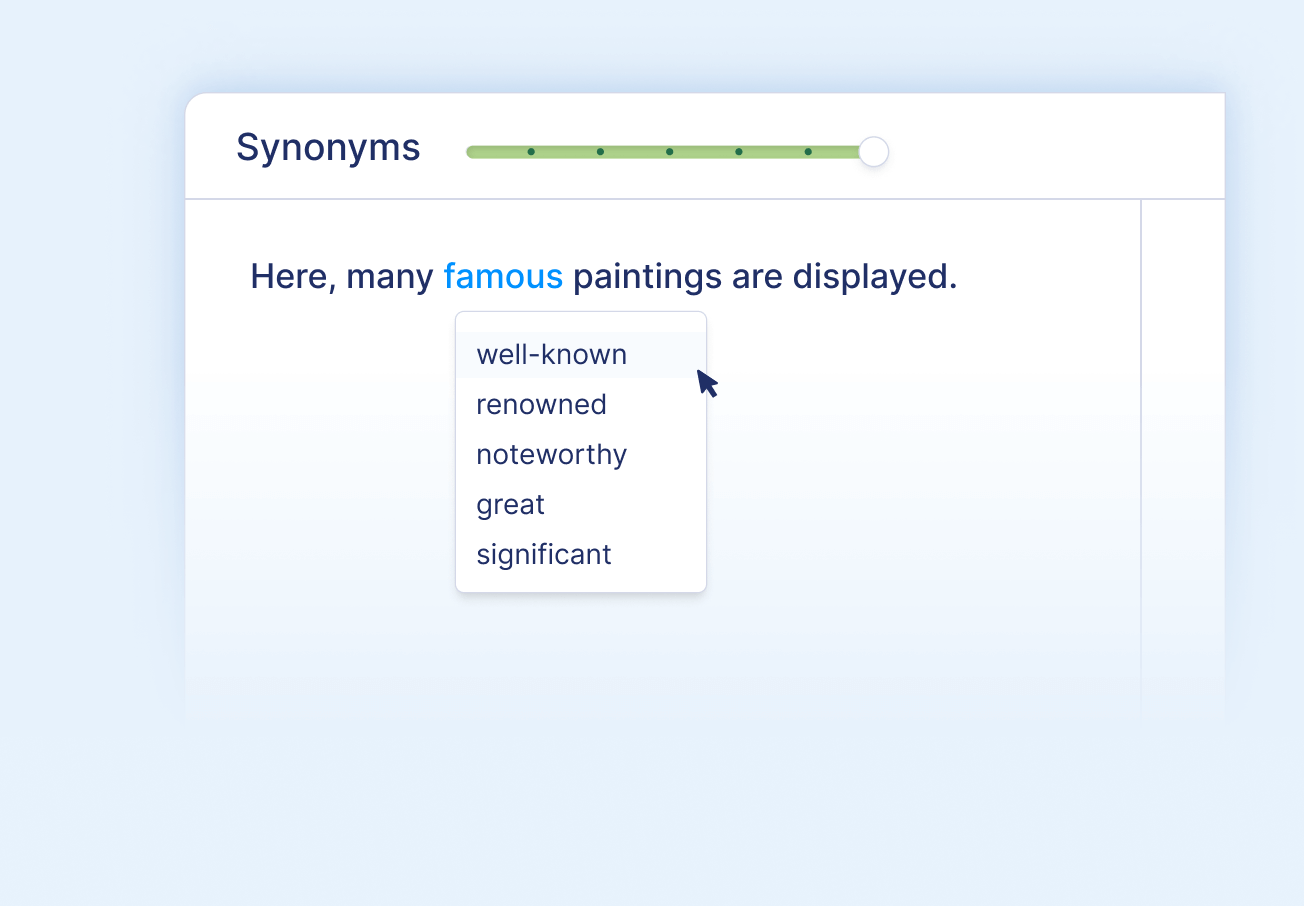 Find synonyms with ease
Simply click on any word to open the interactive thesaurus.
Choose from a list of suggested synonyms
Find the synonym with the most appropriate meaning
Replace the word with a single click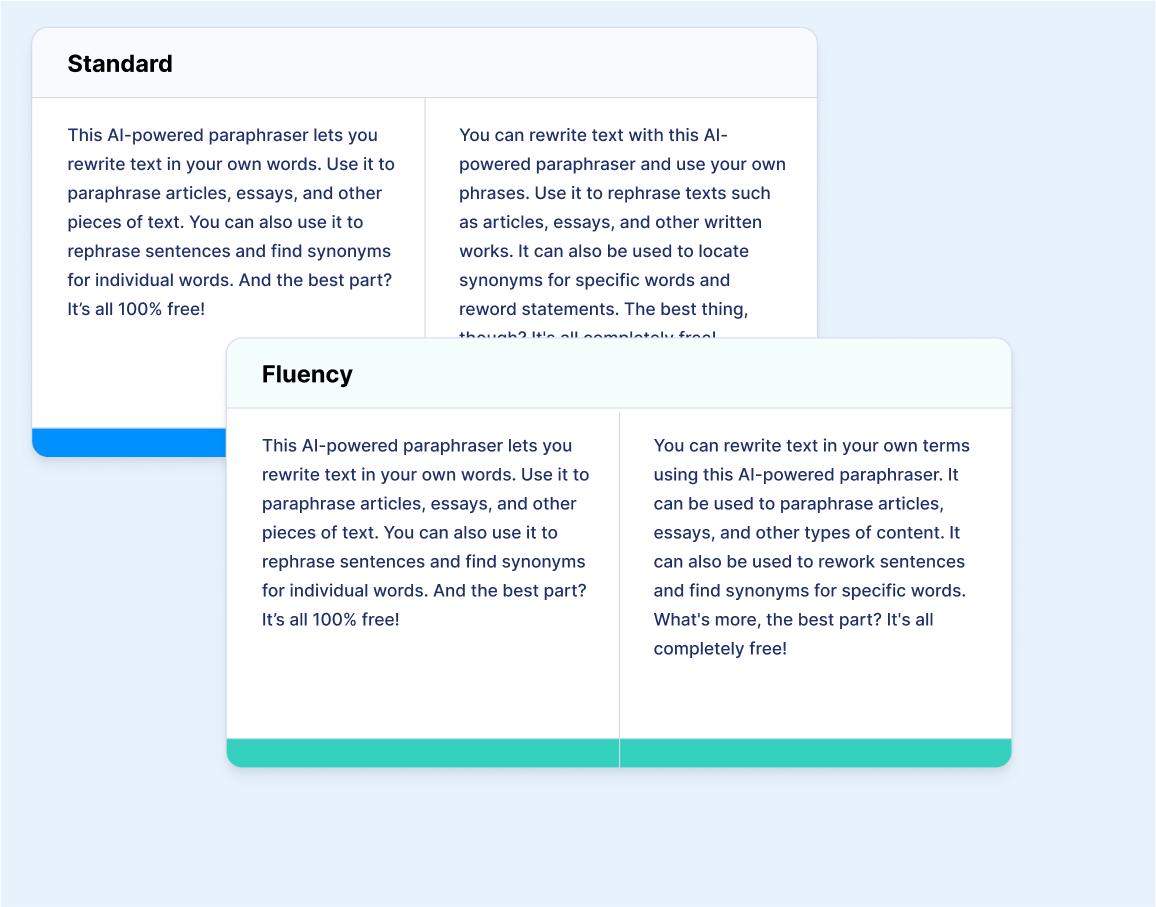 Paraphrase in two ways
Standard: Offers a compromise between modifying and preserving the meaning of the original text
Fluency: Improves language and corrects grammatical mistakes.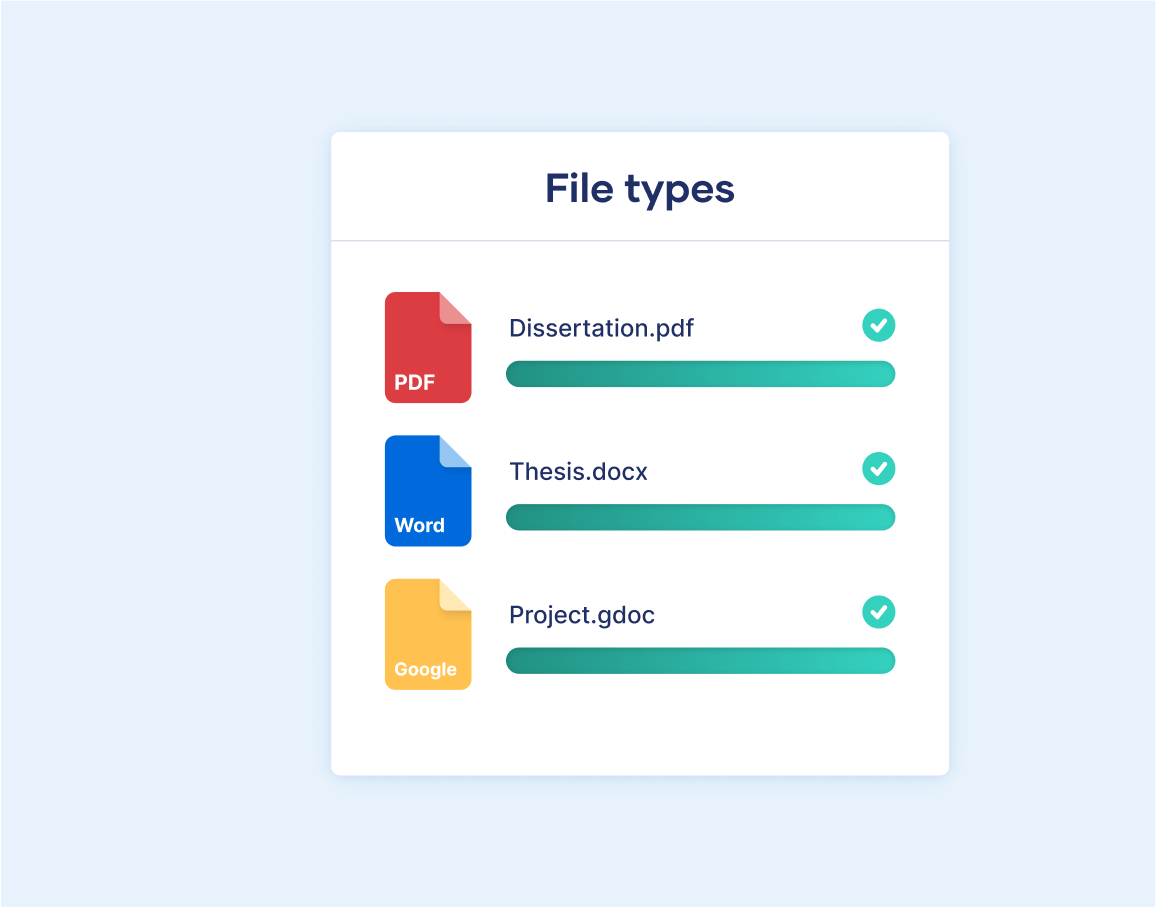 Upload different types of documents
Upload any Microsoft Word document, Google Doc, or PDF into the paraphrasing tool.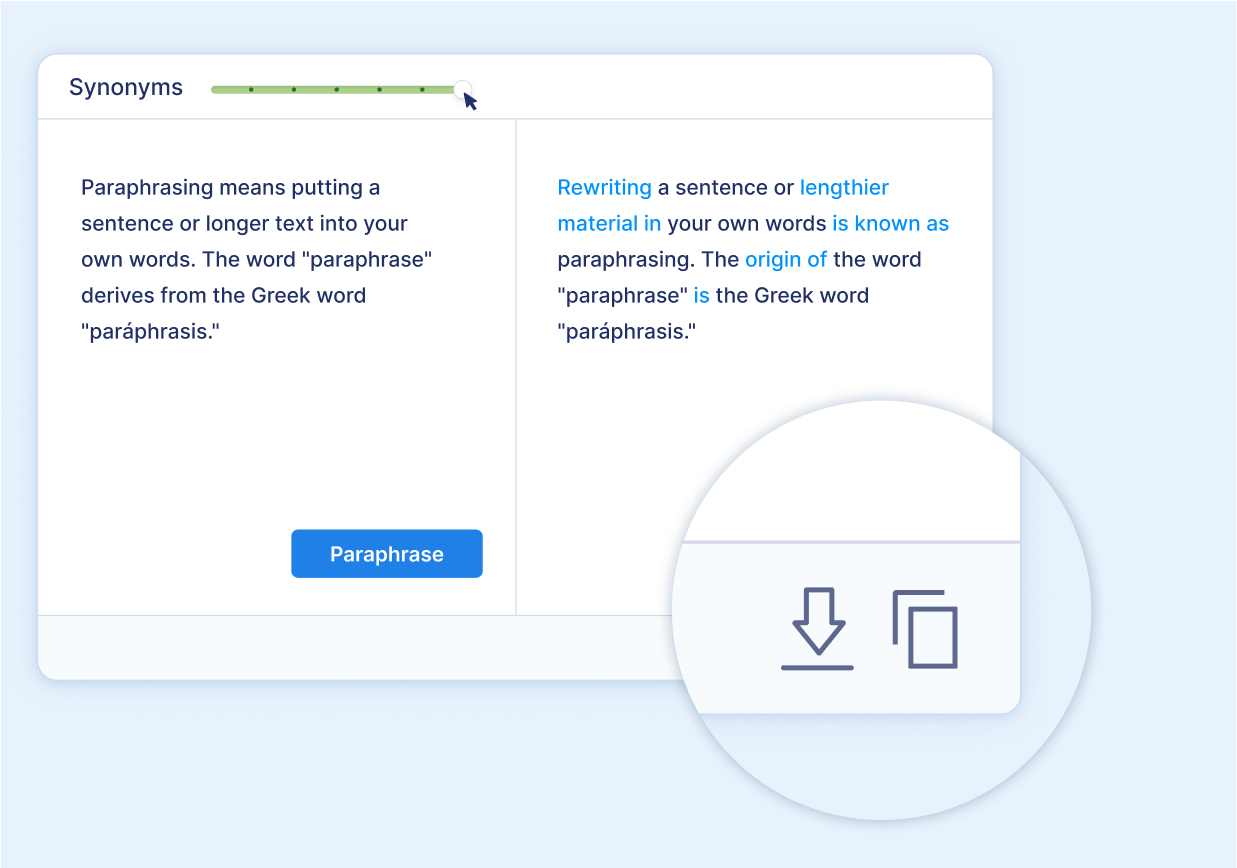 Download or copy your results
After you're done, you can easily download or copy your text to use somewhere else.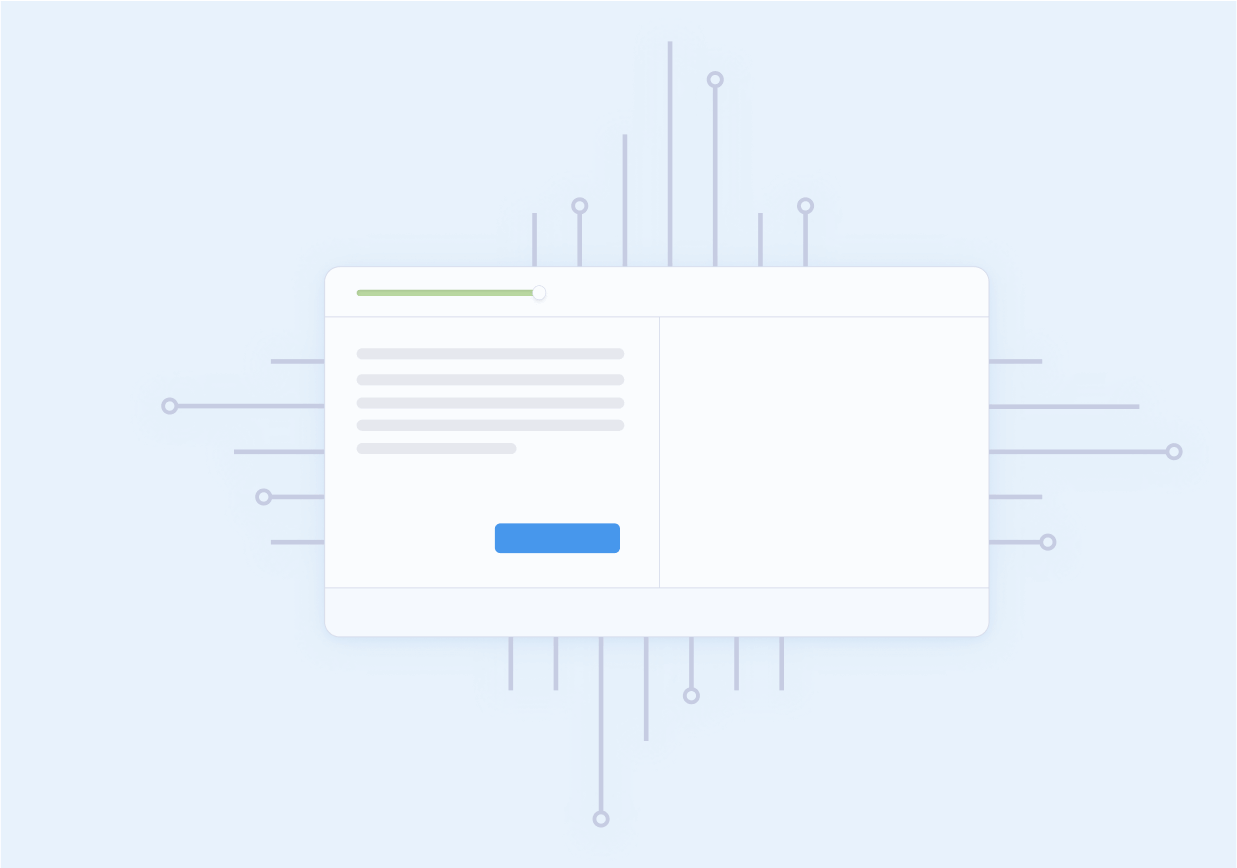 Powered by AI
The paraphrasing tool uses natural language processing to rewrite any text you give it. This way, you can paraphrase any text within seconds.
How does this paraphrasing tool work?
1. put your text into the paraphraser, 2. select your method of paraphrasing, 3. select the quantity of synonyms you want, 4. edit your text where needed, who can use this paraphrasing tool.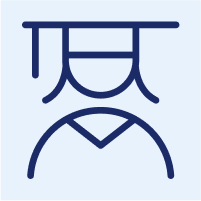 Paraphrasing tools can help students to understand texts and improve the quality of their writing.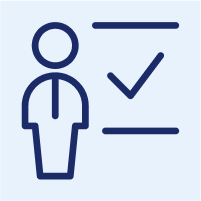 Create original lesson plans, presentations, or other educational materials.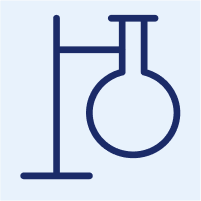 Researchers
Explain complex concepts or ideas to a wider audience.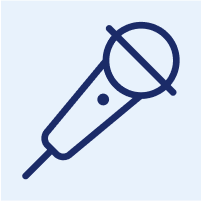 Journalists
Quickly and easily rephrase text to avoid repetitive language.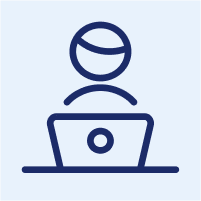 Copywriters
By using a paraphrasing tool, you can quickly and easily rework existing content to create something new and unique.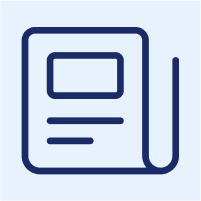 Bloggers can rewrite existing content to make it their own.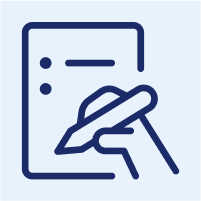 Writers who need to rewrite content, such as adapting an article for a different context or writing content for a different audience.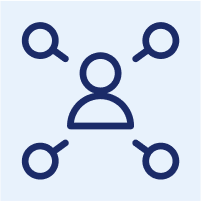 A paraphrasing tool lets you quickly rewrite your original content for each medium, ensuring you reach the right audience on each platform.
The all-purpose paraphrasing tool
The Scribbr Paraphrasing Tool is the perfect assistant in a variety of contexts.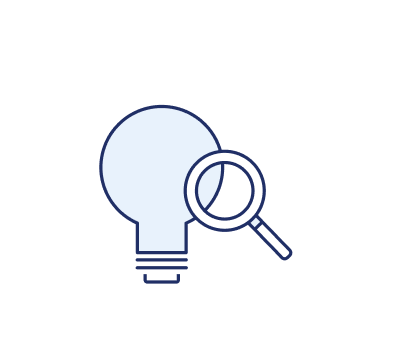 Brainstorming
Writer's block? Use our paraphraser to get some inspiration.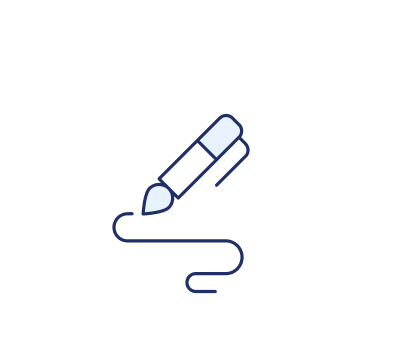 Professional communication
Produce creative headings for your blog posts or PowerPoint slides.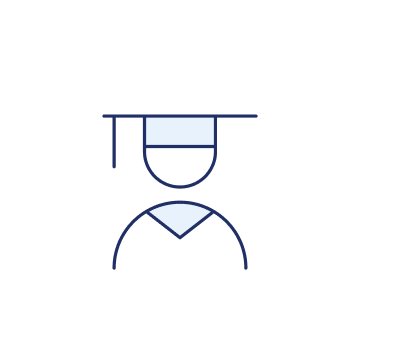 Academic writing
Paraphrase sources smoothly in your thesis or research paper.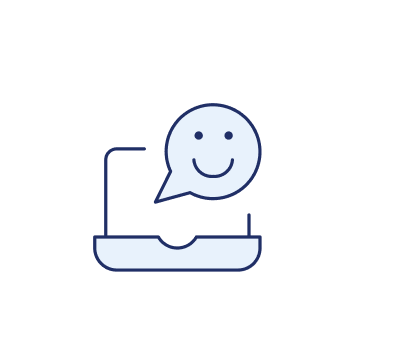 Social media
Craft memorable captions and content for your social media posts.
Paraphrase text online, for free
The Scribbr Paraphrasing Tool lets you rewrite as many sentences as you want—for free.
Write with 100% confidence 👉
Ask our team.
Want to contact us directly? No problem.  We  are always here for you.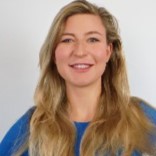 Frequently asked questions
The act of putting someone else's ideas or words into your own words is called paraphrasing, rephrasing, or rewording. Even though they are often used interchangeably, the terms can mean slightly different things:
Paraphrasing is restating someone else's ideas or words in your own words while retaining their meaning. Paraphrasing changes sentence structure, word choice, and sentence length to convey the same meaning.
Rephrasing may involve more substantial changes to the original text, including changing the order of sentences or the overall structure of the text.
Rewording is changing individual words in a text without changing its meaning or structure, often using synonyms.
It can. One of the two methods of paraphrasing is called "Fluency." This will improve the language and fix grammatical errors in the text you're paraphrasing.
Paraphrasing and using a paraphrasing tool aren't cheating. It's a great tool for saving time and coming up with new ways to express yourself in writing.  However, always be sure to credit your sources. Avoid plagiarism.  
If you don't properly cite text paraphrased from another source, you're plagiarizing. If you use someone else's text and paraphrase it, you need to credit the original source. You can do that by using citations. There are different styles, like APA, MLA, Harvard, and Chicago. Find more information about citing sources here.
Paraphrasing without crediting the original author is a form of plagiarism , because you're presenting someone else's ideas as if they were your own.
However, paraphrasing is not plagiarism if you correctly cite the source . This means including an in-text citation and a full reference, formatted according to your required citation style .
As well as citing, make sure that any paraphrased text is completely rewritten in your own words.
Plagiarism means using someone else's words or ideas and passing them off as your own. Paraphrasing means putting someone else's ideas in your own words.
So when does paraphrasing count as plagiarism?
Paraphrasing is plagiarism if you don't properly credit the original author.
Paraphrasing is plagiarism if your text is too close to the original wording (even if you cite the source). If you directly copy a sentence or phrase, you should quote it instead.
Paraphrasing  is not plagiarism if you put the author's ideas completely in your own words and properly cite the source .
List of All Subjects
Worksheets by Subject
Language Arts
Paraphrasing
Paraphrasing Worksheets
Language arts categories, free weekly worksheets, worksheets by email, what is paraphrasing.
People love to discuss something new every day. They gossip television shows, heard stories, news with the other persons. This talk further proceeds in the curiosity of what, how, and why the incident occurred? It happened between friends, family, and colleagues to refresh their minds. Whatever theme the discussion has included storyline, events, main characters, crucial points, considerations, etc. The author uses his or her own words or informal writing (under rules and regulations). All of such a structure of writing something or explaining something will be in your own words. During all of this process, you convey someone's message or express someone's ideas. Don't forget to maintain your ideas and source meaning while paraphrasing. You will use the main idea at the time of specific needs in your own words. How can you paraphrase a source? Give two or three times to read the original paragraph until and unless you understand it. After a thorough understanding, start writing the main idea by using your own words. Avoid generating the order of emphasis and ideas. Go through all unknown words. Observe each word that makes a clear sense of your writing. Check the tone of each paragraph, and it must be intuitive with a correct flow of understanding. Change as per the requirement, such as appropriate tone, meaning variation, and words or phrases related to the original words.
When you paraphrase, you restate an author's words in your own words without changing the meaning of the passage or including any of your own thoughts or ideas about it. When you paraphrase something, you only relay the main idea, not the entire passage.
Paraphrasing from Sources
Read each passage. On a separate page, paraphrase each passage. Try not to look back at the original while you are paraphrasing.
: The passage below is from The Practice and Science of Drawing by Harold Speed. Read the passage. Then paraphrase what you have read.
Where Is It?
Highlight the portion of the text that you would like to focus on. Then paraphrase the ideas on the notecard below.
In Your Own Words
Paraphrase each passage.
Paraphrasing Practice
Read the passage. Highlight what you think is most important. Then paraphrase the highlighted information below.
Paraphrasing and Synonyms
One strategy for paraphrasing is to use synonyms. Rewrite each sentence below, replacing each underlined word or phrase with a synonymous word or phrase.
What are the author's main supporting points?
Use Synonyms
Rewrite each sentence below, replacing each underlined word with a synonym.
The Manifesto
The passage below is taken from The Communist Manifesto by Karl Marx and Friedrich Engels. Paraphrase the passage.
50 million people in the U.S. eat fast food daily, which equates to about one in every seven people. It's not surprising, then, the fast food restaurants have a combined revenue in the U.S. of $110 billion dollars every year.
What does the main character(s) decide to do about their problem?
Paraphrasing for Research
When You Do It!
When you paraphrase, you convey the main ideas of a passage in your own words. A paraphrase should contain all the most important information in a brief format. Use the organizer below to identify what you want to make sure that you include when you paraphrase the passage. Write your paraphrase below.
Paraphrasing and Summarizing Exercises with Answers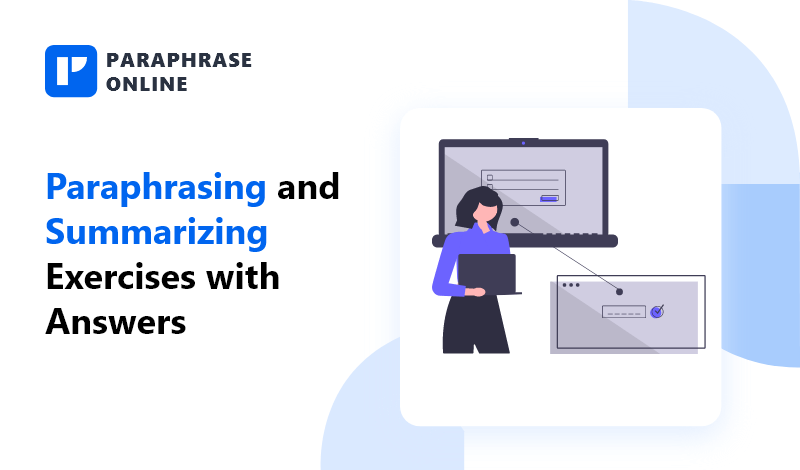 Paraphrasing and Summarizing are two skills that are highly useful for writers. With these two techniques, writers can get help creating their content and providing it to their readers in an easy-to-peruse way.
However, if you happen to be new to the field of writing, you could be a little unaware and untrained in both these skills. But don't worry. Everyone starts out as a beginner.
In this post, we're going to be looking at some paraphrasing and summarizing exercises along with their answers and explanations. By following along, you'll get a good idea about how you can use these techniques in your own capacity.
Let's begin!
What is Paraphrasing and Summarizing?
Before we get to the exercises, let's digress a little and understand what paraphrasing and summarization actually are.
Let's start with paraphrasing.
Paraphrasing is the process in which a particular piece of content is reworded and rephrased in such a way that it looks different from its original version but it has the same meaning and context.
A simple example of paraphrasing would be to change "John likes his cat" to "John adores his feline pet". Paraphrasing can be as slight as merely changing some words in the text, or it can be as drastic as fully changing the tone, structure, order, and words of the content.
On the other hand, Summarizing is the process in which a piece of content is shrunk and shortened to about one-tenth of its original size. In this shortened version, the main idea and concept of the content is provided.
Summarization is usually used by authors and writers when they want to give a brief outline of a book or article to their readers.
Now that we've looked at the definitions of both, let's move ahead to look at some exercises.
Paraphrasing Exercises (with Answers)
The main purpose of providing these exercises along with their answers is to help you understand what these techniques look like when they are implemented. Since we have explained their core definition above, you can try and work along the exercises to improve your skills a little as well.
Related: Difference Between Paraphrasing And Rephrasing
Paraphrasing Exercise # 1:
Here is a sample paragraph that we will be paraphrasing as an exercise. We'll write the paragraph alone first, and then provide the answer after a brief explanation.
Sample Paragraph:
"John could not find the butter in his fridge. He went to buy some from the store. On coming back, he saw his cat sitting on the floor, smacking its lips. There was some yellow stuff smeared all around its face. Thus, John solved the mystery of the missing butter."
So, as we mentioned earlier, paraphrasing can be done simply and sparingly, or it can be done drastically.
One of the primary and basic ways of paraphrasing is to simply change some words in the provided content with their synonyms. This is, we reiterate, a very basic level of paraphrasing, and it is often very easy to see through it.
So, for this first exercise, we are going to be doing only that level of paraphrasing as a way to illustrate how it looks like.
Here is what the above paragraph looks like when paraphrased:
Paraphrased Paragraph:
"John could not locate the butter in the refrigerator. He went to purchase some from the shop. On coming back, he observed his cat sitting on the ground, licking its lips. There was some yellow material smeared all around its face. Hence, John solved the mystery of the missing butter."
While we are on this discussion, it will also be salubrious to understand that when changing words with their synonyms for the purpose of paraphrasing, you have to be careful that you pick those that don't mess up the context and intent of the lines.
Paraphrasing Exercise # 2:
Moving on, let's look at another paraphrasing exercise. Here is the paragraph that we will be using for this one:
"John's cat got lost in the forest. He went looking for it in the night time. He heard some movement in one of the bushes. He put his hand in and felt the fur. He pulled the thing out, thinking it to be his cat. After coming home, he realized it was an angry raccoon."
We mentioned in the last exercise that the basic level of paraphrasing is to change some of the words in the given text with their synonyms. And we also mentioned how that sort of paraphrasing can be easily detected.
So, for writers who want to paraphrase something in such a way that it does not resemble its original form a lot, there's a step further that they can go, and that is to change the sentence structures + phrases.
Essentially, by changing the phrases used in the content as well as the arrangement of the sentences, the overall look of the paraphrased piece looks very different. If someone wants to go even ahead of that, they can shuffle the sentence order as well.
Considering this type of 'extensive' paraphrasing, here is the answer to the paragraph given above:
"John's cat went missing in the forest. He went to search for it when it was dark. He discerned some movement in the hedge. After putting his hand inside it, he felt some fur. Thinking that it was his cat, he pulled the animal out. It was only after coming home that he realized that it was a frustrated raccoon."
Summarizing Exercises (with Answers)
Now that we have looked at the paraphrasing exercises, let's move on to look at some for summarizing.
Just as we've looked at two types of paraphrasing above, we'll also look at two different types of summarizing.
Actually, it'll be better if we explain those two types before getting to the exercises.
Basically, there are two types of summaries . One of them is called extractive and the other is called abstractive .
In extractive summarization, the summary of a piece of content is generated merely by taking out some sentences from it and joining them together. This is usually the type of summaries that you get from automated tools.
When extractive summaries are created, there is no effort to understand the actual meaning and context of the text. Rather, the purpose is only to take some lines from it and join them together in such a way that they make sense.
On the other hand, abstractive summaries are those that are written using a completely new and different set of words, phrases and sentences than the content (that is being summarized). As opposed to extractive summarization, abstractive summarization involves understanding the meaning and context of the text, and then creating a completely new summary that features all those concepts and ideas.
Summarizing Exercise # 1 (Extractive)
In order to demonstrate and explain extractive summarization, we're going to first write a paragraph here and then provide its summary afterwards:
Sample paragraph:
"John's car broke down. He stopped by the road side and screamed at people to stop and help him. But no one stopped for him. He continued howling and howling for hours. People kept driving by. After getting tired, he picked up a sheet and wrapped it around himself. Then, he started spinning on his spot. He grew dizzy. He kept spinning and spinning until he fell asleep."
Now, since we have to use the "extractive" summarization technique here, we'll create the summary using the lines and sentences used in the content itself.
"John's car broke down. But no one stopped for him. Then, he started spinning on the spot. He kept spinning and spinning until he fell asleep."
Summarizing Exercise # 2 (Abstractive)
For this exercise, we will use the same para that we did above. However, the technique used for the summarization will be different.
Since we will be using the abstractive technique here, the summary will be created using different words and phrases as the original.
"John's vehicle went phut. But, no one stopped their car to help him. After he was tired, he made himself dizzy by spinning and then went to sleep."
So, that's about it.
If you were a little confused about paraphrasing and summarization techniques, hopefully you're a little more confident about them now.
These skills can come in handy for writers in a lot of different situations. If you don't have the hang of them already, you should try and get it as quick as you can.