Get Involved

Summer 2023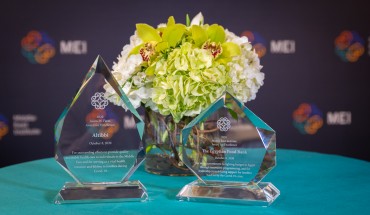 Annual Awards Gala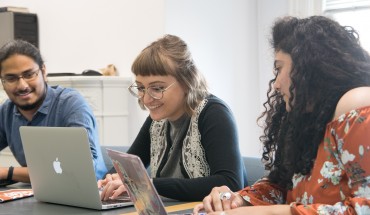 Internships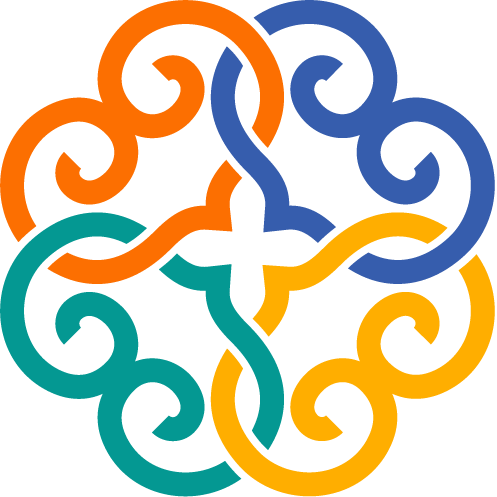 The 2015 Chennai Flood: A Case for Developing City Resilience Strategies
Soumita Chakraborty , Umamaheshwaran Rajasekar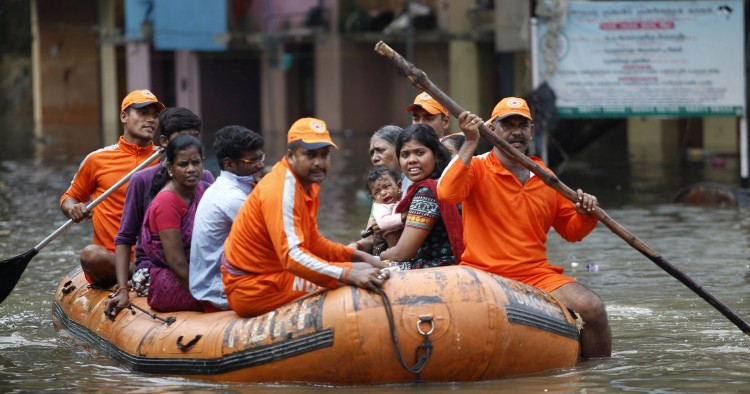 Over the last 25 years, the world has seen a rise in the frequency of natural disasters in rich and poor countries alike. Today, there are more people at risk from natural hazards than ever before, with those in developing countries particularly at risk. This essay series is intended to explore measures that have been taken, and could be taken, in order to improve responses to the threat or occurrence of natural disasters in the MENA and Indo-Pacific regions. Read More . ..  
The Chennai metropolitan region (CMA), with an area of 1,189 sq kms and a population of 8,653,521, is the fourth-largest populated city in India. [1] This city, located in north eastern part of Tamil Nadu is a flat plain bounded on the east by Bay of Bengal and on the remaining three sides by Chengalpattu and Thiruvallur districts. Expansion in terms of area as well as population has led to a shift in land use and land cover patterns across the region.
Situated along the eastern coast of India, Chennai is exposed to violent storm surges and flooding during northeast monsoons (September to November). Although local flooding is an annual phenomenon in selected parts of the city, extreme events, such as the 1918 cyclone and 1985 floods, had faded from people's memory. [2]  However, history repeated itself in the city and neighboring coastal districts in November-December 2015, when a devastating flood affected more than 4 million people, claimed more than 470 lives and resulted in enormous economic loss. [3]
The sudden and unprecedented nature of the flood led to ad hoc and uncoordinated relief and response activities by different governmental and non-governmental agencies. Industrial and commercial centers were forced to temporarily shut down their production due to loss of power, shelter and limited logistics. Amid the chaos and widespread impact, the event brought people and institutions in and outside Chennai together, to provide support to the victims affected by the flood. Help reached the affected areas and their residents from different sections of society and in variety of forms. The lessons from this case study and others like it can help urban centers elsewhere in Asia to plan for similar eventualities.
Challenges Faced During and Following the Event
Flooding often handicaps the affected community by adversely affecting its educational system, food availability, mobility and access to energy on a daily basis. Chennai was no exception: daily functions became a challenge for the entire city.
School authorities faced numerous challenges, ranging from the sudden need to shift and secure school records / admit cards and postpone exams, to maintaining physical infrastructure and equipping schools to serve as shelters. Following the event, school authorities faced yet another set of daunting tasks related to the resumption of the academic session (e.g. repairing and replacing furniture, etc.) in schools that had been shuttered (for 10 to 33 days) in various parts of the city.
Flooding often handicaps the affected community by adversely affecting its educational system, food availability, mobility and access to energy on a daily basis.
Food logistics arrangements across the affected communities included the unavailability of manufacturing capacity and delivery mechanisms. The lack of accessibility to several parts of Chennai due to severe flooding made identification of delivery points and transport routes more difficult, which deprived some local communities of basic food supplies required for survival. During the first 24 hours of flooding, the main concern of the local supermarkets providing food supplies to surrounding areas, was to safeguard perishable items not only from getting wet but also to keep them from spoiling (since there was no electricity). However, it was critical for them to meet customer demand, keeping in mind the limited food availability and lack of communication within their management team.
First responders and information providers faced difficulties in providing accurate real time information to local communities on flooded areas, accessibility of roads, road condition, traffic flow and current weather scenario.
Flooding of roads, tracks and supporting infrastructure, delayed and suspended provision of necessary services. Moreover, several hospital staff were unable to get to work or extend their support due to being affected by the flood themselves. It was a greater challenge for hospital authorities, to safeguard patients admitted to Intensive and Critical Care units (ICU) or those under ventilation through maintenance of power supply.
The Chennai flood had a devastating impact on businesses, especially on small and medium-sized enterprises (SMEs), who were unprepared and vulnerable to both direct and indirect impacts. Flood water entered the first level of most of the offices and shops, reaching a height of approximately two meters in some areas. This damaged products, stocks, storage units, electrical equipment. In post disaster scenario, several businessmen in Chennai were unable to operate for three months due to lack of process-service delivery, finance, logistics, management implications and loss of customer base. Service station owners too had a hard time in recovering broken cars, fixing damaged engines, car interiors, upholsteries and external impact damages. In post flood scenario fungal attack and rusting were additional issues faced by them to continue their business.
Community-Based Organizations (CBOs) faced a plethora of challenges and obstacles, as did official first responders ...
Community-Based Organizations (CBOs) faced tough challenges, such as contingency planning at zone/ district level, stock piling of relief materials/supplies, arranging for inter-agency coordination, preparing evacuation plans, providing public information and conducting field exercises. Service providers in the transport sector had to undertake route planning and ensure priority management. Situation worsened due to lack of mechanisms to mitigate impacts of flood, such as road closure notification, absence of traffic control warning signs, emergency detour routes, etc. which are essential during such extreme events. Thus, they procured boats and hired fishermen to commute to inundated parts of the city.
Likewise, government officials — first responders, such as the fire department, the National Disaster Response Force (NDRF) and the police, in particular — faced a plethora of challenges and obstacles. They not only had the responsibility of conducting rescue operations, but also of road clearance and provision of other facilities to ensure supply of basic necessities throughout the affected communities. The fire department managed calls, coordinated between departments and controlled water distribution system, in the absence of power for prolonged periods. They had to function with disrupted utility services, clear streets of debris, waste and fallen trees in low lying areas and also ensure steady and quick pumping out of water from flooded pockets. NDRF on the other hand, was required to conduct timely rescue operations with small teams, coordinate with local officials, mobilize limited human resources to priority areas and commute using limited transport vehicles and boats. They also had electricity constraints in setting up onsite operational coordination control room (OSOCC) and shelters for both their team as well as the local community. In some instances, the Chennai police were unable to ensure effective and timely response, due to lack of common command system, clear assignment of duties and demarcation of roles to respective officials, for times of emergency.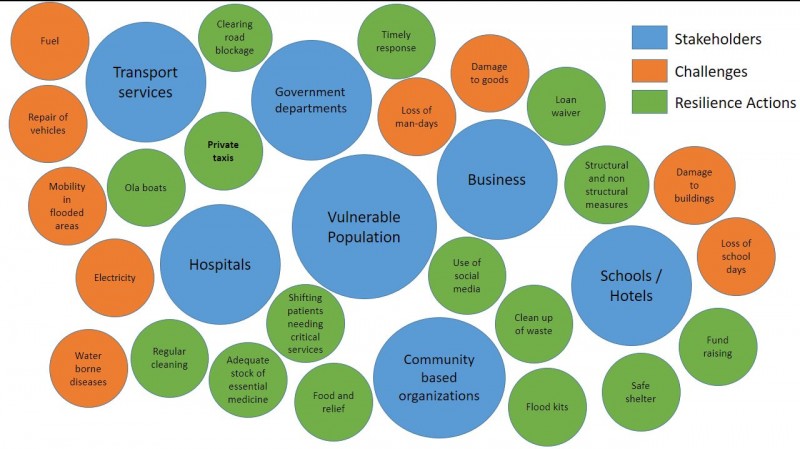 Resilience Efforts
Various segments of society assisted local communities and relief providers in affected parts of Chennai to cope with the flood. The Chennai government, private schools and the Parent Association were three strong pillars which supported victims in the aftermath of the flood. School children from Hosur made artefacts for sale at an art show to raise funds for a severely affected government school in Poonamallee. Another group of 15 teachers and 40 alumni of the TVS Academy School of Hosur, travelled to Chennai to help improve the infrastructure of Aringar Anna Government Girls Higher Secondary School, Poonamallee. These groups extended help in painting damaged walls, blackboards and building new toilets. During and post flood, government schools were used as relief camps where food and health issues were partially covered by government and parent association.
Various segments of society assisted local communities and relief providers in affected parts of Chennai to cope with the flood.
Private enterprises, such as restaurants, taxi service providers and automobile service centers, also joined hands with the government to provide relief to the flood affected population. Kolapasi, a Chennai-based restaurant, was turned into a temporary food relief agency. Social media was used for awareness generation on the initiative and also to raise funds. Individuals of all age groups and across all professions, supported this initiative by volunteering to cook, wash utensils, pack and deliver food. About 1.7 lakhs food boxes were distributed across the city.
The ride-hailing company Ola started operating boats, which also provided an important learning for future preparedness measures. They strategically identified water routes for providing service to even the most inaccessible areas. They also helped the Fire Department in conducting their rescue operations. Similarly, a vegetable and milk supply chain, Heritage Fresh, sold their commodities at a subsidized rate when prices in parts of Chennai were on the rise. Mobile vegetable shops also put in efforts to reach out to as many flood affected people as possible. Online food service providers, such as Zomato, added one extra meal on behalf of the company for every order that was placed for the stranded people.
The impact of flood on health sector was a complex issue, as the threats to health were both direct (for example, flash flood) and indirect (for example, a hospital needing to be closed due to flooding). To protect and promote health of patients and minimize health risks, sustained treatment for chronic infectious disease were provided through voluntary camps. 51 patients were evacuated and ICU wards were shifted to first floor; special care was taken while shifting new born babies, mental patients, elderly or patients with disabilities; cleanliness was ensured by internal experts using prescribed norms and dosage of chemicals and sump pumps were installed in hospitals to drain out water. Adequate stock of medicine, injections and IV fluids (intravenous) were available for continued medical care of the patients. Immediate actions in response to the flash flood situation from the ESIC was to direct all capacities of the existing health care system towards flood relief, prevention of disease outbreak, water disinfection and vigilance for future outbreaks.
Funds for energy and fuel supply were of least priority, but their demand was high in slums and remote areas where it was required for the survival of sick family members, the elderly and children. Organizations like Oxfam, provided support through the provision of energy and fuel supply to households. Private companies like Servals Pvt Ltd. initiated a similar program of providing specially designed rehabilitation kit, which included a kerosene stove, water filter, utensils, disinfectant, etc. to the slum dwellers, manual laborers and villagers in the worst hit areas, who were not covered under government programs. Along with the kit, training was also provided to ensure optimum utilization of the given products. 
Small- and medium-sized enterprises (SMEs) suffered both direct (physical) and indirect (man-days/ sales) loss. They demanded government to provide interest free loans and delay their tax payment along with other repayments. SMEs took adequate measures to build resilience against future floods through installation of electrical points at a raised height and flood defense barriers within their premises, securing databases by using online recovery systems, etc.
Vehicle service stations, such as Harsha Toyota collected and repaired cars that broke down due to water logging. Company ordered its dealerships to take extra space for flood affected cars while insurance companies were asked to clear their claims on time. They also provided discounted service packages, such as completely waiving labor charges, and offering ten percent discounts on spare parts, roadside assistance, loyalty points of up to Rs. 20,000, 50 percent discounts on car renewal and an exchange bonus up to Rs. 30,000 to flood-affected areas. The 2015 Chennai flash flood made all the car companies (e.g., Toyota, BMW, Renault, Maruti, Hyundai, Nissan, etc.) rethink and develop more sustainable business continuity plan for production, maintenance and parking. Several online and local sellers including a number of automobile portals, such as Copart, has a separate page exclusively for cars damaged in Chennai floods for holding auctions.
Hotel authority liaised with local authorities (i.e., police and fire service and incorporated emergency plans and services wherever possible. Guests were relocated and although flood kits (water proof clothing, blanket, candle/torches, etc.) was provided to all, there is a need to strengthen response and relief capacity of hotels.
Community-Based Organizations (CBOs), such as Tamil Nadu Thowheed Jamath (TNTJ) mobilized over 700 volunteers for carrying out rescue, relief, rehabilitation and reconstruction work, which included arranging food, shelter, cleaning up after flood water resided, waste management, spraying of insecticides and distribution of relief kit. They used half-cut plastic tank boats to rescue stranded people, conducted community based training programmes in health risks and fostered behavioral changes to support all social groups. TNTJ also became one of the coordinating facilitator through establishment of community, zone and district level mechanism with local partners, frontline workers and line departments.
Social media, such as Facebook, Twitter, and Google Maps, played an important role in bringing all the service providers and individuals to work together for reducing the impact and helping the flood affected population recover better. These platforms helped disseminate information, broadcast further warnings, inform people of the undertaken initiatives, call for volunteers in respective sectors, crowdsource and map the waterlogged or inundated areas. Professor Amit Sheth and his team at Wright State University in the United States carried out a new National Science Fund (NSF)-funded project, the Social and Physical Sensing Enabled Decision Support for Disaster Management and Response. This technology was mobilized  to monitor and analyze social media and crowdsourcing for better situational awareness of Chennai flood. Companies, such as BSNL, Paytm, Airtel and Zomato, also pitched in to help Chennai flood victims.
Towards Building Urban Disaster Risk Resilience
The 2015 Chennai flood caused by the torrential downpour brought city life to a standstill. It affected socio-economic condition of the district, maimed critical infrastructure, stranded animals and humans, disrupted services and flooded major parts of the city. The incorporation of flood preparedness measures will help reduce the extent of their impact on people, their life and property in future, along with giving them better coping abilities.
Best practices from Chennai flood case study should be used to strengthen existing risk handling capacities as well as learn lessons, to help replicate similar initiatives for preparedness of other Indian cities. This will also enable the government to coordinate and collaborate with similar service providers across the city for conducting efficient rescue and response operations in future. Best practices extrapolated from this case study could also prove useful to local and national officials from countries throughout Asia and the Middle East, all of whom continue to wrestle with the complex challenges associated with responding to responding to natural disasters in urban settings.    
Prioritized interventions and emergency responses which can be used to reduce urban risk, redevelop city plans and ensure effective disaster relief operations in future are listed below.
➢ As was reflected in the initiatives undertaken by several CBOS, particularly TNTJ, disaster response should address the humanitarian imperative; adhere to the principles of neutrality and impartiality; and ensure local participation and accountability, along with respecting local culture and custom. Thus, awareness generation and capacity building programs should promote inclusive flood disaster management approaches. Operational and sustainable livelihood models should be developed in the aftermath of such emergencies for weaker sections of the society. Disaster resistant shelters, public buildings and critical infrastructure, such as water and sewerage networks, need to be improved in order to avoid water logging and enhance community resilience.
➢ Cities need to develop broadcasting systems to inform the affected community about real time extreme events in different locales and provide updates on current road, flood, weather, food and energy supply scenario. Social media helps develop a two-way communication which helps acquire real time information from the community itself.
➢ Development of city disaster risk resilience strategy will better enable government and non-government organizations in phasing out adaptation and mitigation measures during normalcy.
➢ To ensure community level disaster preparedness, designed trainings should include actions or steps to be taken by citizen prior to, during and after disaster scenarios. Emergency respondents need to have basic first aid skills, such as airway management, bleeding control and simple triage.
➢ Emotional impact of the event on both workers as well as victims need to be addressed and documented for informing city disaster management plan.
➢ GIS-based evacuation plans, including current flood water flow, emergency routes, water depth, obstacles and possible search and rescue (SAR) interventions, need to be prepared. Existing capacity needs to be strengthened and assistance programmes should be provided to existing or new SAR teams at district and state level, for future preparedness. In addition, there is also a need to prepare Flood Risk Maps highlighting availability of grocery stores, restaurants, public utilities, food storage units, hospitals, residential homes for elderly people, high flood prone areas, etc.
➢ Communication systems, including early warning and public awareness mechanisms, need to be established in order to disseminate information during adverse conditions. (There is also an urgent need to prioritize child protection for the prevention of child trafficking during disasters.)
➢ Adaptation strategies need to ensure raised utility and reduced food cost through development and strengthening of local food suppliers. Food supply chain should be maintained by improved coordination and efficiency between producers, suppliers and retailers.
➢ Local flood plain maps, should inform construction practices (e.g., selection of appropriate materials for walls and floors).
➢ In flood-prone areas, water proofing should be mandated for emergency facilities like- power control room, water treatment plants, sewerage plants, etc. Emergency food and assets (generator sets, fuel) area should be at an elevated level to prevent inundation due to flooding.
Note: The detailed assessment of interventions undertaken during and post Chennai floods was funded by Rockefeller Foundation under the Asian Cities Climate Change Resilience Network program. The study was conducted by Taru Leading Edge and IFMR Chennai.
[1] "Chennai Metropolitan Urban Region Population 2011 Census," accessed May 29, 2017, http://www.census2011.co.in/census/metropolitan/435-chennai.html .
[2] Deepa H. Ramakrishnan, "Memories of Rain Ravaged Madras," The Hindu, December 9, 2015, accessed May 29, 2017, http://www.thehindu.com/news/cities/chennai/floods-in-madras-over-years… .
[3] "Letter from Chennai- Saving a home from floods," The National, January 17, 2015, accessed May 29, 2017, http://www.thenational.ae/world/south-asia/20151213/letter-fromchennai-saving-a-home-from-the-floods ; "When Chennai was logged out and how," Deccan Chronicle, accessed March 29, 2017; and http://www.deccanchronicle.com/151203/nation-currentaffairs/article/when-chennai- was-logged-out-and-how.B. Narasimhan, "Storm water drainage of Chennai: Lacuna, Assets, and Way Forward." Presentation made at "Resilient Chennai: Summit on Urban Flooding," hosted by 100 Resilient Cities in partnership with the Corporation of Chennai (2016). 
The Middle East Institute (MEI) is an independent, non-partisan, non-for-profit, educational organization. It does not engage in advocacy and its scholars' opinions are their own. MEI welcomes financial donations, but retains sole editorial control over its work and its publications reflect only the authors' views. For a listing of MEI donors, please click her e .

You are here
From rains to floods: a case of chennai in 2015.
The city of Chennai, capital of the state of Tamil Nadu, is the fourth largest and one of the fastest growing metropolises of India. Located at 13°N, 80°E, the city is on the east coast of India and faces the Bay of Bengal making it naturally prone to tropical cyclones. The city is also water-scarce and has the lowest per capita availability of water among the four metro cities of India.
The unique feature of Chennai's rainfall is that the major share is received during the northeast monsoon in the months of October to December. In November and December of 2015, Chennai received unprecedented levels of rainfall leading to the overflow of the arterial Adyar river, which in turn led to floods in the city. Multiple low-lying areas in the city were inundated for days together; massive rescue and evacuation efforts had to be undertaken in areas where houses were getting submerged.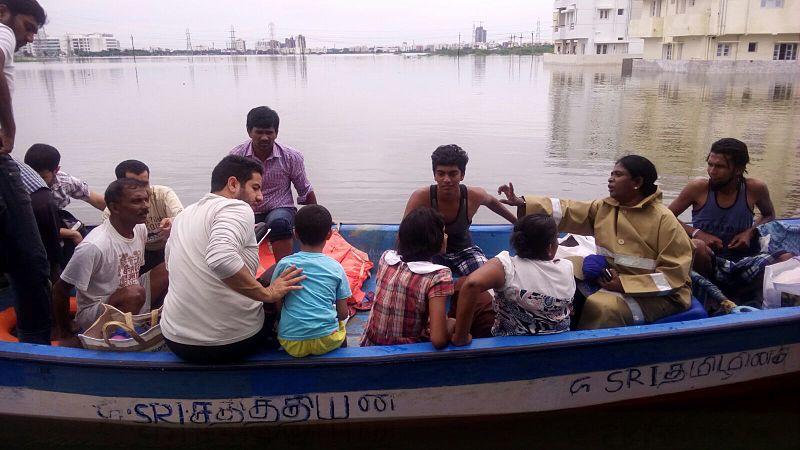 Rescue efforts being undertaken via boats.
Photograph by rsriramtce. Accessed via Wikimedia Commons on 22 June 2021. Click here to view source .
Airborne evacuation and relief provision were rendered impossible due to the flooding of the city's sole airport whose secondary runway had incidentally been constructed over what was once a part of the Adyar river. The flood carried with it an economic cost and the global insurance company Munich Re estimated the loss in and around Chennai to be at the tune of USD 3.5 billion, making it among the most costly global events of the year, second only to the Nepal earthquake.
The city is no stranger to flooding. In 2007, a Drescher et al. study on risk perception consisting of analysis of flood risk exposure and the development of flood risk maps showed that flooding is a regular occurrence. The study documented a total of 26 floods from 1943 to 2006 and noted a sharp increase in the number of flooding events from the 1970s. Before this could be categorized as a direct correlation of climate change, the study also highlighted, based on the meteorological data from 1813, that there has been no increase in the rate of rainfall received annually over the years. Floods of 1996 and 2005 had been caused by strong single rainfall events exacerbated by manmade pressures.
What is interesting to note is that in the month of November in 2015, the event in large part was referred to as "Chennai Rains," including on social media. An article on 18 November in the newspaper Mint for instance opened by reporting that Chennai "woke up to a clear sky on 17 November after a week of incessant downpour that threw life out of gear" and called the city "water-logged." A cursory scan of media coverage of 2015 now shows that it is widely cited as the "Chennai floods." How, when, and why did "rains" become "floods"?
First, despite the state's impressive rescue efforts, the events of 2015 reiterated the lack of understanding of the city's natural drainage systems. The state's decision to drain the excess water from one of the city's three main reservoirs added to the already-heightened volume of the Adyar river which is part of its natural flow pattern, leading to sudden flooding.
Historical increase of the built-up area.
© Care Earth Trust
Used by permission
The copyright holder reserves, or holds for their own use, all the rights provided by copyright law, such as distribution, performance, and creation of derivative works.
Second, the state's decision led to flooding in parts of the city that had earlier been immune to water-logging. These new areas which flooded were the affluent neighborhoods of Chennai, bringing the dangers of haphazard urban planning to everyone's doorsteps as a reality to immediately confront.
Third, and perhaps most important, postmortem studies on the floods illustrated how rapid and unchecked urbanization had taken its toll on the city's wetlands and made the city vulnerable. A study by Care Earth Trust showed the increase in built-up area over the decades corresponding to the decrease in the area of wetlands and waterbodies. In recent times, there is a tendency to externalize the cause of a natural disaster to climate change, making it difficult to visualize and identify immediate causes and solutions. In this case, the emphasis on how a disaster that deeply affected the psyche of the city could have been avoided through better urban planning and management has enabled residents of the city to understand this as something within control.
After the 2015 floods, the city has witnessed a mobilization of government, civil society, and academia towards concepts such as flood risks and urban resilience. Discussions on hydrology as a key metric for urban planning and on the need for livelihood safety nets for the urban poor are entering the mainstream planning agenda. In contrast to earlier waterlogging events, post-2015 there is an increased emphasis on the restoration of the city's wetlands and natural hydrological courses. While this has taken root in theory in urban planning, it needs to translate into practice on a larger scale.
How to cite
Vencatesan, Anjana. "From Rains to Floods: A Case of Chennai in 2015." Environment & Society Portal, Arcadia (Summer 2021), no. 23. Rachel Carson Center for Environment and Society. doi:10.5282/rcc/9323 .
ISSN 2199-3408 Environment & Society Portal, Arcadia
2021 Anjana Vencatesan This refers only to the text and does not include any image rights. Please click on the images to view their individual rights status.
Anand, Jay, and Uma Ramachandran. Role of Various Sectors in Demonstrating Resilience During Chennai Flood 2015 . New Delhi: TARU Leading Edge, 2016. ( Link )
Bhaskar, Avantika, G. Babu Rao, and Jayshree Vencatesan. "Characterization and Management Concerns of Water Resources around Pallikaranai Marsh, South Chennai." In Reconsidering the Impact of Climate Change on Global Water Supply, Use, and Management , edited by Prakash Rao and Yogesh Patil, 102–121. Hershey, PA: IGI Global, 2017. doi:10.4018/978-1-5225-1046-8.ch007
Disaster in Chennai Caused by Torrential Rainfall and Consequent Flooding . (2016), Report no. 198, Department related Parliamentary Standing Committee on Home Affairs, Rajya Sabha, Parliament of India.
Drescher, Axel, Rüdiger Glaser, Constanze Pfeiffer, Jayshree Vencatesan, Elke Schliermann-Kraus, Stephanie Glaser, Marco Lechner, and Paul Dostal. (2012). "Risk Assessment of Extreme Precipitation in the Coastal Areas of Chennai as an Element of Catastrophe Prevention." 8. Forum DKKV/CEDIM: Disaster Reduction in Climate Change, Karlsruhe University, October 2007.
Pfeiffer, Constanze, Stephanie Glaser, Jayshree Vencatesan, Elke Schliermann-Kraus, Axel Drescher, and Rüdiger Glaser. "Facilitating Participatory Multilevel Decision-Making by Using Interactive Mental Maps." Geospatial Health 3, no. 1 (2008): 103–112. doi:10.4081/gh.2008.236
Warrier, S. Gopikrishna. "Encroached wetlands, cut trees increase climate risks in Chennai." India Climate Dialogue , 23 October 2017. ( Link )
Anjana Vencatesan, "[Commentary] Looking Beyond the Chennai City, at the Chennai Watershed," Mongabay , 16 April 2019.
Care Earth Trust: "Landuse Change and Flooding in Chennai"
"80% of Chennai was wetland in 1980s, now 15%." The Times of India , 5 September 2016.
Drought, Mud, Filth, and Flood: Water Crises in Australian Cities, 1880s–2010s (Virtual Exhibition)
Print page to PDF
About the author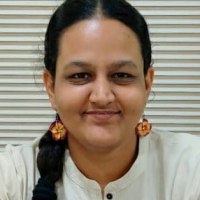 Chennai Resilience Center, India
Explore on map
Explore on timeline.
All Arcadia Collections
Recent contributors.

All Courses
Interview Questions
Free Courses
Career Guide
PGP in Data Science and Business Analytics
PG Program in Data Science and Business Analytics Classroom
PGP in Data Science and Engineering (Data Science Specialization)
PGP in Data Science and Engineering (Bootcamp)
PGP in Data Science & Engineering (Data Engineering Specialization)
NUS Decision Making Data Science Course Online
Master of Data Science (Global) – Deakin University
MIT Data Science and Machine Learning Course Online
Master's (MS) in Data Science Online Degree Programme
MTech in Data Science & Machine Learning by PES University
Data Analytics Essentials by UT Austin
Data Science & Business Analytics Program by McCombs School of Business
MTech In Big Data Analytics by SRM
M.Tech in Data Engineering Specialization by SRM University
M.Tech in Big Data Analytics by SRM University
PG in AI & Machine Learning Course
Weekend Classroom PG Program For AI & ML
AI for Leaders & Managers (PG Certificate Course)
Artificial Intelligence Course for School Students
IIIT Delhi: PG Diploma in Artificial Intelligence
Machine Learning PG Program
MIT No-Code AI and Machine Learning Course
Study Abroad: Masters Programs
MS in Information Science: Machine Learning From University of Arizon
SRM M Tech in AI and ML for Working Professionals Program
UT Austin Artificial Intelligence (AI) for Leaders & Managers
UT Austin Artificial Intelligence and Machine Learning Program Online
MS in Machine Learning
IIT Roorkee Full Stack Developer Course
IIT Madras Blockchain Course (Online Software Engineering)
IIIT Hyderabad Software Engg for Data Science Course (Comprehensive)
IIIT Hyderabad Software Engg for Data Science Course (Accelerated)
IIT Bombay UX Design Course – Online PG Certificate Program
Online MCA Degree Course by JAIN (Deemed-to-be University)
Cybersecurity PG Course
Online Post Graduate Executive Management Program
Product Management Course Online in India
NUS Future Leadership Program for Business Managers and Leaders
PES Executive MBA Degree Program for Working Professionals
Online BBA Degree Course by JAIN (Deemed-to-be University)
MBA in Digital Marketing or Data Science by JAIN (Deemed-to-be University)
Master of Business Administration- Shiva Nadar University
Post Graduate Diploma in Management (Online) by Great Lakes
Online MBA Program by Shiv Nadar University
Cloud Computing PG Program by Great Lakes
University Programs
Stanford Design Thinking Course Online
Design Thinking : From Insights to Viability
PGP In Strategic Digital Marketing
Post Graduate Diploma in Management
Master of Business Administration Degree Program
MS Artificial Intelligence and Machine Learning
MS in Data Analytics
Study MBA in USA
Study MS in USA
Data Analytics Course with Job Placement Guarantee
Software Development Course with Placement Guarantee
MIT Data Science Program
AI For Leaders Course
Data Science and Business Analytics Course
Cyber Security Course
Pg Program Online Artificial Intelligence Machine Learning
Pg Program Online Cloud Computing Course
Data Analytics Essentials Online Course
MIT Programa Ciencia De Dados Machine Learning
MIT Programa Ciencia De Datos Aprendizaje Automatico
Program PG Ciencia Datos Analitica Empresarial Curso Online
Mit Programa Ciencia De Datos Aprendizaje Automatico
Program Pg Ciencia Datos Analitica Empresarial Curso Online
Online Data Science Business Analytics Course
Online Ai Machine Learning Course
Online Full Stack Software Development Course
Online Cloud Computing Course
Cybersecurity Course Online
Online Data Analytics Essentials Course
Ai for Business Leaders Course
Mit Data Science Program
No Code Artificial Intelligence Machine Learning Program
Ms Information Science Machine Learning University Arizona
Wharton Online Advanced Digital Marketing Program
Data Science
Introduction to Data Science
Data Scientist Skills
Get Into Data Science From Non IT Background
Data Scientist Salary
Data Science Job Roles
Data Science Resume
Data Scientist Interview Questions
Data Science Solving Real Business Problems
Business Analyst Vs Data Scientis
Data Science Applications
Must Watch Data Science Movies
Data Science Projects
Free Datasets for Analytics
Data Analytics Project Ideas
Mean Square Error Explained
Hypothesis Testing in R
Understanding Distributions in Statistics
Bernoulli Distribution
Inferential Statistics
Analysis of Variance (ANOVA)
Sampling Techniques
Outlier Analysis Explained
Outlier Detection
Data Science with K-Means Clustering
Support Vector Regression
Multivariate Analysis
What is Regression?
An Introduction to R – Square
Why is Time Complexity essential?
Gaussian Mixture Model
Genetic Algorithm
Business Analytics
What is Business Analytics?
Business Analytics Career
Major Misconceptions About a Career in Business Analytics
Business Analytics and Business Intelligence Possible Career Paths for Analytics Professionals
Business Analytics Companies
Business Analytics Tools
Business Analytics Jobs
Business Analytics Course
Difference Between Business Intelligence and Business Analytics
Python Tutorial for Beginners
Python Cheat Sheet
Career in Python
Python Developer Salary
Python Interview Questions
Python Project for Beginners
Python Books
Python Real World Examples
Python 2 Vs. Python 3
Free Online Courses for Python
Flask Vs. Django
Python Stack
Python Switch Case
Python Main
Data Types in Python
Mutable & Immutable in Python
Python Dictionary
Python Queue
Iterator in Python
Regular Expression in Python
Eval in Python
Classes & Objects in Python
OOPs Concepts in Python
Inheritance in Python
Abstraction in Python
Polymorphism in Python
Fibonacci Series in Python
Factorial Program in Python
Armstrong Number in Python
Reverse a String in Python
Prime Numbers in Python
Pattern Program in Python
Palindrome in Python
Convert List to String in Python
Append Function in Python
REST API in Python
Python Web Scraping using BeautifulSoup
Scrapy Tutorial
Web Scraping using Python
Jupyter Notebook
Spyder Python IDE
Free Data Science Course
Free Data Science Courses
Data Visualization Courses
Tapping Twitter Sentiments: A Complete Case-Study on 2015 Chennai Floods
Introduction
Table of Contents
Our learning & Journey
We did this case study as a part of our capstone project at Great Lakes Institute of Management, Chennai. After we presented this study, we got an overwhelming response from our professors & mentors. Later, they encouraged us to share our work to help others learn something new.
So, using this case study we've analyzed the crisis communication on Twitter happened during Chennai Floods. Also, we've discovered patterns & themes of communication, the way in which the platform was used to share information and how it shaped response to the crisis. After successfully finishing our study, the following objectives were achieved:
Topic analysis of social media interactions to understand the different subjects of interactions, information sharing and grouping geographies into riskGrouping similar messages together with emphasis on predominant themes (rescue, food, supplies, ambulance calls) This study is done on a set of social interactions limited to the first two days of December 2015, as these were the worst days of the crisis. The analysis was restricted to a set of 6000 tweets, for want of computing power. The tweets were extracted by looking for the hashtag #ChennaiFloods.
Among analytical approach & tools used, Topic Analysis of tweets is done using Latent Dirichlet Allocation. K-Means & Hierarchical Clustering is employed on the themes of tweets. Tableau is used to create word clouds. Microsoft Excel and Word is used to perform spellchecks on extracted words.
The findings of this study explores the viability of analyzing Twitter communication real-time with an aim of providing timely assistance to the affected areas.
Chennai Floods – Quick Story Exploratory Data Analysis 2.1 – The Typical Tweet 2.2 – Data Extraction 2.3 – Data Preparation & Exploration 2.4 – Text Preparation 2.5 – Word Frequencies and Associations Clustering and Topic Modeling 3.1 – Hierarchical Clustering 3.1.1 – Interpretation 3.2 – k-Means Clustering 3.2.1 – Choosing k 3.3 – Topic Modeling 3.3.1 – Latent Dirichlet Association Conclusion 4.1 – Limitations of this study 4.2 – Challenges in Real Time Analysis of Tweets 4.3 – Applications and Scope of Further Work
1. Chennai Floods – Quick Story In November–December 2015, the annual northeast monsoon generated heavy rainfall in theCoromandel Coast region of the South Indian States of Tamil Nadu and Andhra Pradesh, the union territory of Pondicherry with the city of Chennai particularly hard-hit. Termed 2015 South Indian floods as the 'black swan' caused an enormous destruction. It is estimated that around 500 people lost their lives and over 18 lakh (1.8 million) people were displaced. With approximations of damages and losses ranging from ₹50000 crore (US$7 billion) to ₹100000 crore (US$15 billion), the floods were the costliest to have occurred in 2015, and were among the costliest natural disasters of the year. The flooding has been attributed to the El Niño phenomenon. In the city of Chennai, the impact of the heavy rainfall was compounded by the overfull water reservoirs, which soon started to spill over into the city. Whole neighborhoods were inundated, with loss of power, communication and access to essentials. The National Disaster Response Force (NDRF), the Indian Army and disaster management units were pressed into service. Rescue and rehabilitation efforts spanned well over 2 weeks. What emerged conspicuously during this unprecedented crisis was the coordination of relief efforts over social media platforms such as Twitter, Facebook and WhatsApp. Volunteers, NGOs and other rescue parties were observed to be sending out alerts, requests and sharing useful information related to the flooding on social media. Others used social media to check up on their loved ones, share information, express opinions and sending out requests for help.
2. Exploratory Data Analysis 2.1 The typical tweet
A tweet is a social media message posted on Twitter.com. It is restricted to 140 characters. Though most tweets contain mostly text, it is possible to embed URLs, pictures, videos, vines and GIFs. Tweets contain components called hashtags, which are words that capture the subject of the tweet. They are prefixed by the '#' character. They can also convey emotion (#sarcasm) or an event (#IndiaVsPakistan), or popular catchphrases in pop culture (#ICantBreathe). The usernames or handles of those who post are recognized by the '@' symbol. A user can direct a message to another user by adding the handle with the '@' symbol. A retweet ('rt' for short) is a tweet by a user X that has been shared by user Y to all of Y's followers. Thus, retweets are a way of measuring how popular the tweet is. A user can 'favorite' a tweet; this is analogous to a 'Like' on Facebook.
2.2 Data Extraction Twitter has an official API called OAuth, a token-based authentication system that indexes tweets that match a given search string and writes the output to a file. While this service is free and convenient to perform a quick and efficient extraction of tweets, it has a crucial limitation: it can retrieve tweets only from the previous week. Hence, a GitHub repository on the code-sharing portal was utilized to search for and extract tweets. The search term was the hashtag #ChennaiFloods. The python language was used (in an Ubuntu Linux environment) to perform the extraction; the extracted tweets were written to a comma-separated value file.
Check out the Sentiment analysis using python course to enhance your knowledge.
3. Clustering and Topic Modeling When a crisis like the Chennai floods strikes, a large number of similar tweets get generated that it becomes challenging to make meaningful interpretations from the huge volumes of data that need to be processed. One solution is to cluster similar tweets together after performing the necessary EDA operations that it becomes easier to manage the flow of information. 3.1 Hierarchical Clustering Hierarchical clustering attempts to build different levels of clusters. Strategies for hierarchical clustering fall into two types (Wikipedia, n.d.): Agglomerative: where we start out with each document in its own cluster. The algorithm iteratively merges documents or clusters that are closest to each other until the entire corpus forms a single cluster. Each merge happens at a different (increasing) distance. Divisive: where we start out with the entire set of documents in a single cluster. At each step the algorithm splits the cluster recursively until each document is in its own cluster. This is basically the inverse of an agglomerative strategy. The results of hierarchical clustering are usually presented in a dendrogram. The R function, hclust() was used to perform hierarchical clustering. It uses the agglomerative method. The following steps explain hierarchical clustering in simple terms: Assign each document to its own (single member) cluster Find the pair of clusters that are closest to each other and merge them, leaving us with one less cluster Compute distances between the new cluster and each of the old clusters Repeat steps 2 and 3 until you have a single cluster containing all documents To perform this operation, the corpus was converted into a matrix with each tweet (or 'document') given an ID. Extremely sparse rows, i.e. rows with elements that are part of less than 2% of the entire corpus were removed. Ward's method for hierarchical clustering was used. The dendrogram output is to be interpreted as follows: Farther the nodes, greater is the dissimilarity and more robust is that The closer the node, the weaker is the The height of each node in the plot is proportional to the value of the intergroup dissimilarity between its two
Python NumPy Tutorial – 2024
Top 6 Career Options after MBA in Business Analytics in 2024
Top 10 Web Scraping Projects of 2024
Data Science vs Machine Learning and Artificial Intelligence: The Difference Explained (2024)
Data Scientist Resume Examples, Templates & Samples | 2024
Label Encoding in Python – 2024
Leave a comment cancel reply.
Your email address will not be published. Required fields are marked *
Save my name, email, and website in this browser for the next time I comment.
Table of contents
Terrain characteristics of the land and meteorological properties of the region are the main natural factors for flood. The recent flood in Chennai was unexpected and not triggered by the above factors. Sometimes floods occur when the watershed size is considerably small which leads to the over flow of water inland may due to the encroachment and the urban development of the city. Temporarily used backwater effects in sewers and local drainage channels and creation of unsanitary conditions may cause flooding. Chennai flood was basically claimed to occur due to improper drainage system and underlying strata which was found to be landfill over the ponds and lakes. The Coouam River which flows through the centre of main city was found silting due to the improper drainage facilities and encroachment by the local peoples who causes flood. For the analysis of potentially affected areas Geographical Information System (GIS) integrated with Multicriteria Decision Analysis (MCDA) were employed. Ranking and displaying the potentially risky areas, the spatial Multicriteria analysis was used. It has been revealed that all most all the area's having populations are likely to be exposed to flood hazard. At the end of study, a map of flood risk areas was generated and studied with a view to assisting decision makers on the consequences posed by the disaster.
Geographical Information System , Multi-Criteria Decision Analysis , Flood Risk , Flood Potential Map
Share and Cite:
1. Introduction
South India experienced heavy rains during the month of November and December, 2015 due to the formation of depression over southwest Bay of Bengal and owing to a strong El Niño. Heavy widespread incessant rainfall activity led to waterlogging and flood like condition in parts of Karnataka, coastal Andhra Pradesh and Tamil Nadu. Tamil Nadu was one of the worst affected states where rainfall in all but two of the 34 districts in the state has exceeded the normally observed levels, while five districts have been pounded by over twice the average rainfall received between October and the end of November, 2015. Chennai in particular was one of the worst hit districts in the state which received almost 1200 mm of rain in November, which is nearly 300 per cent above the normal observation of 407.4 mm. While rainfall in the city broke the nearly century-old record for November, the record for the highest rainfall received in a single day in December was also rewritten. On December 1 - 2, 2015, the Indian city of Chennai received more rainfall in 24 hours than it had seen on any day since 1901. The previous record for rainfall in a single day in December dates back to 1901 when the city received 261.6 mm of rainfall in a span of 24 hours. On December 1, 2015, the city received around 290 mm of rain in a single day causing catastrophic flood disaster. The deluge followed a month of persistent monsoon rains that were already well above normal for the Indian state of Tamil Nadu.
Tamil Nadu, especially Chennai city was terribly hit by the flood during November-December 2015 which claimed more than 400 lives and caused enormous damages, both domestically and economically. Mainly the districts nearby the coast of Chennai, Kanchipuram and Tiruvallur were the most affected. This has given a challenge to the scientific community in developing a comprehensive understanding of the event. Floods are probably the most recurring, wide spread, disastrous and frequent natural hazards of the world [1] . There has been a great confusion and many questions were raised in the minds of people due to the immediate havoc caused by the flood in Chennai. The possible causes for the flood have been identified like heavy rainfall, improper drainage system to drain out the runoff water, soil character, watershed of the river etc, In view of potential extreme climate events, we assert that there is an urgent need to have high resolution data in order to deepen research about the risk in the Chennai city [2] .
But the cause for the Chennai flood is quite different than other usual floods. It was found out that Chennai flood was due to the high intensity rainfall caused by the unfavourable atmospheric condition, rainfall distributed spatially and temporally, quantity of flow occurred in the rivers namely Kosasthalaiyar river, Cooum river and Adyar river.
The operation of the two reservoirs in the upstream of the city were the Chembarambakkam reservoir and the Poondi reservoir, The amount of flow generated in the city is due to rainfall over the city alone, manner of the storm water drainage system responds, areas where the city were inundated, change of topographical features in the city over the years exacerbate the flooding. By global warming and due to the environmental changes the seasonal rainfall fails and causes extreme climatical changes results in cyclone effects causes flood.
Flood is one of the common hydrological phenomena which is to a large extent unpredictable and uncontrollable [3] . More than 1/3rd of the world's land area is flood prone affecting some 82% of the world's population [4] . As per UNDP [5] approximately 170,000 deaths were associated with floods worldwide between 1980 and 2000 [6] .
1.1. Area Selected for Study
Chennai, capital of Tamil Nadu, one of the south most states of India had been selected for the case study on flood. Basically the two coastal districts of Chennai, namely Kanchipuram and Tiruvallur are badly affected by the November-December 2016 flood. These two districts are located at the northeast part of Chennai city ( Figure 1 ). Kanchipuram's latitudinal location is between 12˚20'N to 13˚00'N and longitudinal location is 79˚40'E to 80˚20'E. Kanchipuram district occupies the total area of 4433 Sq. km., and Tiruvallur at 80.0088˚E and 13.2544˚N which is located near by the Chennai city. Terrain characteristics of land and meteorological properties were not considered to be the main factors for causing flood disaster in Chennai. There have been tricky and unexpected reasons that caused flood in Chennai. These causes will be discussed in detail
Figure 1 . The study area map.
below. The normal temperature of ranges from 26 to 35 celsius in Kanchipuram district and it receives an average rainfall of 1200 mm. Similarly, the average normal rainfall of Tiruvallur district is 1104 mm.
1.2. Materials and Methods
For present work Geo-coded Indian Remote Sensing (Cartosate-1 SRTM) satellite image of April 2005 and topo sheets at 1:50,000 scales collected from Survey of India, used to prepared contour and Drainage Map. Global positioning system (GPS) was used for carrying out field surveys were conducted in Kanchiipuram District flood affected areas. Geological map collected from GSI, Soil map prepared from Soil survey of India and the area rainfall collected in Public Work Department (PWD) Chennai. All the data collect and prepare different thematic map using GIS software finally integrated all maps and give the output for flood hazard zone. The detailed methodology flow chart given in Figure 2 .
1.3. Data Source
The principle supporting the data for this study was provided by the NASA which was satellite-based estimation showing rainfall over the south-eastern India on December 1 - 2, accumulating in 30 minutes interval. The integrated Multi-satellite retrievals for GPM (IMERG), a product of Global Precipitation Measurement mission is used to fetch the rainfall precipitation data. On the maps ( Figure 3 ) below represent rainfall total approaching 400 millimetres (16 inches) during the 48 hours period. These are the two regions in Tamil Nadu which received the heaviest rainfall and experienced the maximum damages due to November-December 2015 flood. According to HAL pierce, a scientist on the
Figure 2 . Detailed methodology flow chart.
Figure 3 . Accumulated rainfalls between November 29 to December 2 over Chennai (Sources NASA).
GPM team at NASA, areas just off the south-eastern coast received the maximum total rainfall that exceeded 500 mm (20 inches).
1.3.1. Geographical and Meteorological Reasons
Between the month of October and December of each year, an enormous area of south India, including Tamil Nadu, receives up to 30percent of its annual rainfall from the northeast monsoon. The northeast monsoon is due to the annual gradual retreat of monsoonal rains from north-eastern India. Unlike during the northeast monsoon, rainfall during the monsoon is sporadic, but the rainfall during November-December 2015 was typically more than the normal rainfall by 90 percent.
The coastal districts of Andra Pradesh usually bear a burnt of heavy rains that occur during the northeast monsoon along with Puducherry and eastern Tamil Nadu which becomes prone to flooding with numbers of swelling rivers and wetlands. Between the years from 1943 to 2005 Chennai city had experienced five major floods alone causing particularly severe damage in the year of 1943 and 2005. In addition, illegally and unplanned urban development has caused many wetlands and natural sinks being built over artificially. Along with that, poorly designed drainage systems and aging civil infrastructures, has resulted in an increase frequency of flooding.
1.3.2. Annual Rainfall
Chennai receives the average annual rainfall of about 140 cm (55 in). Starting from mid-October to mid-December the city receives the heaviest rainfall from the northeast monsoon winds. Sporadically the city experiences cyclones formed in the Bay of Bengal. The highest annual rainfall recorded is 257 cm (101 in) in 2005. The highest rainfall of 72.4 mm was recorded in Tiruvelveli-Tamil Nadu. Tamil Nadu received an average annual rainfall of 1304.1 mm during the year 2005-06. The rainfall was excess in 26 districts and normal in 4 districts as shown by the rainfall records during 2005 and 2006 as compared to the normal annual rainfall. However, the highest recorded rainfall of 2005-06 in Chennai had been beaten by the recent 2015 flood.
GIS system navigated by the NASA was used to view over the south-eastern part of India, Chennai. According to the record, continuing from Tuesday till Wednesday more quantity of moisture started to accumulate over the region of Chennai. These have a serene for heavy precipitation and high chances of flood.
In our work an automated procedure was used to identify the flood plain extent and to determine its depths. But this automated procedure is different from the mentioned above in the way that water levels are obtained. We do not create a water surface level in a raster format and then compare that water surface level with the DTM to delineate flood plains. Rather, the floodplains are directly delineated from the high-resolution, digital terrain model (DTM), LIDAR 20-ft digital elevation model (DEM) was used as simplified, but practical approach, which was developed based on the actual mechanism of flooding.
1.4. Drainage System
The City is drained by 2 rivers the Adyar and the Cooum Rivers, besides a number of major and minor drains through Buckingham Canal into Sea via Ennore Creek and Kovalam Creek. Cooum runs through the heart of the city whereas Adyar wends its way through the southern part of the city before entering into the sea. Though the river Adyar can be traced to a point near Guduvancheri village, it assumes the appearance of a stream only after it receives the surplus water from the Chembarambakkam tank as wells as the drainage of the areas in the south-west of Chennai. Cooum River starts from Kesavaram Anicut in Kesavaram village built across Kortaliyar River. The surplus from Cooum tank joins this course at about 8 kms. lower down and this point is actually the head of Cooum River which is located at 48 kms. west of Chennai. The drainage map of the study area is shown in Figure 4 .
As the water level crossed the normal limits in residential areas of Kanchipuram and Tiruvallur districts, the drainage system measurably failed to pass the water. ( Figure 4 ) shows the drainage system of Chennai.
The drainage system was blocked due to excessive dumping of garbage and as well as the failure of administration to ensure periodic desilting. Hence water couldn't find way to flow. The failure of drainage system in Chennai and other parts of Tamil Nadu, especially Kanchipuram and Tiruvallur, made the situation
Figure 4 . Drainage map of the study area.
worst. Besides that, encroachment was seen on Cooum River, Adyar River and Buckingham Canal, which serves as the main rain water drain for the city. These encroachments were not slump dwellings but concrete directly affecting flow of canal.
In addition to that, the lack of wetland, which acts as a sponge, soaking of rainwater, played vital role in floods. According to a report of leading daily, over 5500 hectares of wetlands in those two districts have been evolved into commercial lands and only 10 percent of the original wetlands remained. Hence, rainwater runoff has nowhere to go and settles instead on to road, causing flooding. This severe flood disaster was caused due to mismanagement and violation of protocols during urban planning.
1.5. Types of Soils
Chennai's soil is mostly clay, sandstone and shale. Areas found along the coasts and the river banks are sandy in nature and in these areas, run water percolates quickly thoroughly the soil. Few parts of Chennai also comprises hard rock surface. The ground water table in Chennai is 4 - 5 m below the ground surface.
Among many soil test apparatus few have been employed to test the soil in Chennai, especially soil moisture test, triaxial soil testing instruments are the few among many which determined the types of soils available in Chennai. The soil map shown in Figure 5 .
1.6. Geology of the Study Area
The geological formations are beach sands of quaternary and recent period, Cuddalore sandstone of Mio-pliocene age, shals and sandstone of Upper Gondwannas and charnockits of Archaean era. The detailed geology information shown in Figure 6 .
1.7. Slope and Size of Watershed
There are numbers of watershed in Chennai alone. Some of the well known water shed are Velachery, Adyar, Virugambakkam and few other canals. Watersheds range from 10.5 km to 50.99 km and it bears a slope of 1 in 20 which indicates that if the volume of water rises suddenly in the river basin then there will be high chances of flood occurrence due to overflow.
Figure 5 . Soil map of the study area.
Figure 6 . Geology map of the study area.
1.8. Spatial Analysis
Rainfall is a continuous phenomenon that affects the whole region, not just the locations of the weather stations. Based on the observed rainfall at the monitoring stations and their locations, we can interpolate and deduce the approximate rainfall across the whole region. We use the Interpolate Points tool from the GIS's spatial analysis service for this study.
1.8.1. Pair Wise Comparison Method for Chennai Flood
This method is usually used for the comparison of two criteria at a time. Conversion of subjective assessments of relative importance into linear sets of weights is taken into consideration in this method. This method estimates the weight of the following criteria:
C1 = Geology
C2 = Rainfall (precipitation);
C3 = Drainage network;
C4 = Soil type.
The square pair-wise comparison matrix is presented in Table 1 . Each factor was weighted according to the estimated significance for the flood potential project which was to generate the criterion values for each evaluation unit. Table 2 shows the normalized matrix. At the same time, the individual observed record, which never agreed perfectly with the degree of consistency achieved in the ratings were randomly generated. The random indices for the matrices are listed in Table 3 . According to the rule thumb, CR less than or equal to 0.1 indicates an acceptable reciprocal matrix, whereas a ratio over 0.1 symbolises that the matrix should be revised.
Table 1 . Pair wise comparison matrix for flood risk parameters.
Table 2 . Normalize matrix.
Table 3 . Random indices for matrices of various sizes (n).
2. Result and Discussion
2.1. Multi Criteria Analysis
Applied and integrated with the spatial data, the causative factors of a phenomenon under concern of Multicriteria analysis, is described. In this study, the risky areas were first produced by numerically overlaying soil, drainage network, geology, rainfall layers and size of the watershed. The selection of these criteria was based on the expert's opinion and availability of data. Boolean overlay was employed to carry out this overlay. Logical operators such as intersection and union combined all criteria for analysis.
In the second phase, ranking method was used, where every criterion under consideration was ranked in the order of the decision maker's preference. Each factor was weighed according to the estimated significance for causing flooding. Factor of rank 1 is the least important and factor of rank 8 is of the most importance. In the third phase, determination of the weight of each criterion was done by pair wise comparison method which was developed to create flood hazard map.
2.2. Flood Risk Map
Evaluation of each unit based on ranking method was generated using the criterion maps combined by logical operations and criterion values. Figure 7 shows
Figure 7 . Flood Hazard map.
the flood risk map created based on GIS and Multicriteria method. Using pair wise comparison the normalized criterion weights were calculated as 0.198, 0.387, 0.275 and 0.14 respectively for basin slope, annual rainfall, drainage network of the river basin and soil type. The study carried out based on this method showed a consistency ratio (CR) value of 0.0, which fell much below the threshold value of 0.1 which indicates a high level of consistency. Therefore, the weights are acceptable.
2.3. Flood Map Validation
The flood potential map which resulted from multi criteria analysis was compared with the original flood map of 2005/2006 obtained from DID in Chennai for the purpose of validation. The original flood potential map ( Figure 7 ) which was classified based on flood vulnerability:
1) 4 for the most prone to flooding;
2) 3 for the moderately prone to flooding;
3) 2 for the least prone to flooding;
All the features which had been designed in grid code values of feature map from the raster pixel values are show in the map below. Correspondingly individual polygon has one grid value (i.e., 1, 2, and 3) based on the cell value at the same location in the raster. This step helped to design four polygon features with each polygon having different flood suitability level. The flood classes which was obtained was converted into external shale file (*.shp) and the external image was compared with the original flood map.
The final extracted flood map which contained the data and features of original and potential flood maps had been analysed and affected villages list out Table 4 . The above respective three classes indicate the most prone to flooding area, moderately prone to flooding and least prone to flooding. The final flooding hazard area with village overlay map shown in Figure 7 and Figure 8 .
3. Conclusions
From the field experience and also interaction with local population it has been observed that the urbanization and encroachments of river banks, marshy, low-lying areas especially Adyar River has aggravated the flooding problem. The narrow and constrained river with no flood plains left could not carry the discharges and water simply occupied the adjoining low-lying areas.
A study carried out by Chandan et al. (2014) on analysis of land use change pattern in past 4 decades shows that the total urban area has been increased by more than 20 times mainly from the conversion of grazing, agricultural and open areas to urban impervious surface. They have observed that Vegetation cover has dramatically decreased from 70.47% in 1991 to 35.53% in 2013, whereas the non-vegetation i.e. built up, paved areas etc. have increased 29.53% in 1991 to 64.47% in 2013.
Management of reservoirs, revival of wetlands which act as a "sponge" to absorb the excess water and resizing of the storm water drains keeping in account
Table 4 . Most affected zones/places by Chennai flood.
the present and projected population should be taken as mitigative measures.
Based on 2015 floods experience flood hazard plain zoning needs to be done for future expansion of the city and assessing the threat to habitation living in various municipal zones for better preparedness.
4. Recommendations
After the flood the sense of fear had entered into the mind of people. This forced the experts and scientists to reason out the causes and factors of the flood. After that the suitable and valid remedies should be fetched. Some of them are recommended below:
1) Better understanding of the weather
It is always better to understand the weather condition in advance and the data collected should be of great accuracy so that there won't be any havoc created afterwards. By doing so, people can act on the disastrous action easily.
2) Water wiring of cities
Every small water bodies should be taken into consideration along with the large and well known rivers, reservoirs and canals. Only y doing so we would not missed out any small bit of information and thus we could edify the problems.
3) Maintenance of watershed and drainage systems
Figure 8 . Flood Hazard map with village overlay.
Watershed should be maintained very well. Although it seems of less important, watershed plays a vital role in controlling the overflow of water. Similarly, drainage system should be checked and kept clear of obstacles. All the channels of drains should be connected properly and the outlet should be properly maintained.
4) Improvements of civil infrastructure and wetlands
Most of the underlying ground soil of Chennai is the refill of ponds and lakes. These soils act as a poor filter for the rainwater. Thus, all the rain water gets collected on the surface which causes floods. This can be avoided by improving the soil permeability and building proper civil infrastructure will allow the water to pass through proper channels.
5) Human activities
One of the factors which contributes to flood or any other natural disasters is human's selfish activities. Burning of harmful gases and fuels, raising the numbers of industries, clearing the forest cover for constructions purposes etc. have dramatically changed the climatic conditions over the decades. Therefore, human needs to reduce their wants and try to live in harmony using the nature wisely.
Conflicts of Interest
The authors declare no conflicts of interest.
Articles
Archive
Indexing
Aims & Scope
Editorial Board
For Authors
Publication Fees
Journals Menu
Open Special Issues
Published Special Issues
Special Issues Guideline
E-Mail Alert
JGIS Subscription
Publication Ethics & OA Statement
Frequently Asked Questions
Recommend to Peers
Recommend to Library
History Issue
Copyright © 2023 by authors and Scientific Research Publishing Inc.
This work and the related PDF file are licensed under a Creative Commons Attribution 4.0 International License .
About SCIRP
Publication Fees
For Authors
Peer-Review Issues
Special Issues
Manuscript Tracking System
Subscription
Translation & Proofreading
Volume & Issue
Open Access
Publication Ethics
Preservation
Privacy Policy
Paper Information
Journal Information
About This Journal
Editorial Board
Current Issue
Author Guidelines
Architecture Research
p-ISSN: 2168-507X e-ISSN: 2168-5088
2012; 2(6): 115-121
doi: 10.5923/j.arch.20120206.01
Urban Flood Management – A Case Study of Chennai City
Ar. K. Lavanya
Crescent School of Architecture, B.S.Abdur Rahman University, Chennai, 600073, India
Copyright © 2012 Scientific & Academic Publishing. All Rights Reserved.
In the recent decades, Indian cities are witnessing devastating floods more often due to heavy rainfall, cyclones, etc., Though Tamil Nadu is not under flood risk prone zone as mapped by meteorological department (New Delhi), within the local body there are few low-lying areas which are susceptible to inundation which also depends mainly on the developments near major drainage systems, encroachment of water bodies, inability of major canals to carry heavy rains, overflowing reservoirs. Chennai, one of the fast growing metros is likely affected by the lack of drainage mainly due to uncontrolled developments of concrete spaces, encroachment of major drainage channels, shrinking of marshlands, etc,. Though Urbanization, the vital factor of response for the flood risks is coupled with the climatic variability and ecological imbalances. The paper discusses causative factors responsible for flood risks in Chennai, the immediate need for proper flood risk reduction and management strategies.
Keywords: Urban Flood, Flood Management, Flood Risk, Chennai Flood
Cite this paper: Ar. K. Lavanya, "Urban Flood Management – A Case Study of Chennai City", Architecture Research , Vol. 2 No. 6, 2012, pp. 115-121. doi: 10.5923/j.arch.20120206.01.
Article Outline
1. prologue of chennai, 1.1. growth of chennai city, 2. history of chennai floods, 2.1. causes of chennai floods ( table 1 ), 2.2. direct factors, 2.2.1. increase in rainfall, 2.2.2. urbanization, 2.2.3. topography, 2.3. indirect factors, 2.3.1. inadequate and poor drainage systems, 2.3.2. solid waste disposal & vehicle parking on roads, 3. master plan & flood mitigation in chennai – a quick review, 4. findings & recommendations, 5. sequence of actions to hurl out from the flood hazard (both structurally & non-structurally).

Smart Cities—Opportunities and Challenges pp 797–807 Cite as
Urban Flooding—A Case Study of Chennai Floods of 2015
Mohammad Sharif 11 ,
M. S. Dhillon 12 ,
Sharad Chandra 12 ,
Manoj Kumar 12 &
Vasanthakumar V 12  
Conference paper
First Online: 21 April 2020
1216 Accesses
1 Citations
Part of the Lecture Notes in Civil Engineering book series (LNCE,volume 58)
Urban areas are the centres of economic activities having vital infrastructure. Damage to these infrastructures can have a bearing not only on the country but also globally. Urban flooding is generally caused due to inadequate drainage system in an urban area. Owing to rapid urbanization, the extent of open spaces for percolation of surface water in the ground has considerably reduced. Inadequate drainage system coupled with large intensity rainfall has often been the major cause of urban flooding. Water may even enter the sewage system in one place and then get deposited somewhere else in the city on the streets. Major cities such as Mumbai in 2005 and Chennai in 2015 have witnessed the loss of life and property, disruption in transport and power and incidence of epidemics. This demands the need for management of urban flooding. The present paper analyses the reasons for Chennai flood of 2015 that affected several sub-urban areas of the city, especially those in the basin of River Adayar. The factors analysed in this paper are the effect of the series of rainfall events in the month of November–December 2015, operation of Chembarambakkam Lake, effect of increased urbanization and infrastructure and the local storages which play a major role in flood moderation in catchment. This paper also discusses the how well the flood events have been managed in terms of emergency preparedness. The paper finally tries to comprehend the key areas where the improvement is required in terms of urban flood preparedness.
Reservoir operation
Urbanization
This is a preview of subscription content, access via your institution .
Buying options
Available as PDF
Read on any device
Instant download
Own it forever
Available as EPUB and PDF
Compact, lightweight edition
Dispatched in 3 to 5 business days
Free shipping worldwide - see info
Durable hardcover edition
Tax calculation will be finalised at checkout
Purchases are for personal use only
Chennai Floods (2015) A rapid assessment, 2016. Interdisciplinary Centre for Water Research Indian Institute of Science, Bangalore
Google Scholar  
Reservoir storage details, Chennai Metropolitan Water Supply and Sewerage Board (CMWSSB) http://www.chennaimetrowater.tn.nic.in/reserve.asp
Mukherjee D (2015) Effect of urbanization on flood—a review with recent flood in Chennai (India). Int J Eng Sci Res Technol. http://doi.org/10.5281/zenodo.57002
Celik N (2018) Change detection of urban areas in Ankara through Google Earth engine. 978-1-5386-4695-3/18/$31.00 ©2018, IEEE
Mariaselvam S, Gopichandran V (2016) The Chennai floods of 2015: urgent need for ethical disaster management guidelines. Indian J Med Ethics 2 April–June 2016. https://doi.org/10.20529/ijme.2016.025
Download references
Author information
Authors and affiliations.
Department of Civil Engineering, Jamia Millia Islamia, New Delhi, India
Mohammad Sharif
Central Water Commission, New Delhi, India
M. S. Dhillon, Sharad Chandra, Manoj Kumar &  Vasanthakumar V
You can also search for this author in PubMed   Google Scholar
Corresponding author
Correspondence to Vasanthakumar V .
Editor information
Editors and affiliations.
Jamia Millia Islamia, New Delhi, India
Prof. Sirajuddin Ahmed
Prof. S. M. Abbas
Prof. Hina Zia
Rights and permissions
Reprints and Permissions
Copyright information
© 2020 Springer Nature Singapore Pte Ltd.
About this paper
Cite this paper.
Sharif, M., Dhillon, M.S., Chandra, S., Kumar, M., Vasanthakumar V (2020). Urban Flooding—A Case Study of Chennai Floods of 2015. In: Ahmed, S., Abbas, S., Zia, H. (eds) Smart Cities—Opportunities and Challenges. Lecture Notes in Civil Engineering, vol 58. Springer, Singapore. https://doi.org/10.1007/978-981-15-2545-2_64
Download citation
DOI : https://doi.org/10.1007/978-981-15-2545-2_64
Published : 21 April 2020
Publisher Name : Springer, Singapore
Print ISBN : 978-981-15-2544-5
Online ISBN : 978-981-15-2545-2
eBook Packages : Engineering Engineering (R0)
Share this paper
Anyone you share the following link with will be able to read this content:
Sorry, a shareable link is not currently available for this article.
Provided by the Springer Nature SharedIt content-sharing initiative
Find a journal
Publish with us